Eat to the Beat Concert line up announced for this years Food & Wine Festival at Epcot.
Yes, it's that time of year, time to start thinking about "the most wonderful time of the year", that's right, the Epcot International Food & Wine Festival!
And one of our favorite things about the festival is the Eat to the Beat concert series. And this year, just as the festival has been growing each year for the last few years, the concert line up has a record number of awesome bands playing for you at the America Gardens theater.
This year one of my favorite bands, Sister Hazel will be back, and I'm sure there's a few that you are looking forward to as well, here's the whole lineup:
A record 32 musical acts will rev up the Eat to the Beat concert series during the 22nd Epcot® International Food & Wine Festival Aug. 31-Nov. 13, 2017 at Walt Disney World® Resort.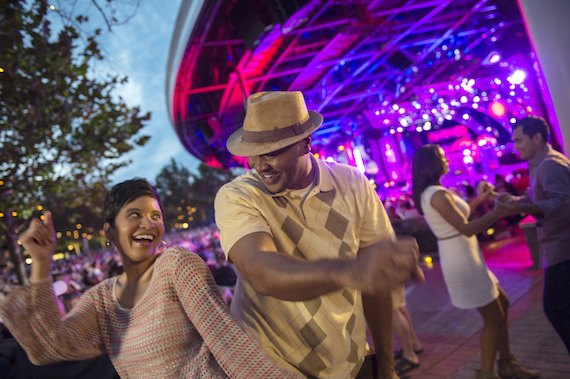 Eleven new-to-the-festival bands, including Kenny G., Squeeze and 10,000 Maniacs, join 21 fan-favorite musical acts for a diverse lineup of pop hit makers to rock America Gardens Theatre stage throughout the festival's 75-day run.
Other new acts to appear are: The Hooters, Baha Men, Lauren Alaina, Mark Wills, American Authors, Devon Allman, Postmodern Jukebox and Blue October.
Tune into your favorite returning bands that will include festival opening act Delta Rae.  Concerts take place at 5:30, 6:45 and 8 p.m. daily.  The lineup (subject to change and included in Epcot admission) includes:
Aug. 31-Sept. 1         Delta Rae "Bottom of the River"
Sept. 2-3                  The Hooters NEW! "And We Danced"
Sept. 4-5                  Baha Men NEW! "Who Let the Dogs Out"
Sept. 6-7                  Fuel "Shimmer"
Sept. 8-10                STARSHIP starring Mickey Thomas "We Built This City"
Sept. 11-12              Lauren Alaina NEW! "Road Less Traveled"
Sept. 13-15              Plain White T's "Hey There Delilah"
Sept. 16-17              Sister Hazel "All For You"
Sept. 18-20              Air Supply "All Out of Love"
Sept. 21-22              David Cook "Light On"
Sept. 23-24              Everclear "Santa Monica"
Sept. 25-27              Sugar Ray "Every Morning"
Sept. 28-29              38 Special "Hold On Loosely"
Sept. 30-Oct. 1         Mark Wills NEW! "19 Somethin'"
Oct. 2-3                   American Authors NEW! "Best Day of My Life"
Oct. 4-5                   Christopher Cross "Sailing"
Oct. 6-8                   Devon Allman NEW! "Ragged and Dirty"
Oct. 9-11                 Dennis DeYoung: The Music of STYX "Come Sail Away"
Oct. 12-13               Taylor Dayne "Tell It to My Heart"
Oct. 14-15               Jeffrey Osborne "On the Wings of Love"
Oct. 16-17               Postmodern Jukebox NEW! Various Hits
Oct. 18-20               10,000 Maniacs NEW! "Because the Night"
Oct. 21-22               Toad The Wet Sprocket "Walk on the Ocean"
Oct. 23-24               Kenny G NEW! "Songbird"
Oct. 25-26               Billy Ocean "Get Outta My Dreams"
Oct. 27-29               Tiffany "I Think We're Alone Now"
Oct. 30-Nov. 1         Hanson "MMMBop"
Nov. 2-3                  Blue October NEW! "Into the Ocean"
Nov. 4-5                  Living Colour "Cult of Personality"
Nov. 6-8                  Boyz II Men "End of the Road"
Nov. 9-11                Big Bad Voodoo Daddy "Go Daddy-O"
Nov. 12-13              Squeeze NEW! "Black Coffee in Bed"
(Songs listed are for artist recognition only and may not be included in the concert play list.)