14 Day Transatlantic Cruise on The Disney Magic
Leslie and I just returned from a Transatlantic cruise aboard the Disney Magic and we had a wonderful time.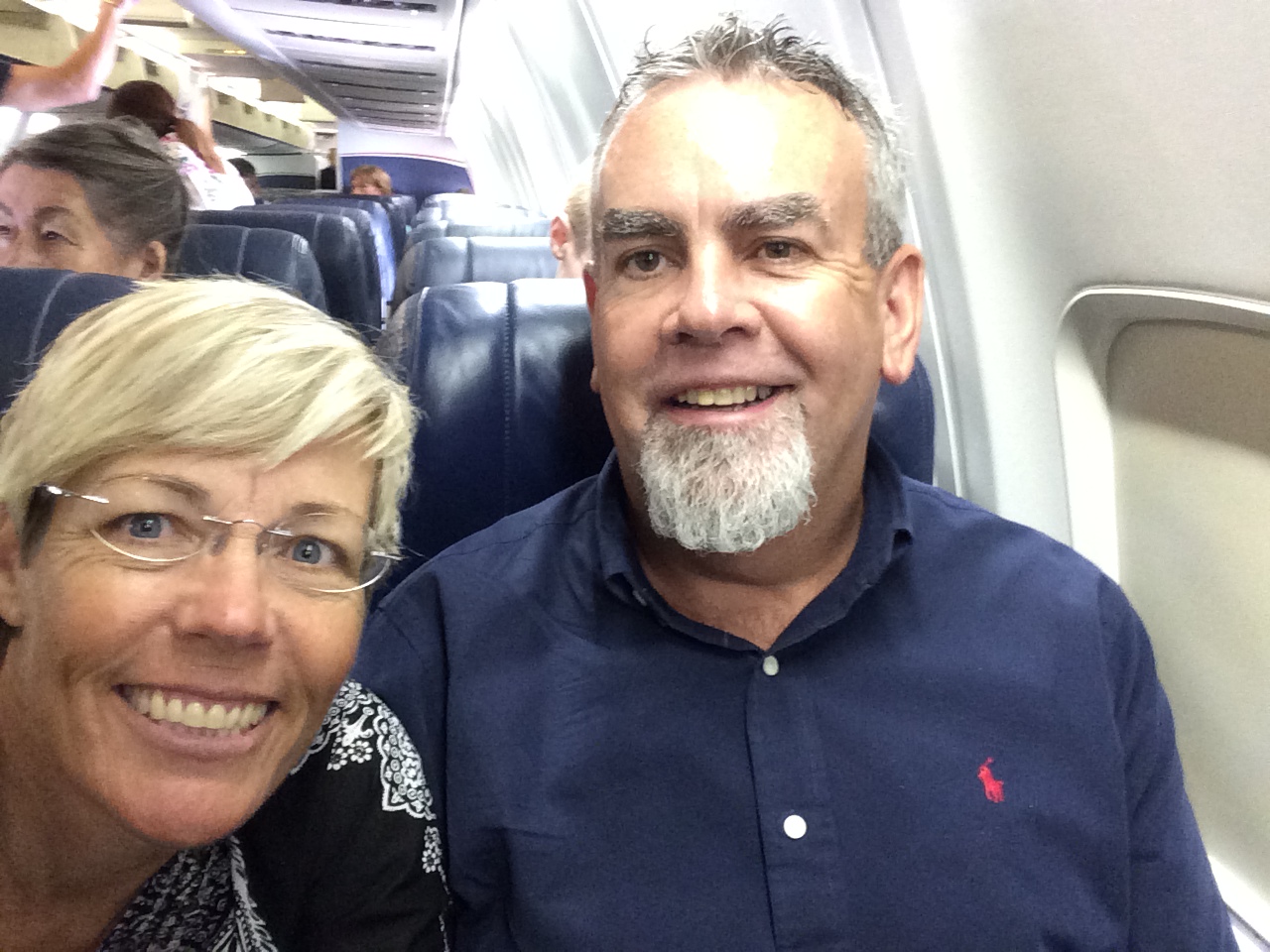 This was our first ever Transatlantic cruise, 14 nights, but we have done long cruises before, Panama Canal, Pacific cruises to Hawaii and other repositioning cruises.
We began our journey in Barcelona Spain, one of my favorite cities in the world. We flew in a day early, which I highly recommend, to allow us to reset our time zone and to be able to enjoy some of the sights and tastes of Barcelona. When I think of Barcelona, the first thing I think of is food and specifically, tapas! Tapas are appetizer sized portions of food originally designed to encourage conversation. They can be hot or cold and range from platters of ham, seafood such as shrimp and calamari, olives, cheeses, breads and on and on. Just wonderful!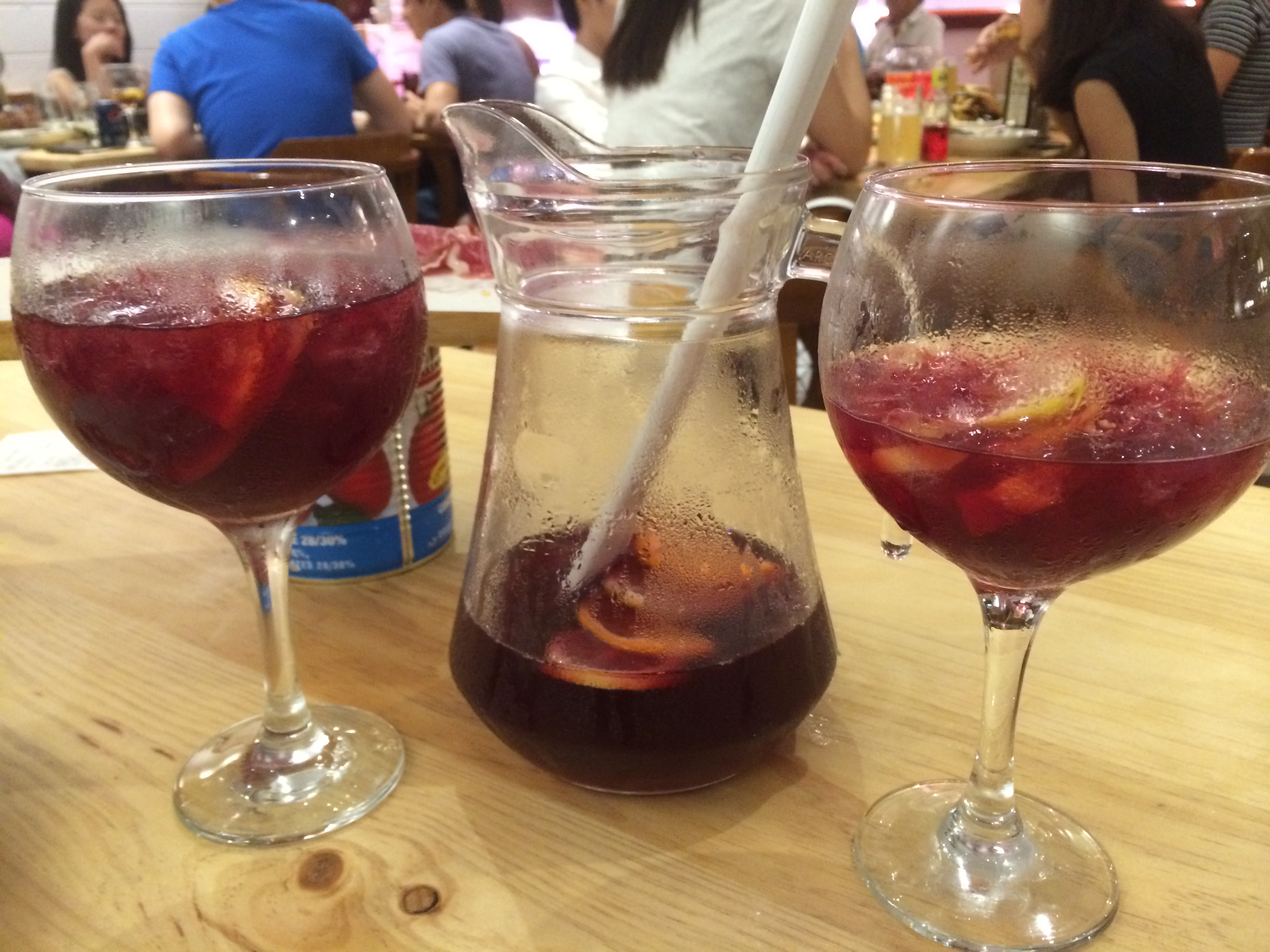 The next day we took the Disney shuttle bus for the short ride from our hotel to the port, it was great to see the Disney Magic docked in Barcelona. The Magic has recently undergone a major renovation that includes changes to the kids areas that feature Marvel and Pixar additions as well as upgrades to the adult entertainment areas and restaurant improvements.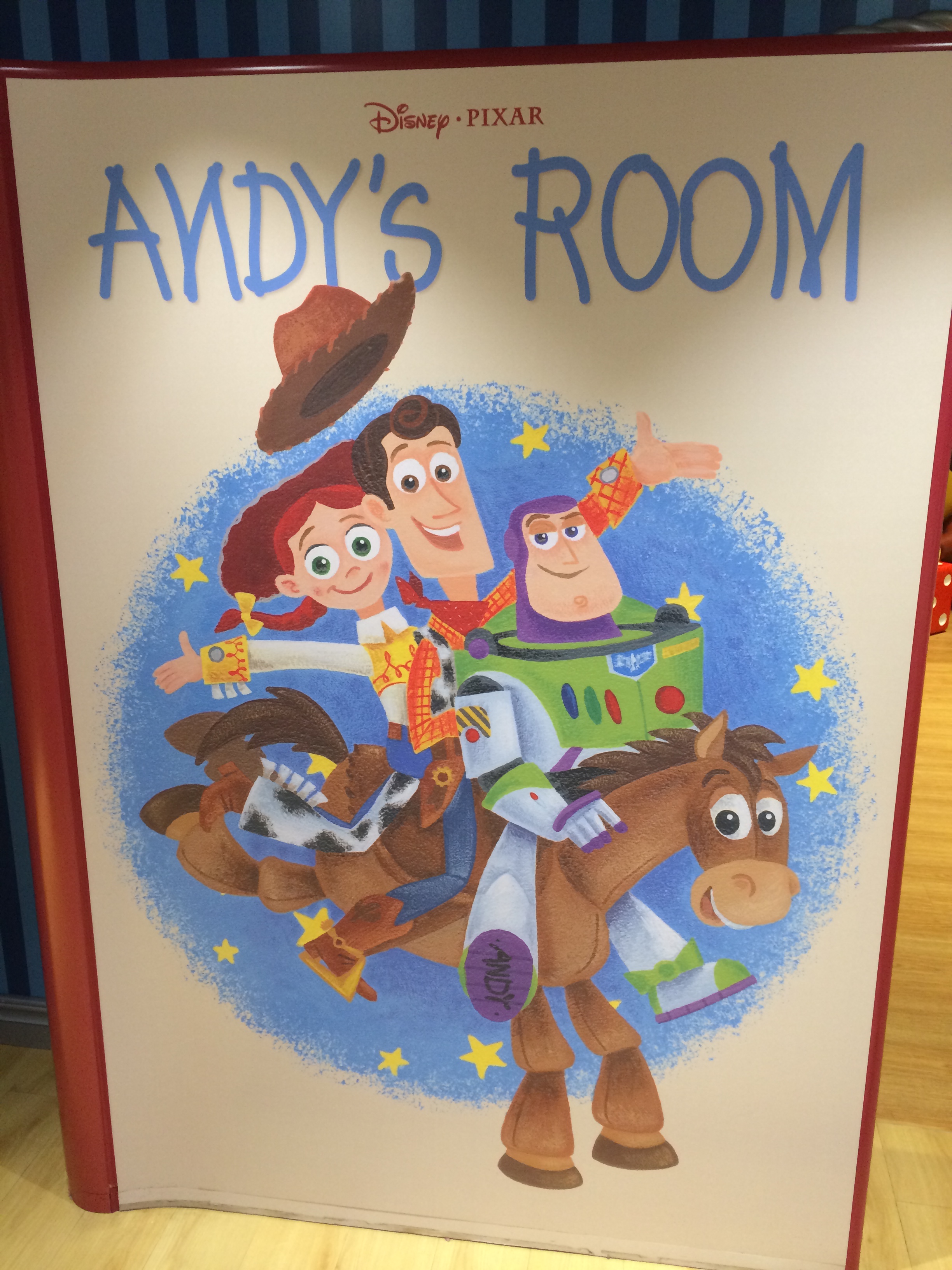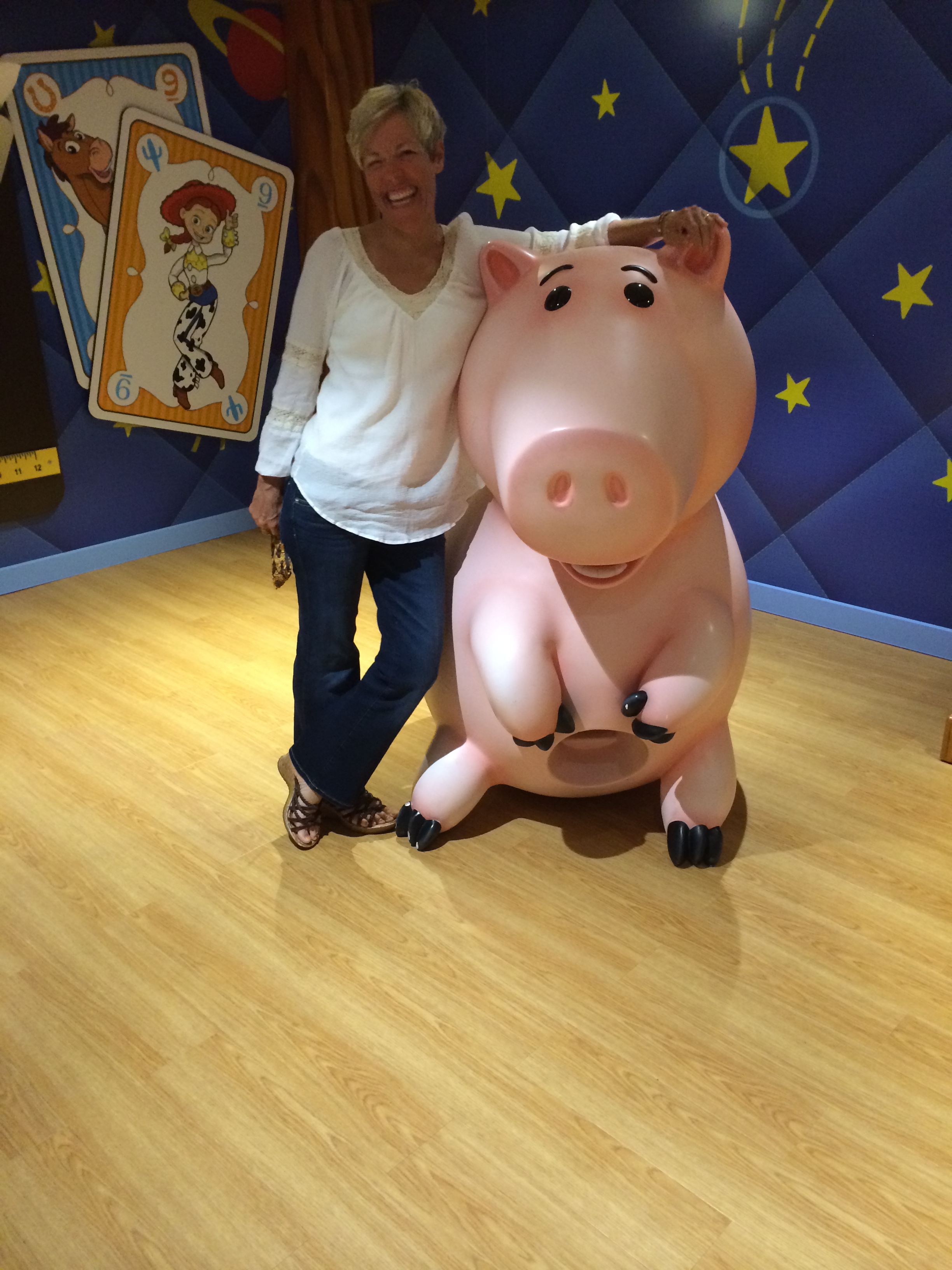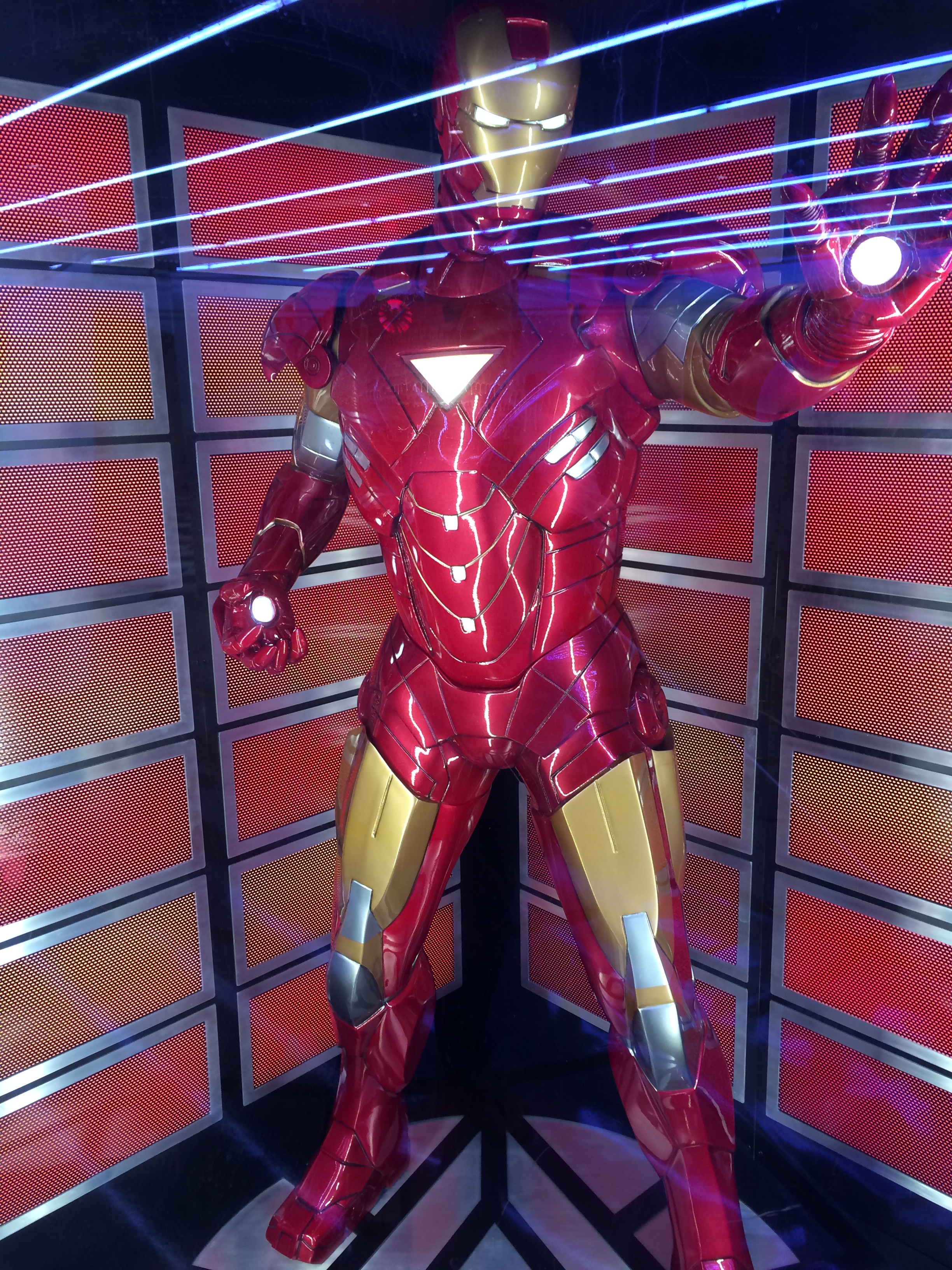 Soon it was time to sail away for our first port of Malaga Spain. Malaga is one sea day away from Barcelona. Leslie and I love the sea days, there is so much to do or you can simply do nothing at all. On this cruise we had a total of 8 sea days so we chose to do a little of both and a lot of the latter. Your guide of all activities on the is the "Personal Navigator". It's delivered to your stateroom each night for the following day's activities. It lists the restaurants and dining times for the day, what movies will be showing in the theater and up on the "Funnel Vision" big screen on the top deck and lists all the activities going on around the ship as well.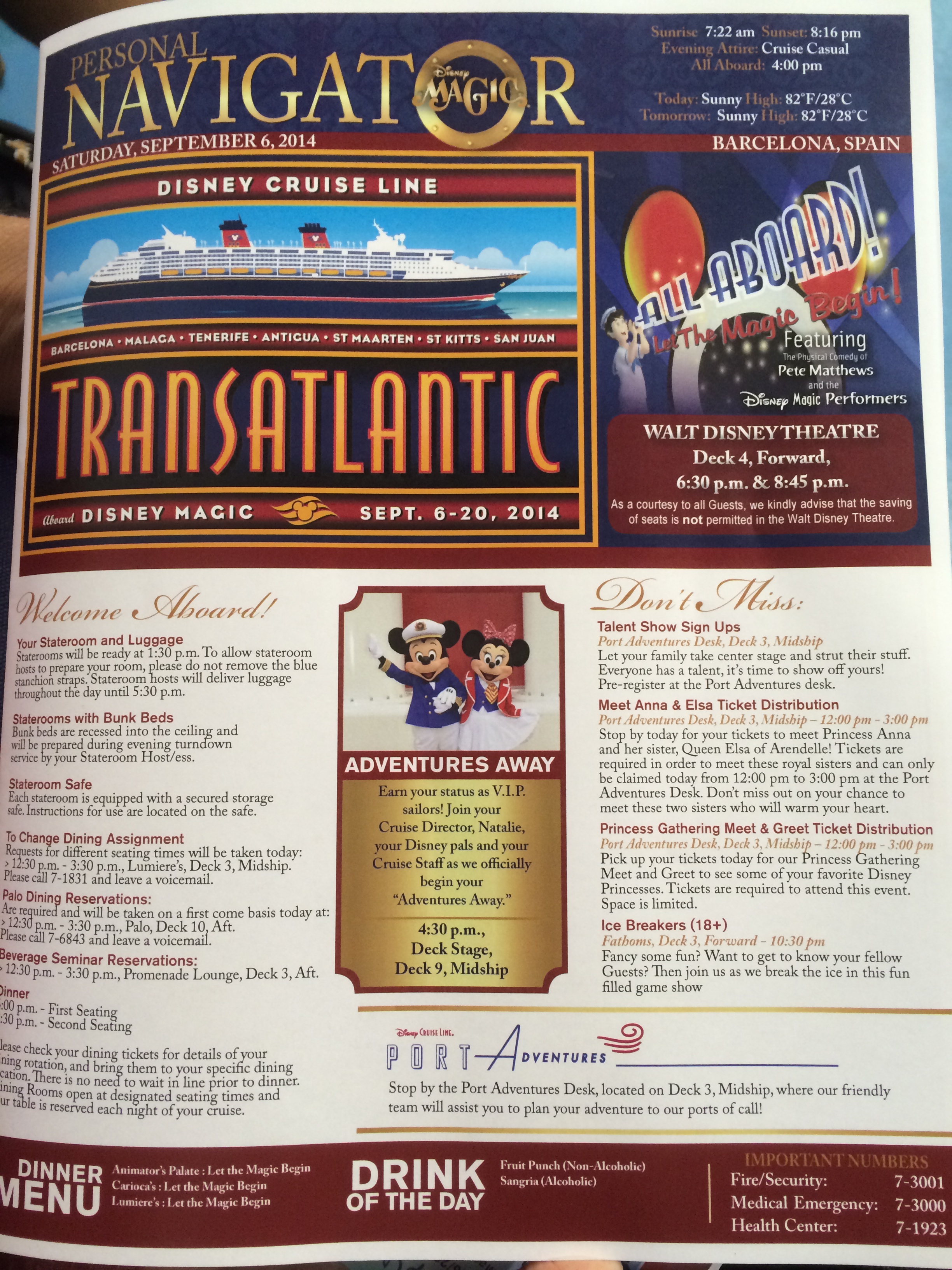 First, let's talk about movies. Since Disney is an entertainment company and owns several production companies, they show first run movies on the ship. Many times they will debut movies on the ship the same day they come out in theaters on land. On the longer cruises on sea days they also show classic movies such as, "Streetcar Named Desire", "Casablanca", "The Great Escape" and many other wonderful movies like these that you don't see on the big screen at home.
You can also attend many cooking and entertaining demonstrations. How to host a party, napkin folding, how to prepare horderves, and the very popular "Anyone Can Cook" series where the Chefs of the ship teach you how to make the recipes they cook in their restaurants at home. There are also talks on the ship given by experts on the ports of call or the regions you are visiting as well as talks by Disney animators and historians. On our cruise, Lella Smith, Creative Director of Disney's Animation Research Library, and she gave a talk about Marc Davis one day, Mary Blair another, five talks in all covering the history of Disney animation art. So as you can see there is lots to do on the ship, from boat building competitions to baby races and bingo, wine tastings to bridge tours, there really is something for everyone.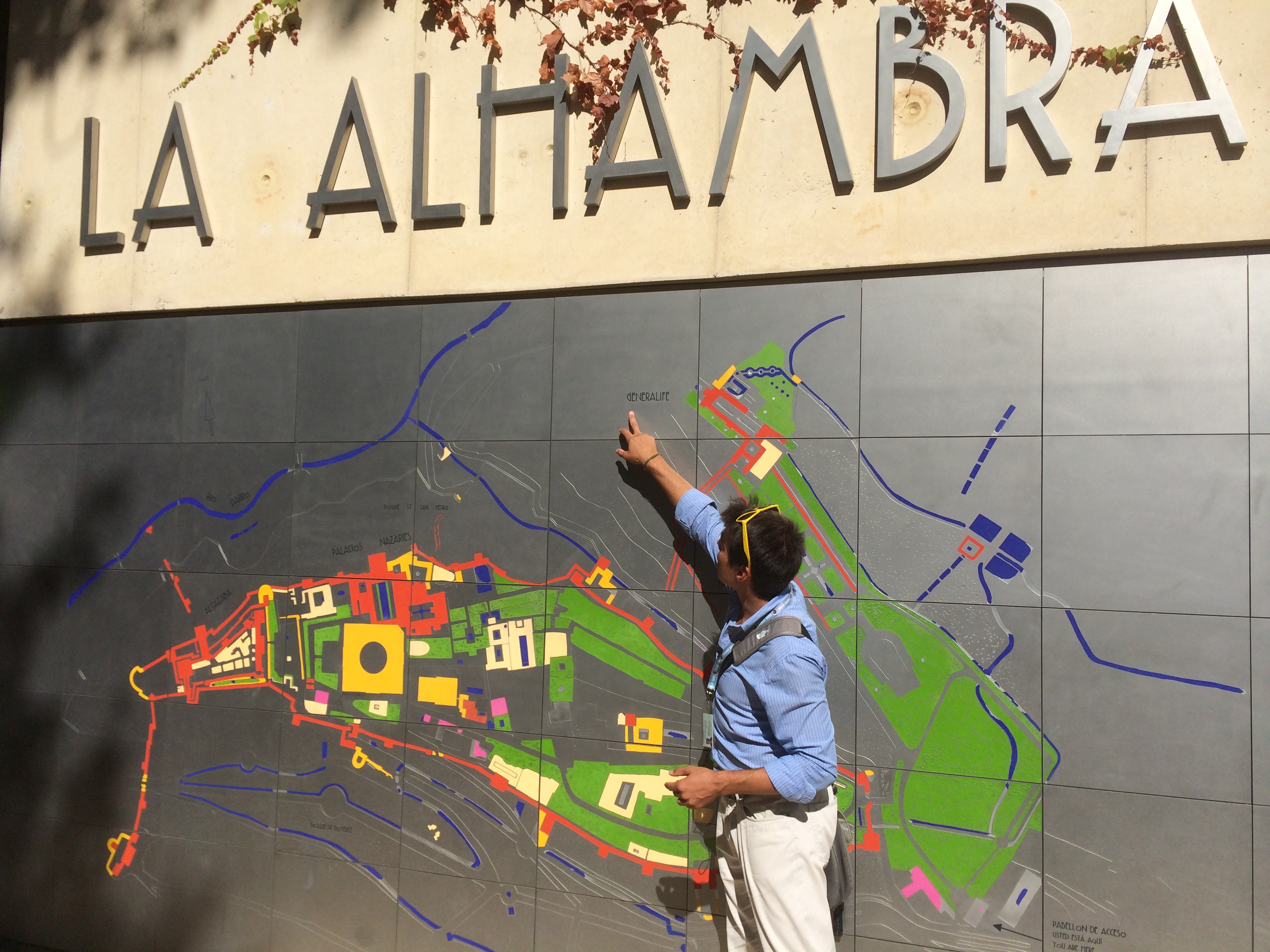 After our first sea day we made port in Malaga Spain. From there we took a bus trip to Granada for a short city tour followed by a trip to Alhambra. Alhambra is the most interesting monument in Granada and the most beautiful Arab art built in any time or any country. Alhambra is named after its reddish walls (qa´lat al Hamra).  It was the leisure residence of the Nasrid Royalty. It rises over the al-Sabika Hill, overlooking the whole city. This huge structure and gardens have wonderful sights overlooking the city below. Inside the Alhambra we loved the Lions Court, named after the fountain in the center laying over 12 lions; the Court of the Myrtles, where the central pond reflects the light inside the rooms around; the Ambassadors Room, whose ceiling represents the seven heavens of Islamic cosmology. After our tour we had a wonderful lunch at an porch side cafe in Alhambra. We enjoyed more tapas of ham, croquettes, eggs and fries, calamari and salad and finished with entrees of Duck Confit and fresh fish.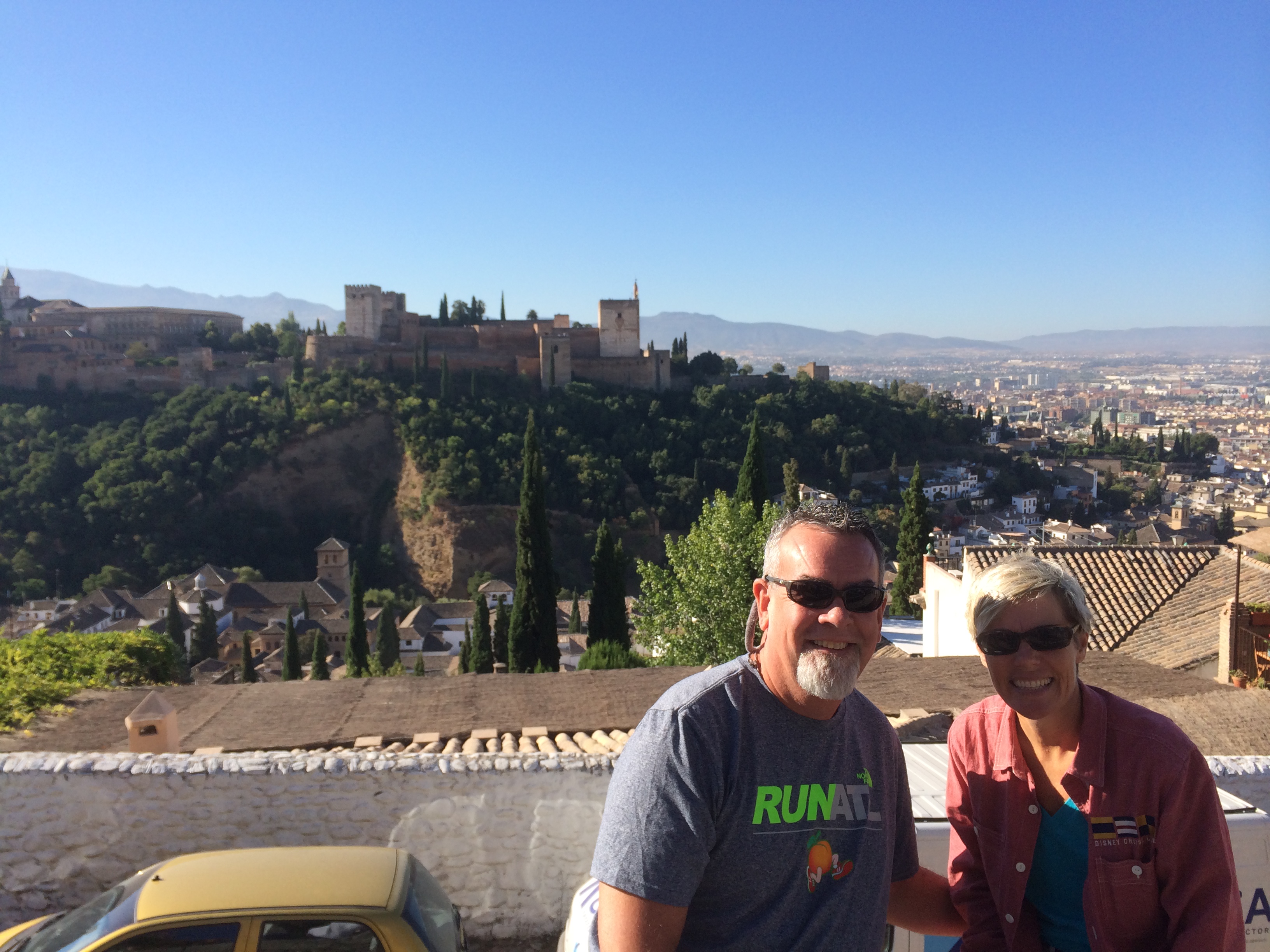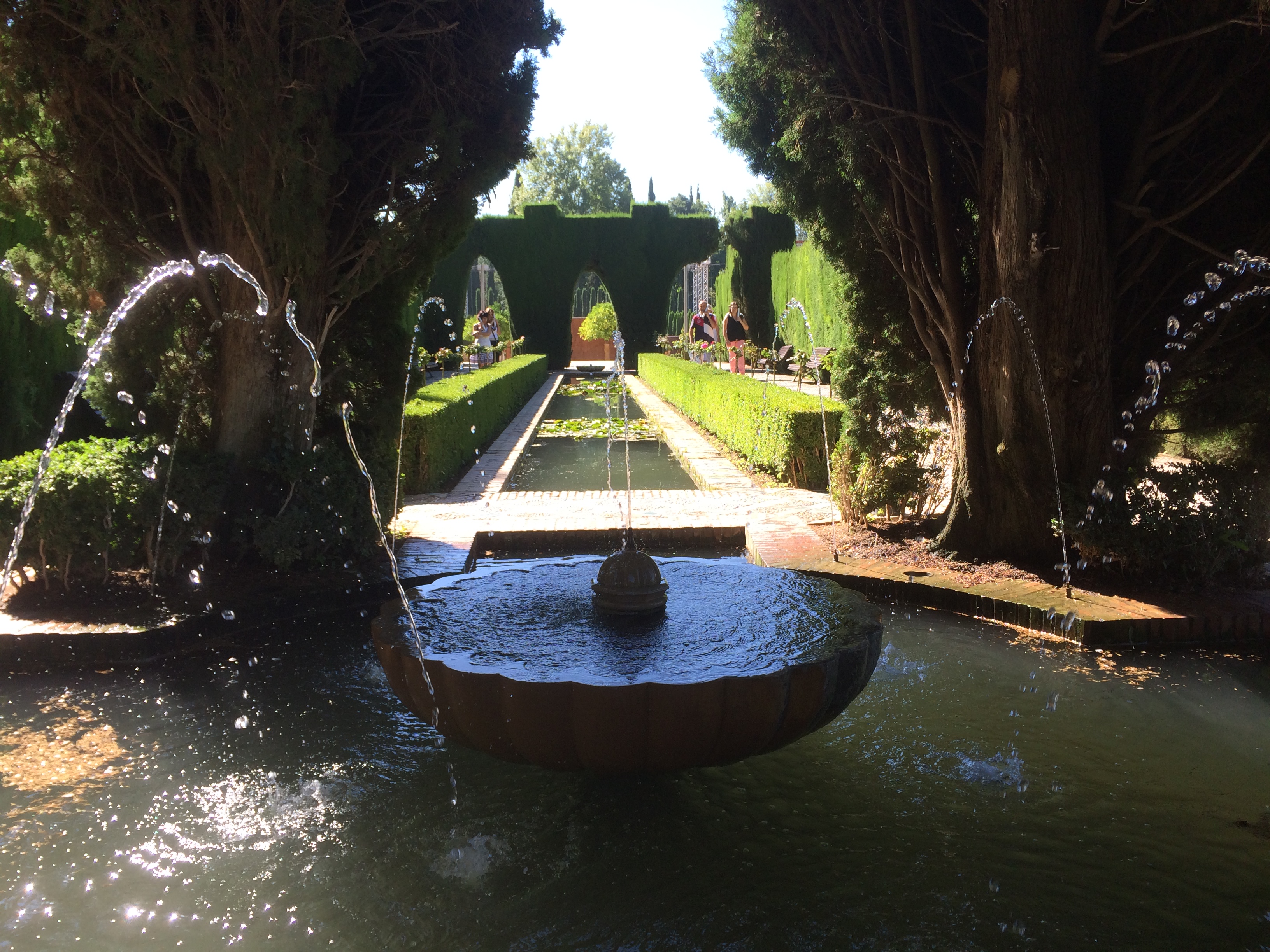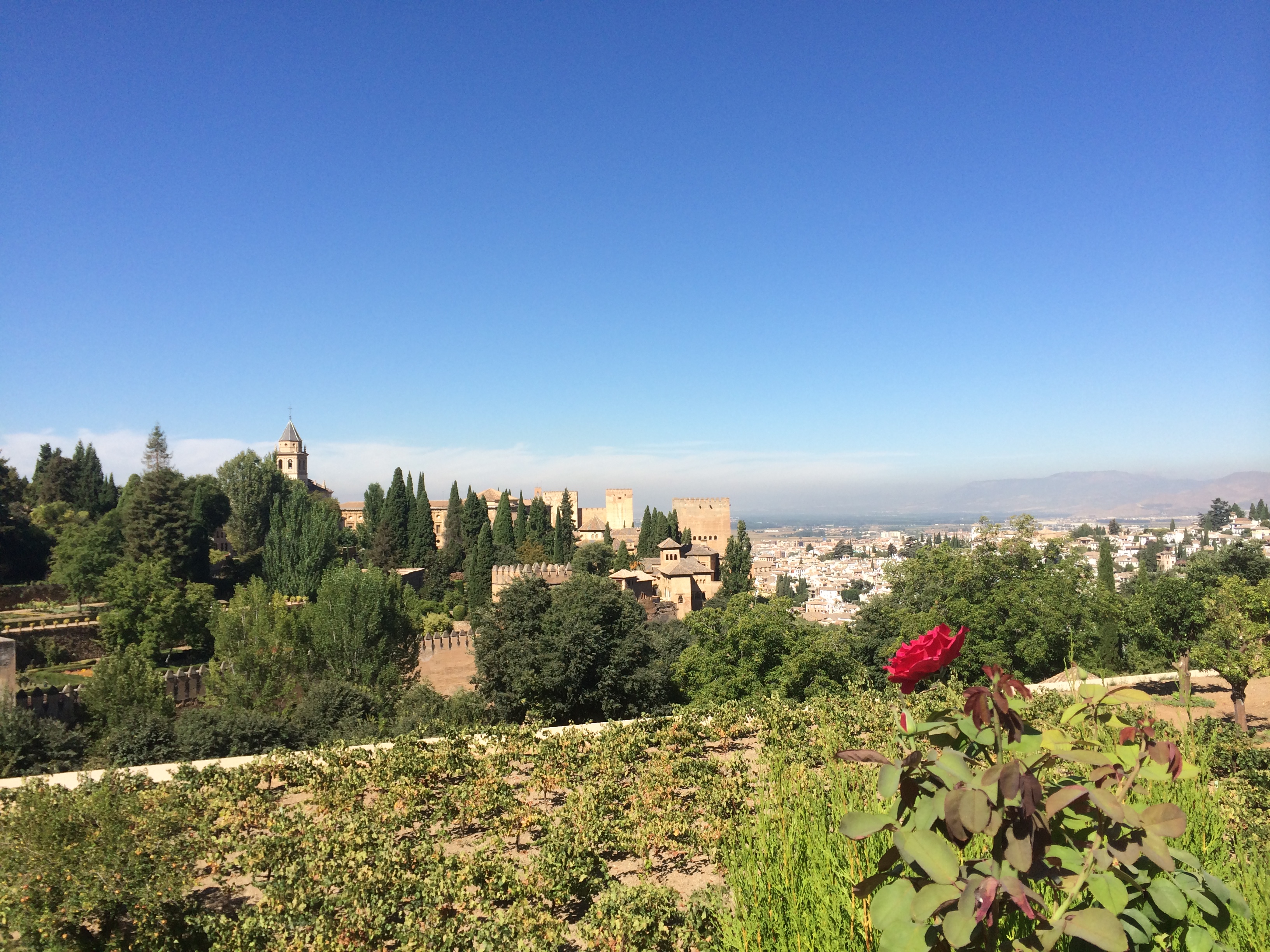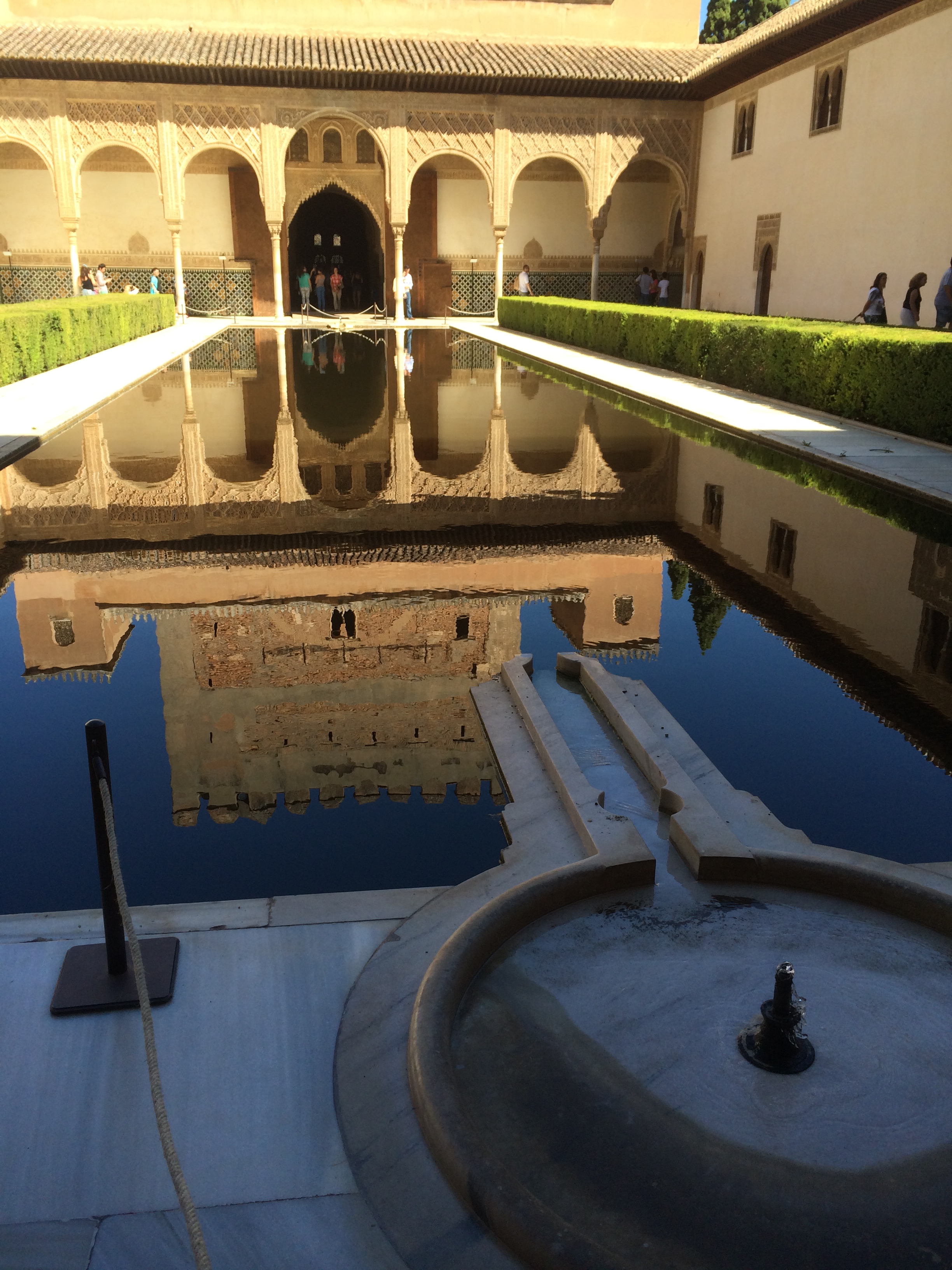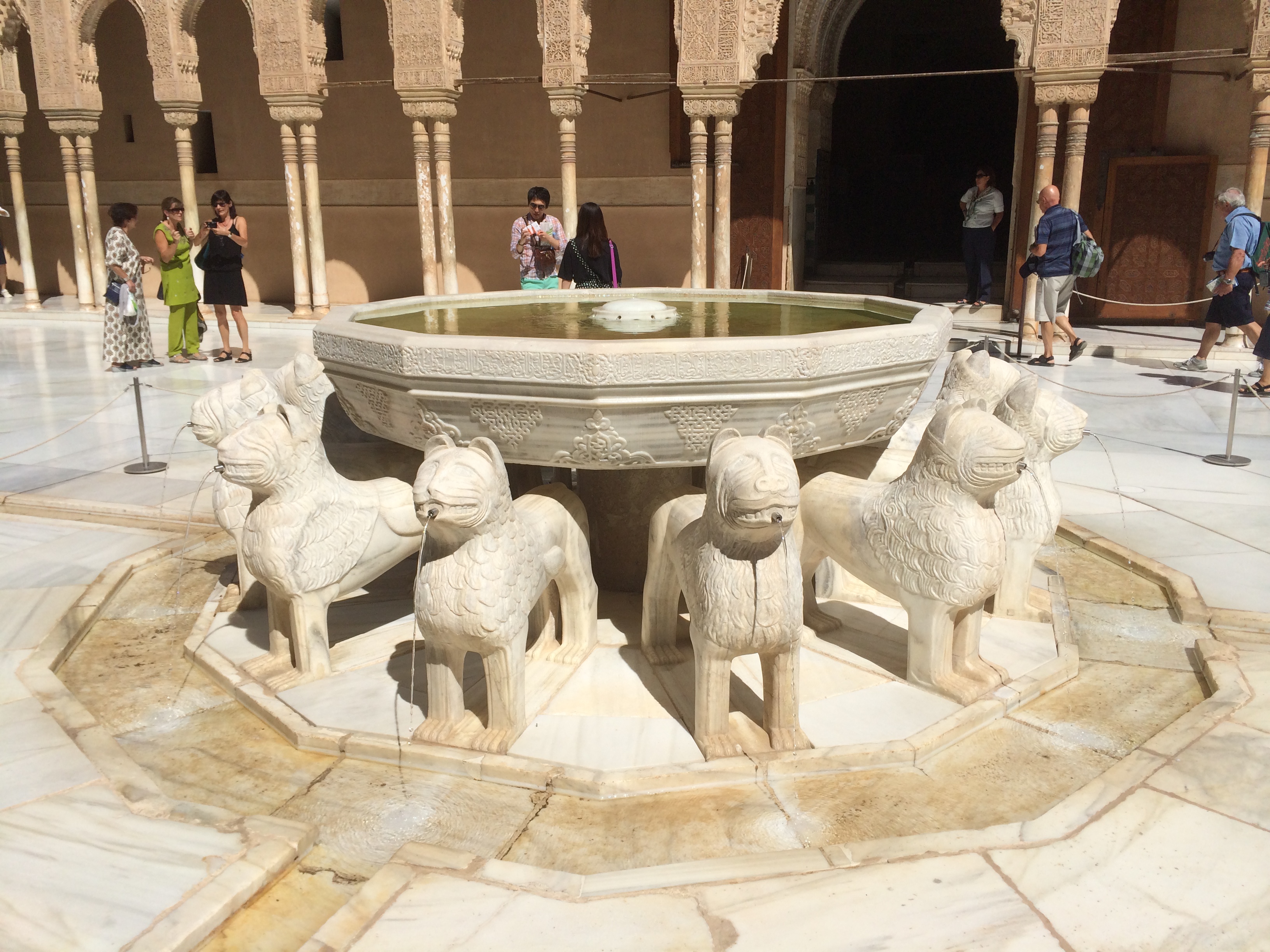 After returning to the ship we set sail for another two sea days, through the straits of Gibraltar and on to our next port of Tenerife, which is the largest of the Canary Islands and the most populated island of Spain. In Tenerife we visited a winery located on beautiful grounds overlooking the beautiful Atlantic ocean. Along with several wonderful wines we tasted we enjoyed so great tapas that complimented them well.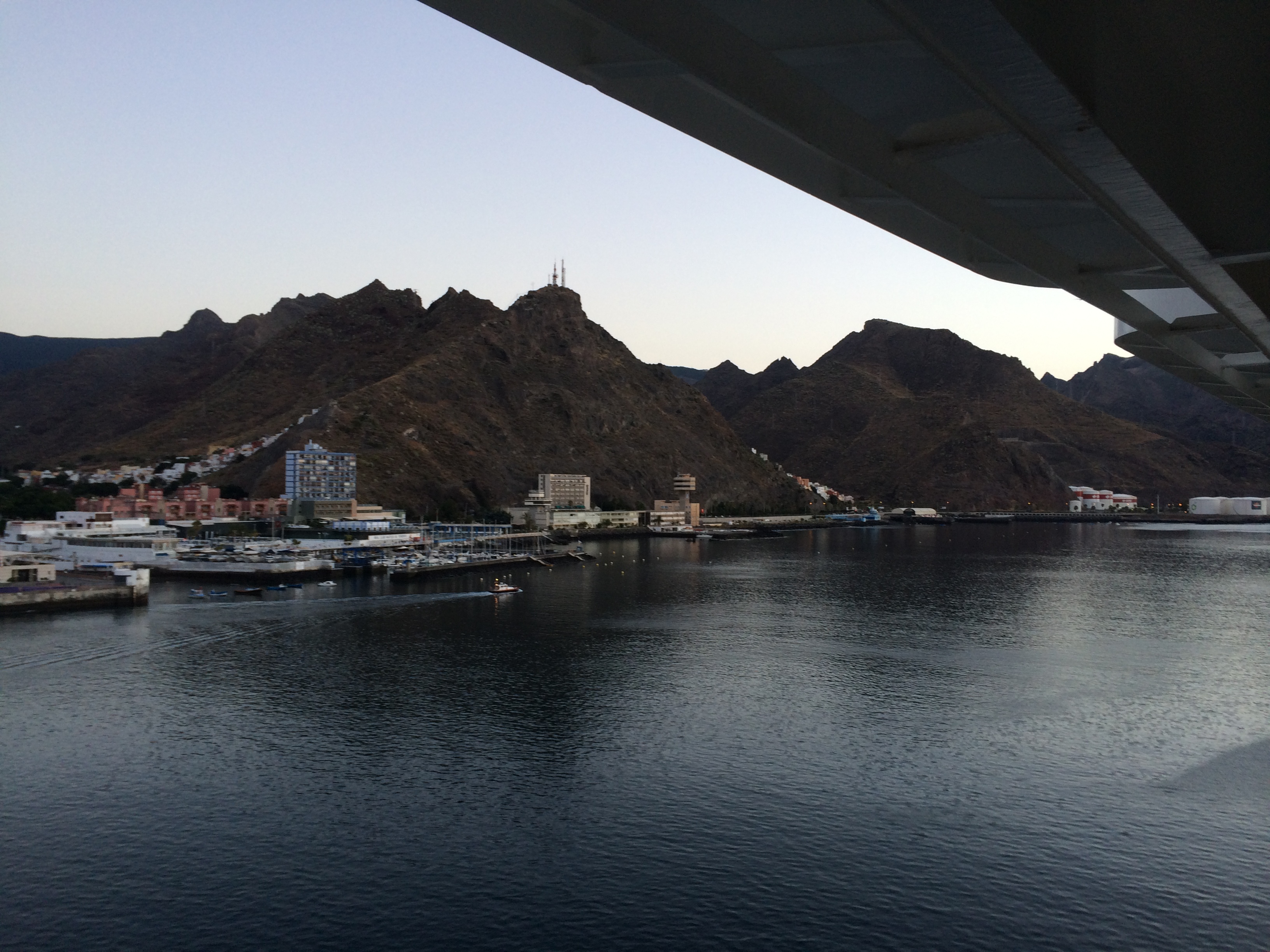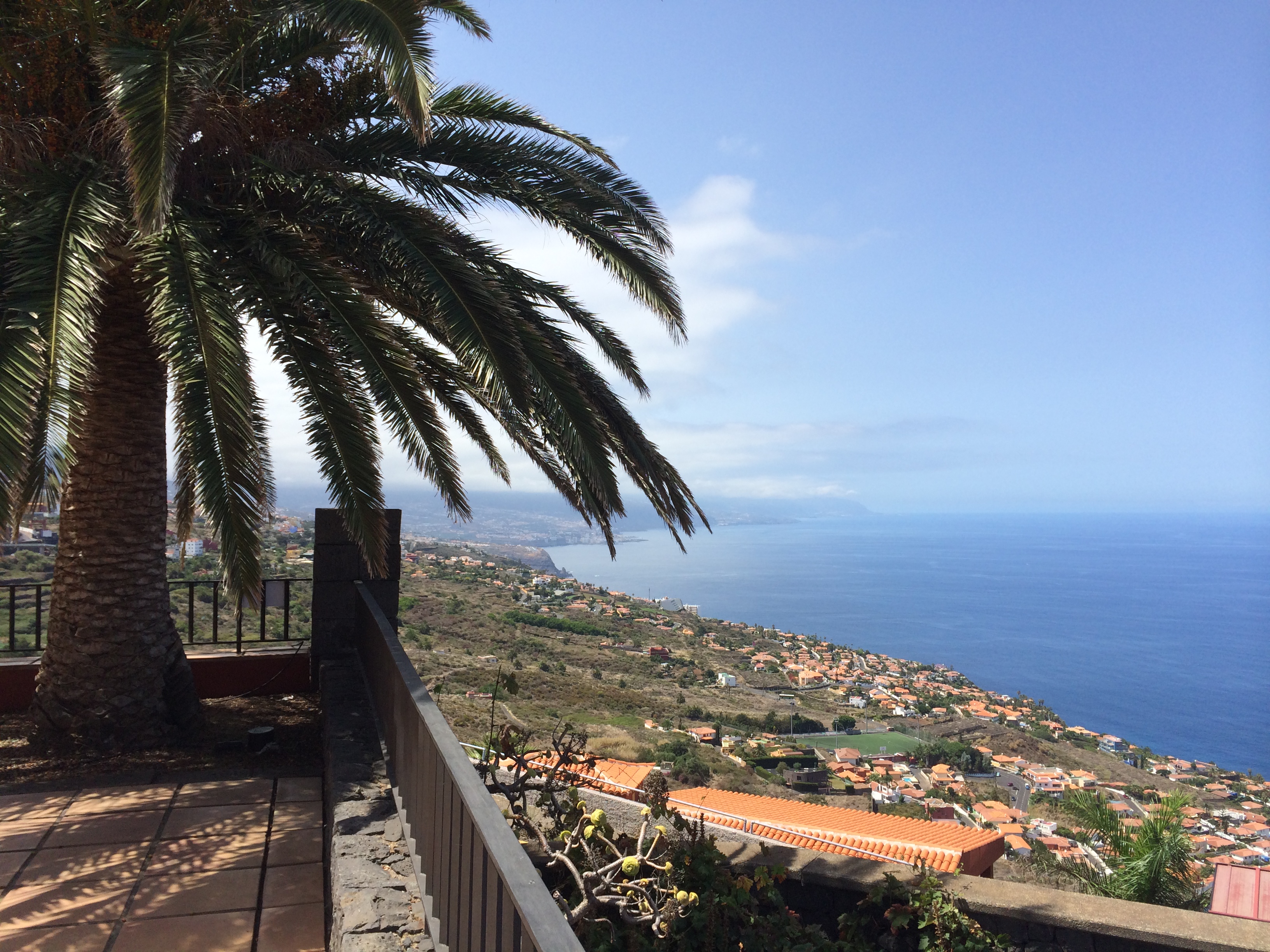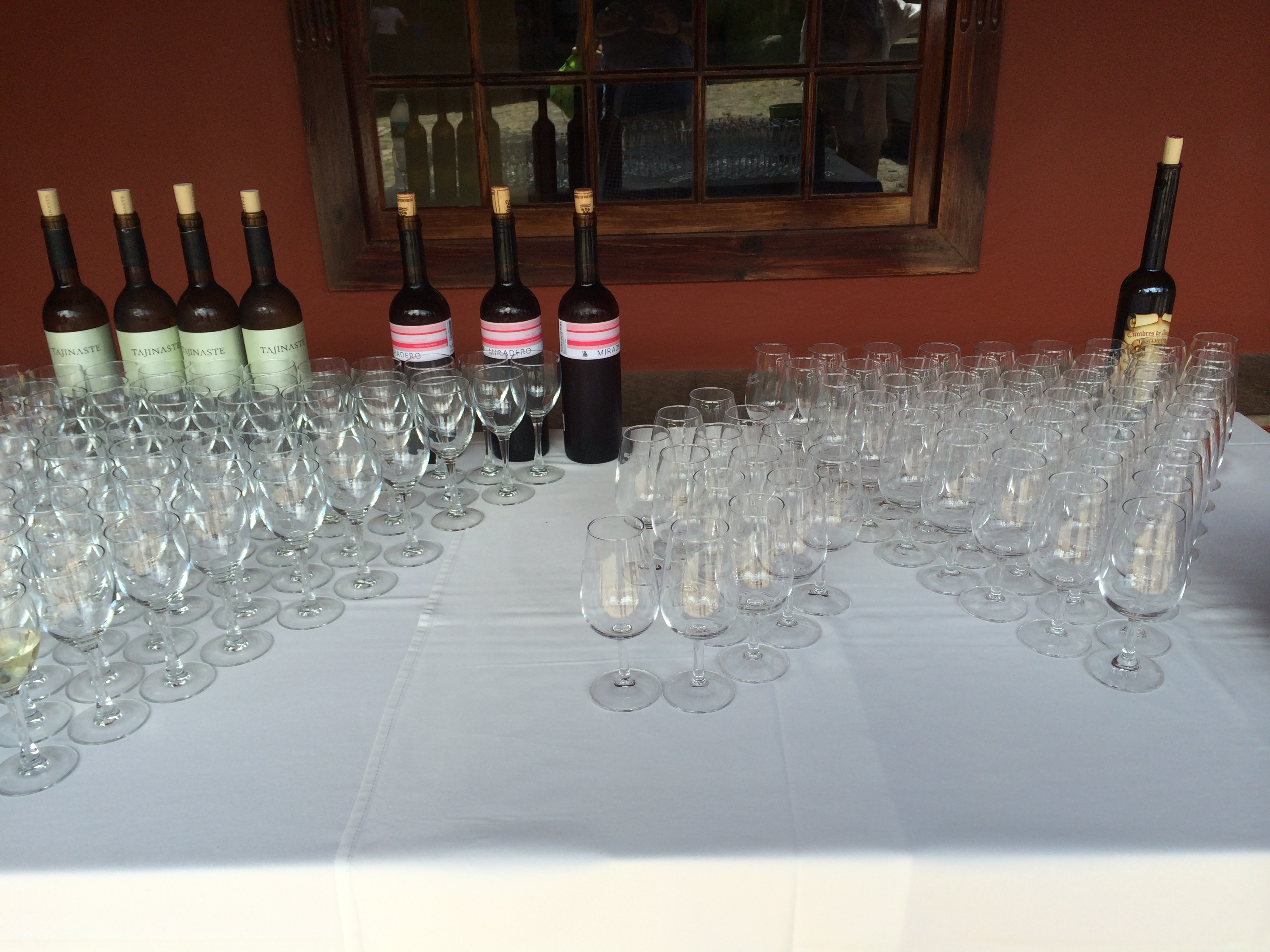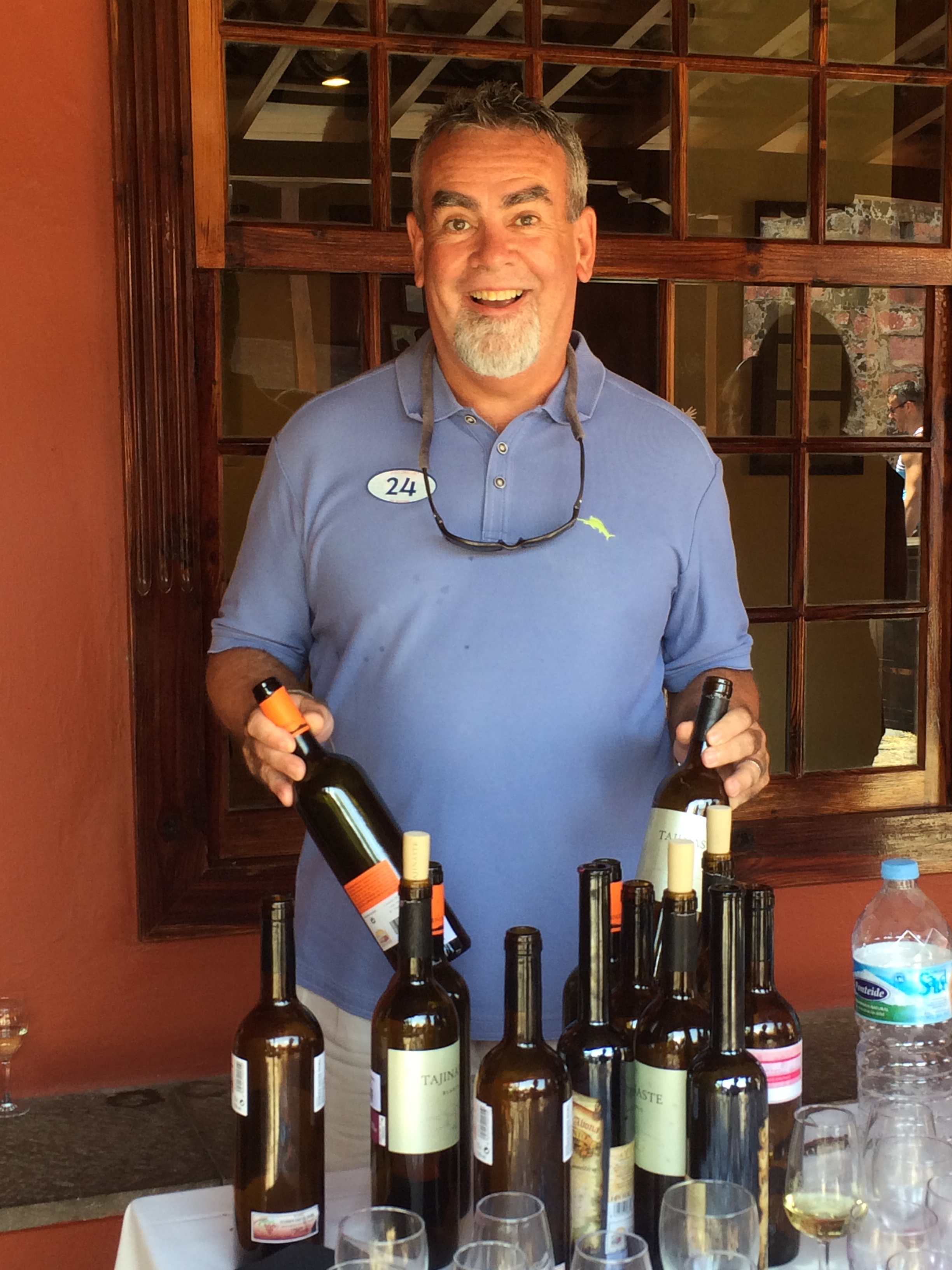 After a very scenic drive through rolling hills and olive trees we arrived at the ship and began the longest leg of our trip, five days across the Atlantic to the southern Caribbean. Our first sea day after leaving the Canary Islands, the seas were flat calm, like glass. The Atlantic can tend to be a little rough certain times of year and there were even a couple of tropical storms brewing out in the middle of the Atlantic that our captain managed to sail around and avoid any bad weather. We enjoyed great weather and calm seas our entire five days. I mentioned earlier some of the many things there were to do on the sea days. One I did not mention happens on all the Disney ships on sea days regardless of itinerary, Palo Brunch.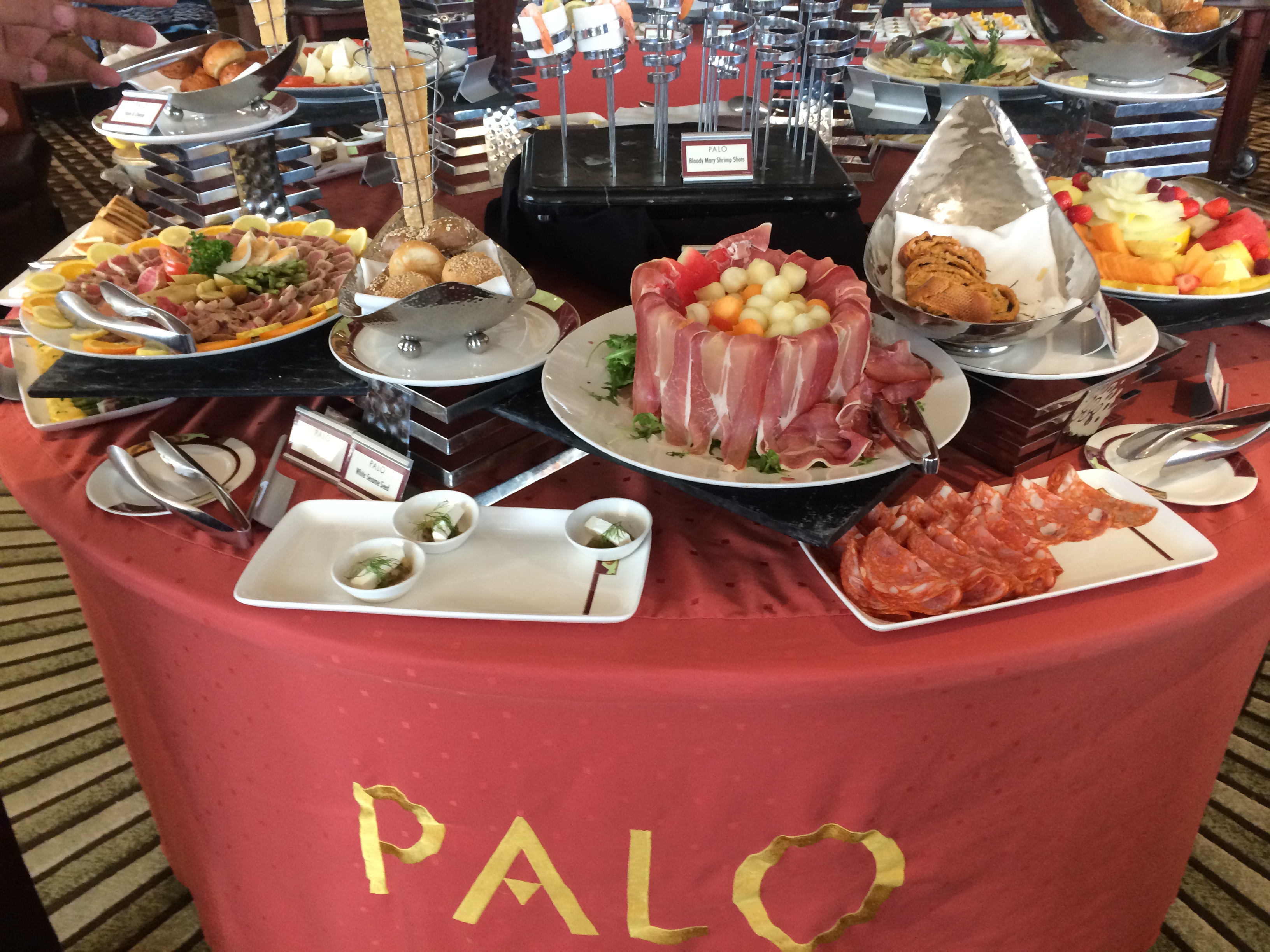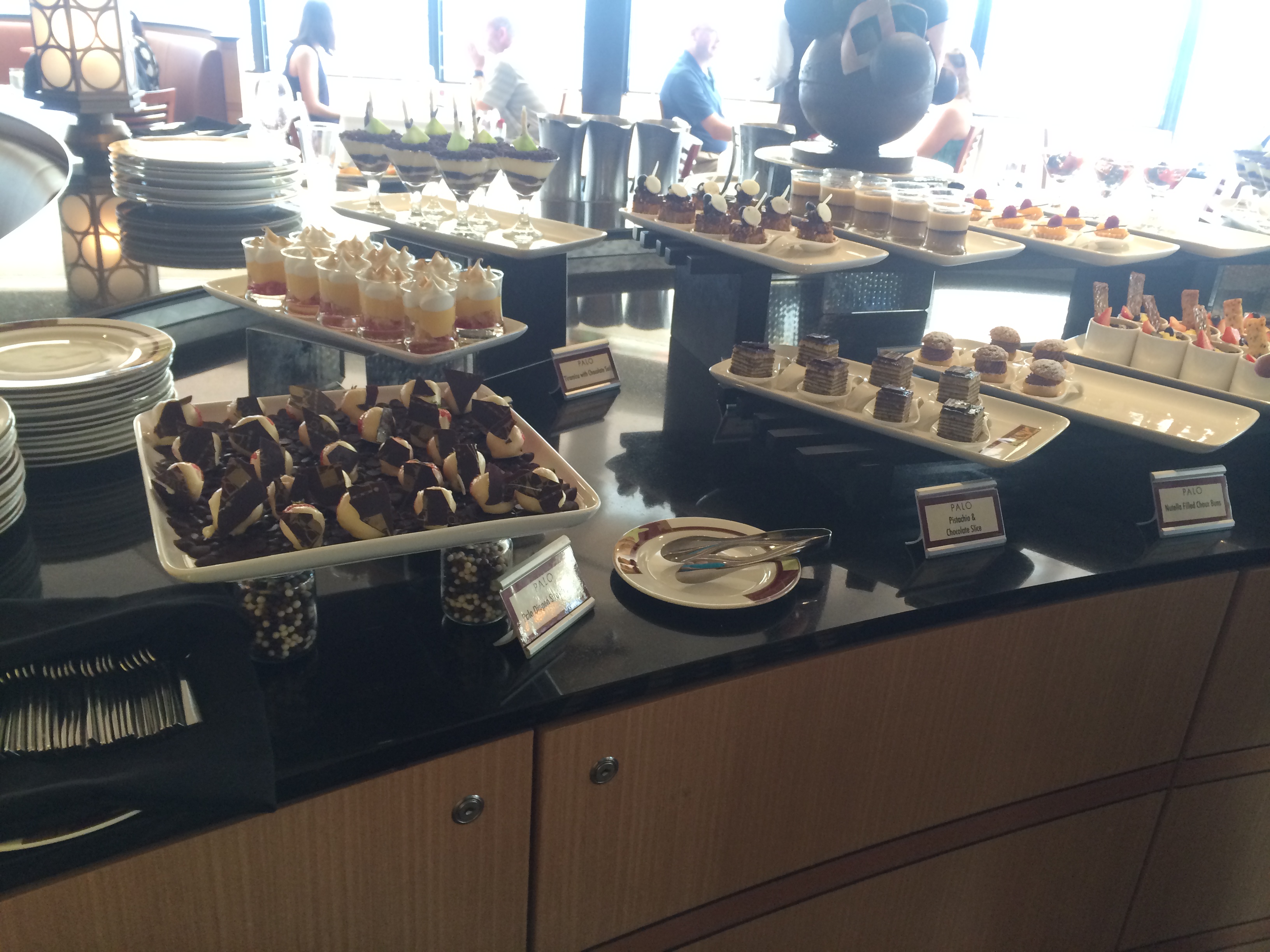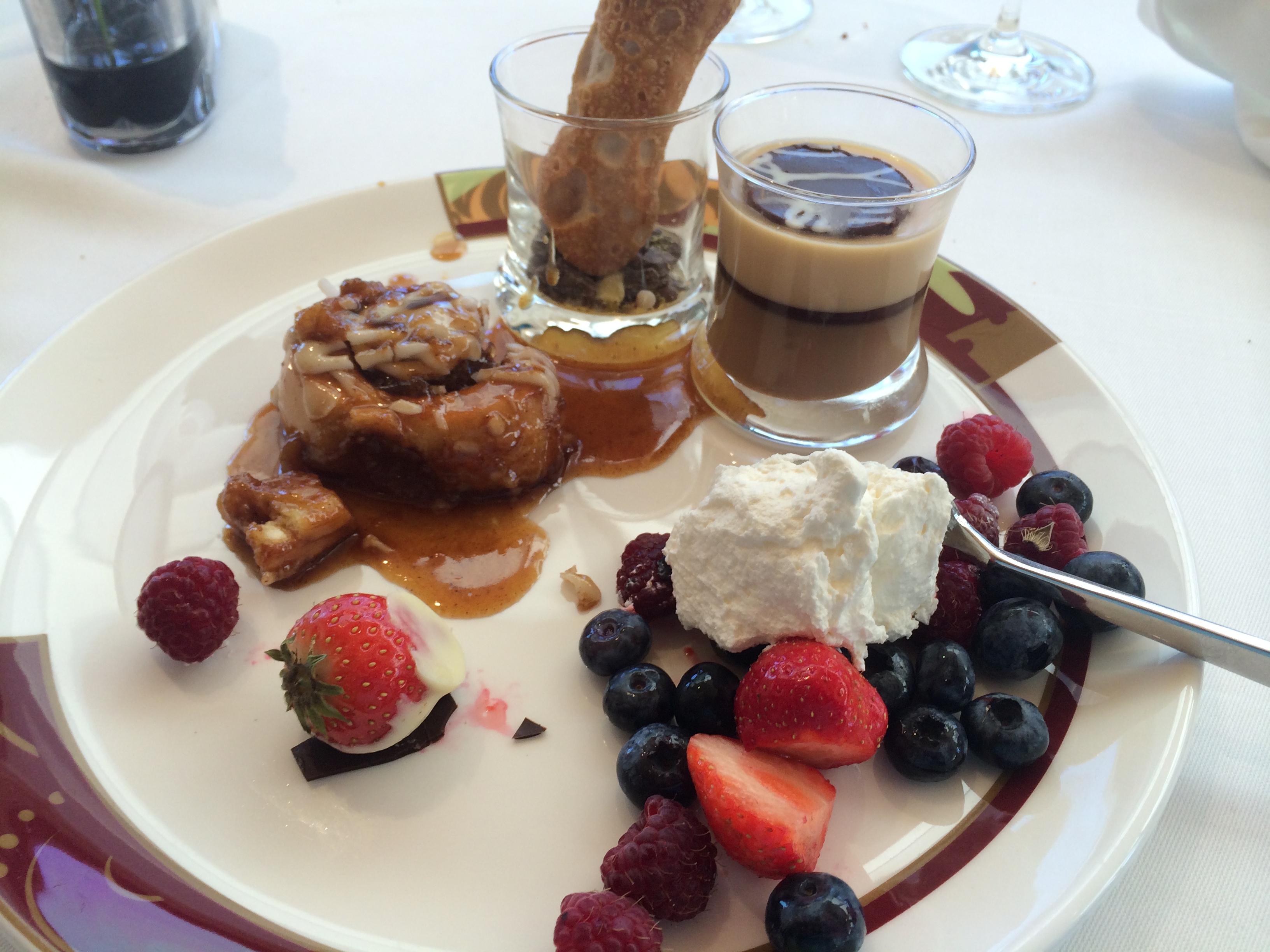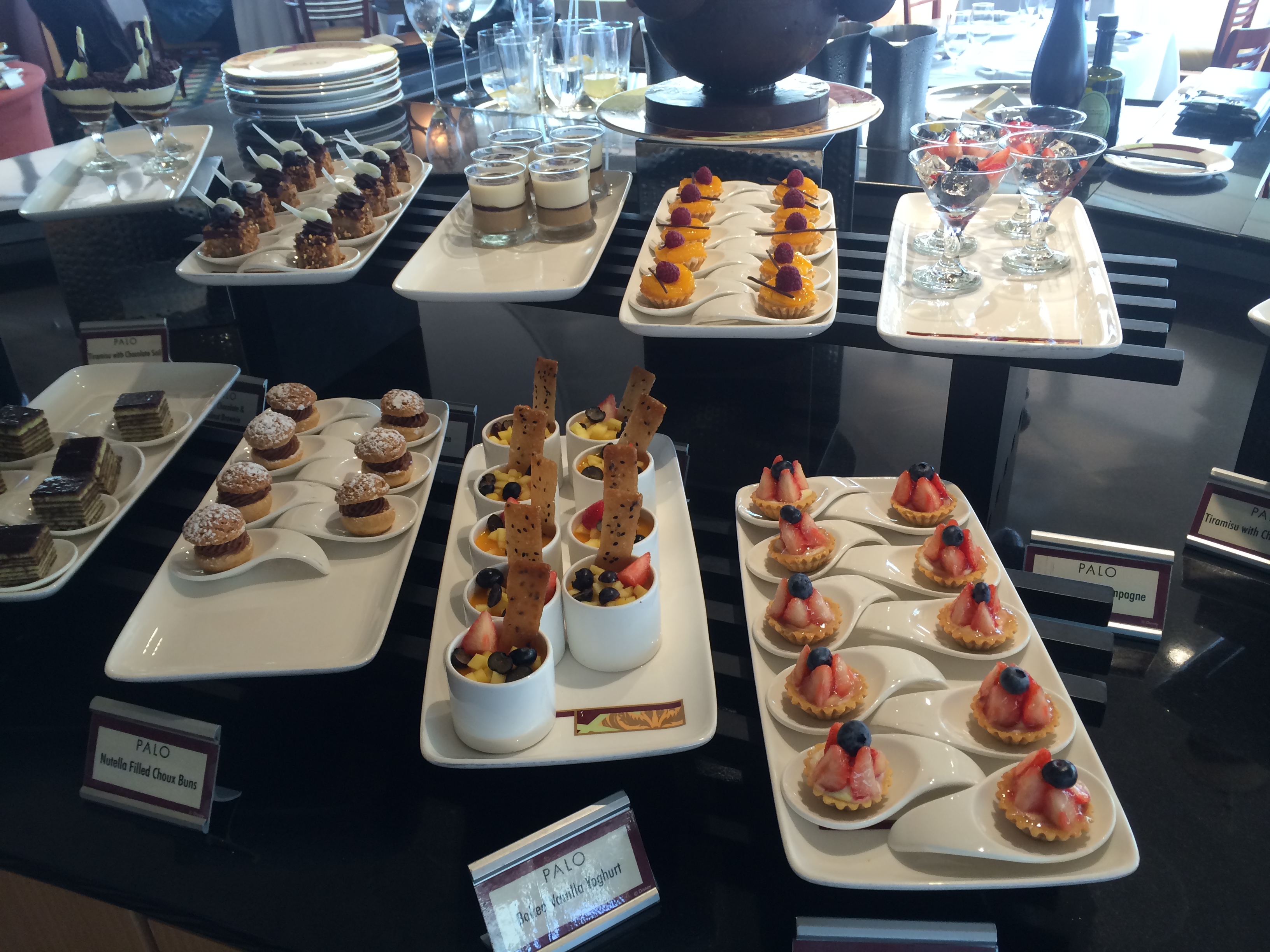 Palo is the adult only, alternative restaurant located on deck 10, aft of the Disney Magic. It is not part of the regular dining rotation and reservations are required. It is adults only, there is a dress code and a surcharge of $25 per person for dinner or brunch. Palo is not open for breakfast or lunch, only dinner nightly and brunch on sea days. During our Atlantic crossing we enjoyed brunch at Palo with our table mates from our regular dining rotation. We arrived for our reservation at 10:30 am, and our server gave us a tour of the buffet selections which consist assorted seafood, seared tuna, crab legs, calamari, shrimp, scallops etc, a wonderful assortment of cheeses and cured meats, artichokes, tomato and mozzarella and many other wonderful items. Leslie always opts for the desserts and there are many including their signature sticky buns which are served warm and gooey, simply delicious! There are also hot entrees you can order from the open "on stage" kitchen, three varieties of Eggs Benedict, flatbread pizzas, a delicious chicken Parmesan and my personal favorite, veal saltimbocca.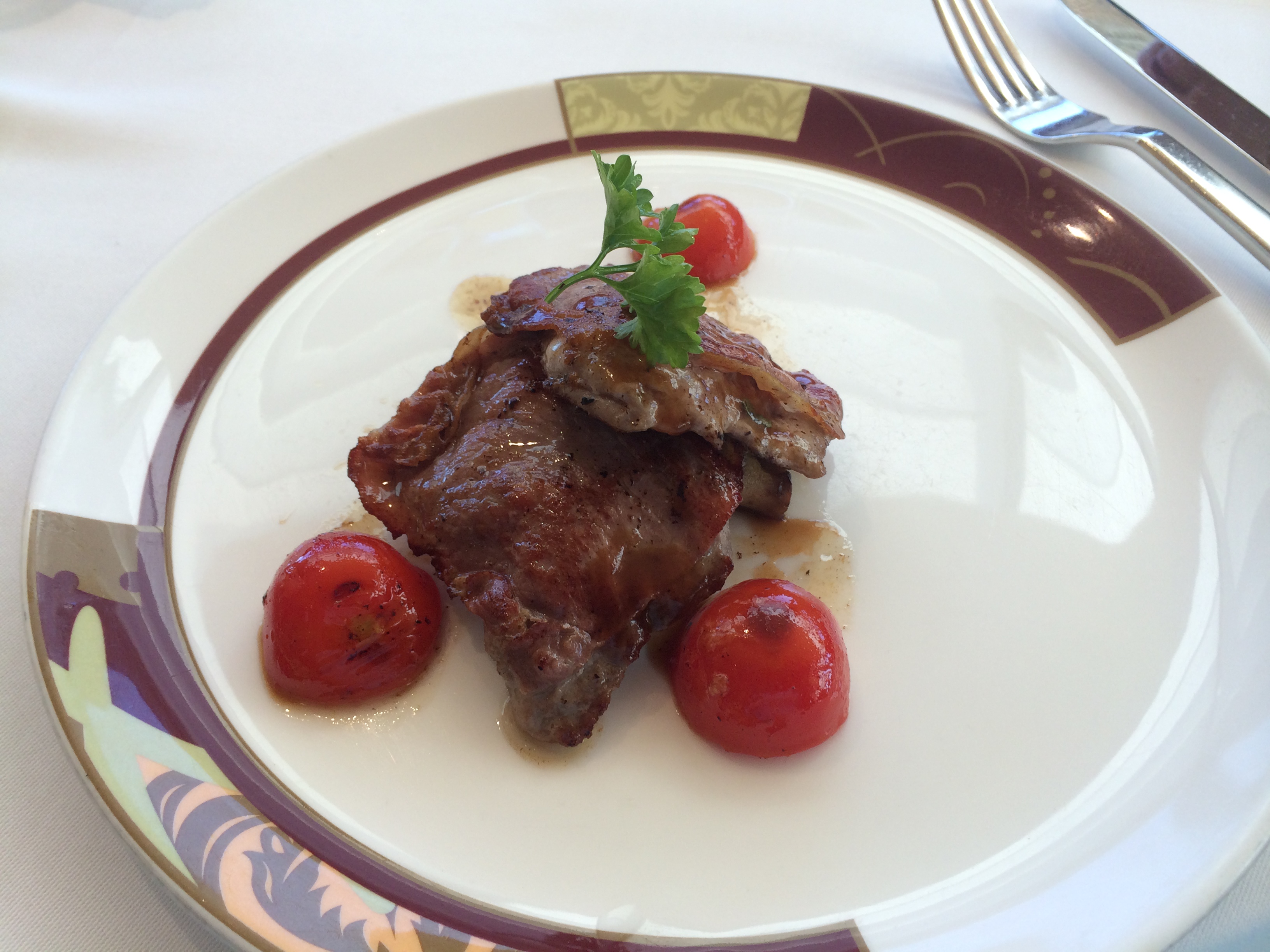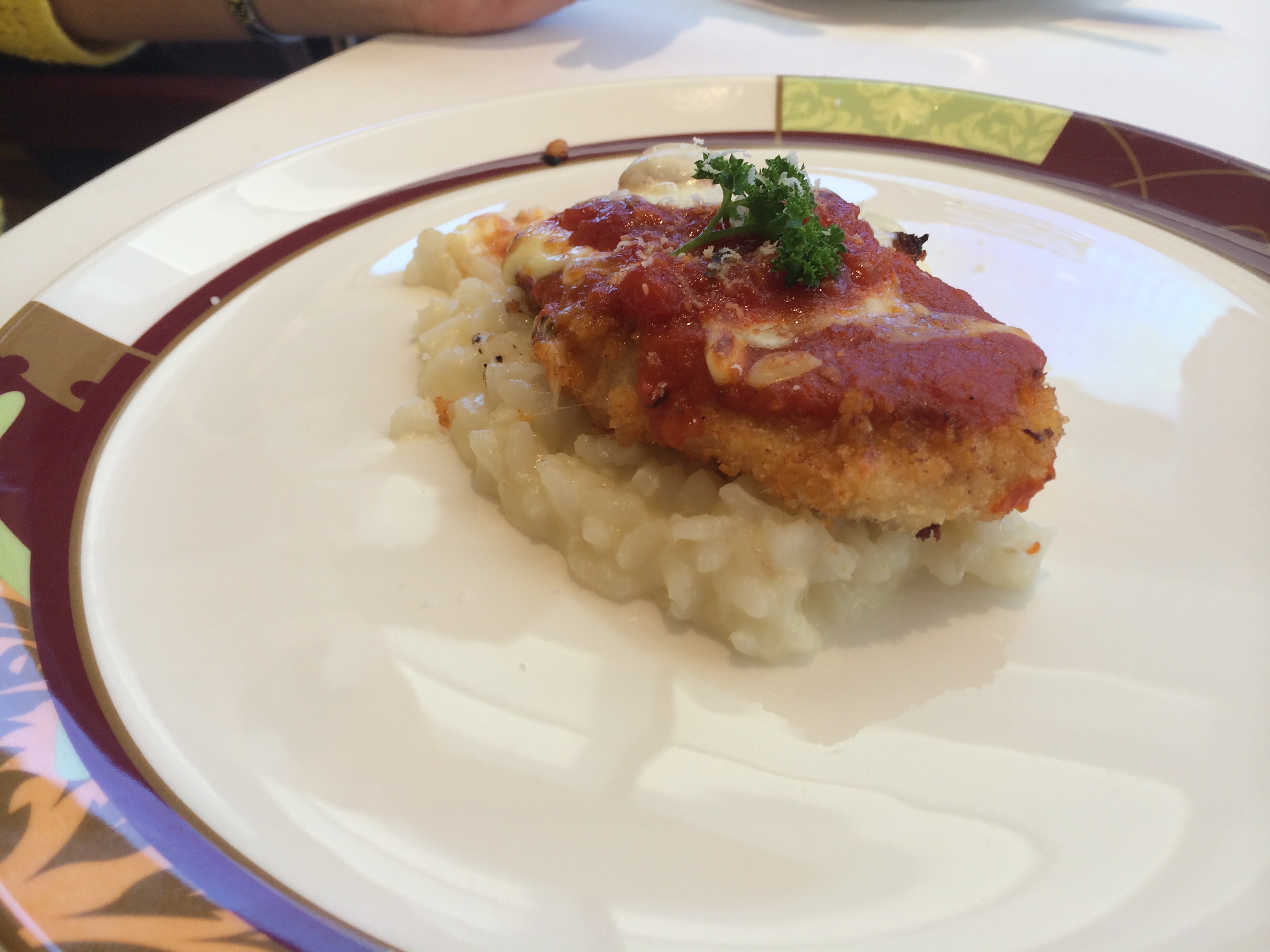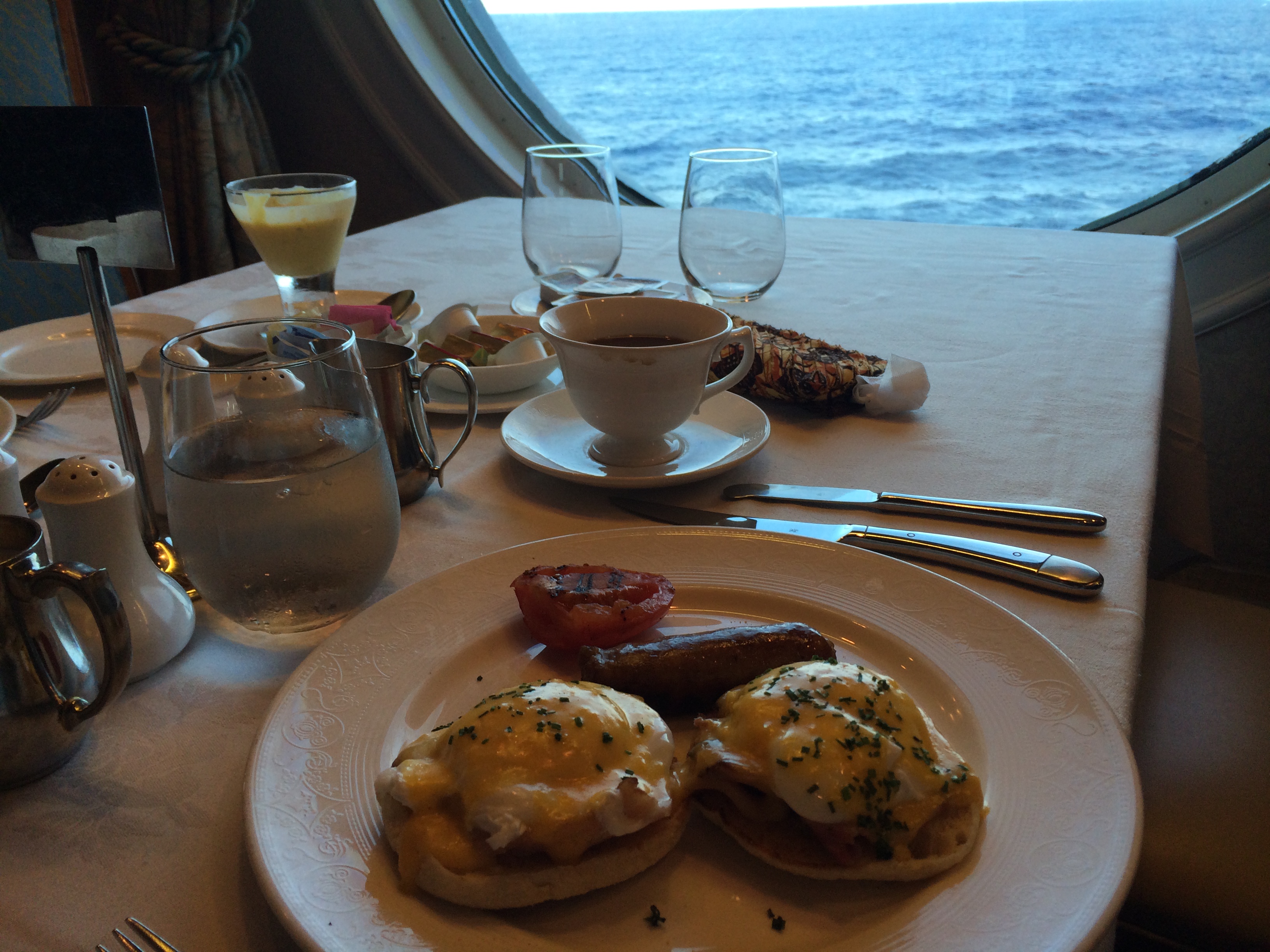 Five sea days together may seem like a lot, and I guess it really is, but we've cruised quite a bit and we just don't think about it that much anymore. We take the days as wonderful times to relax, sleep in, take in a movie or a culinary demonstration, go to a talk or just enjoy hanging out by the pool on the upper deck. Sea days are your days, and you can do whatever you wish!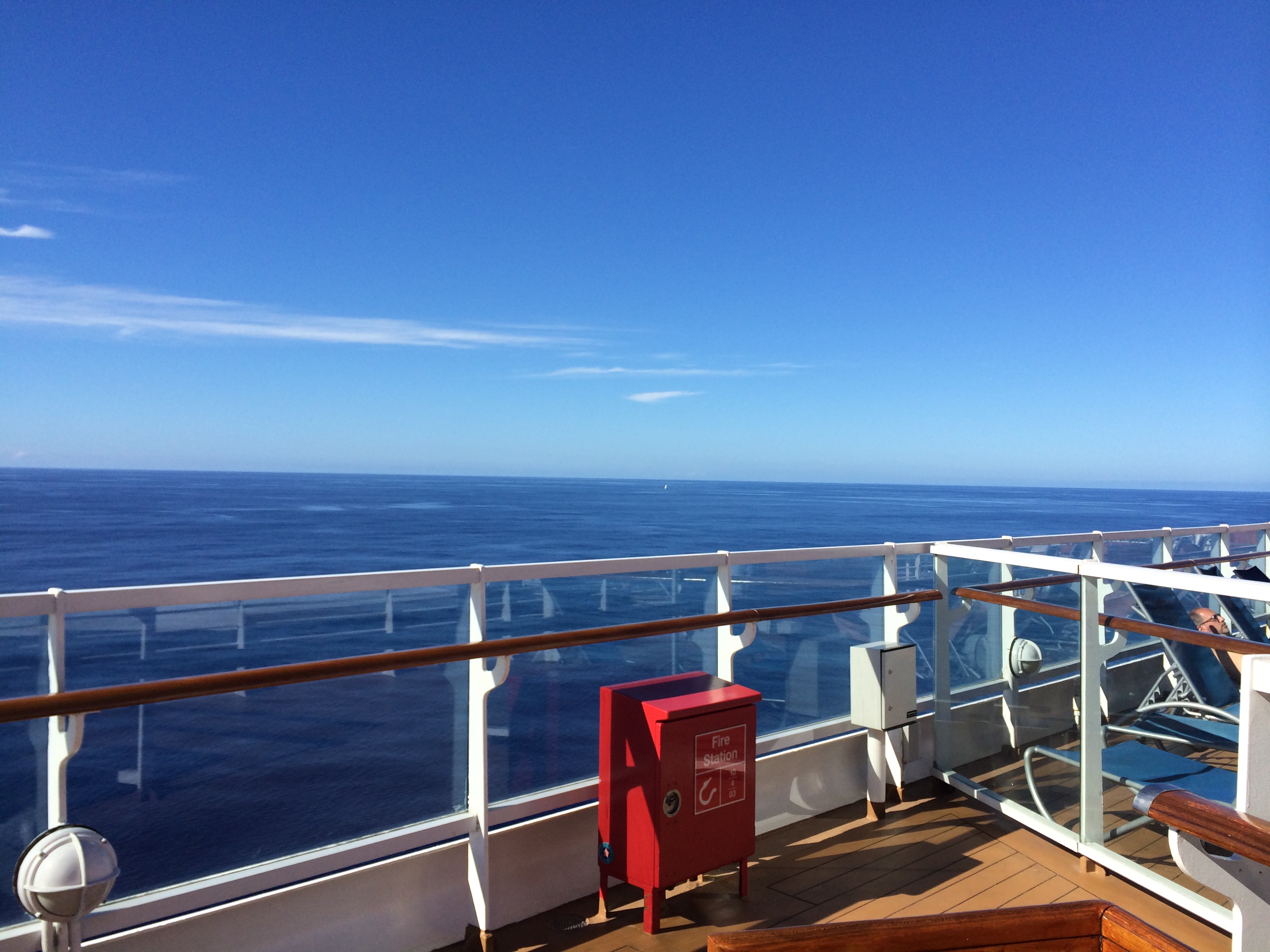 After five days at sea though I can tell you many people were happy to make port in Antigua when we reached the southern caribbean. This was our first time visiting the island and we had an excursion for a catamaran tour and lobster lunch. We boarded the beautiful catamaran near where the Magic docked, met our crew and sailed for a nice stretch of beach where we stopped for about an hour to enjoy the surroundings, sun on the beach or swim in the warm Atlantic. We left the beach, sailed around the island a bit, and made our way to our next stop another beach where we swam, and got ready for the wonderful lunch our crew was grilling on the aft of the catamaran, fresh lobster and all the fixings, truly one of the best days ever!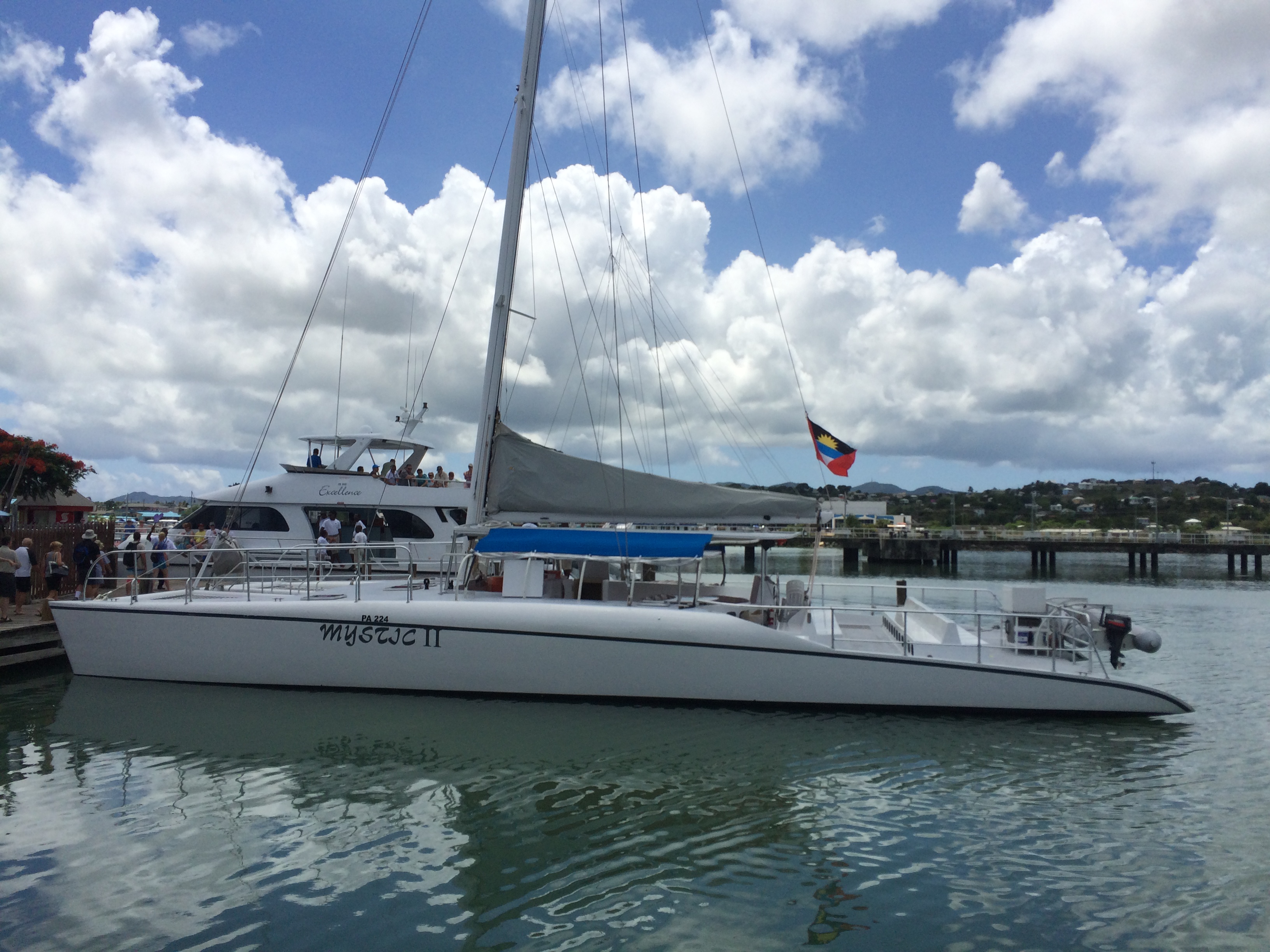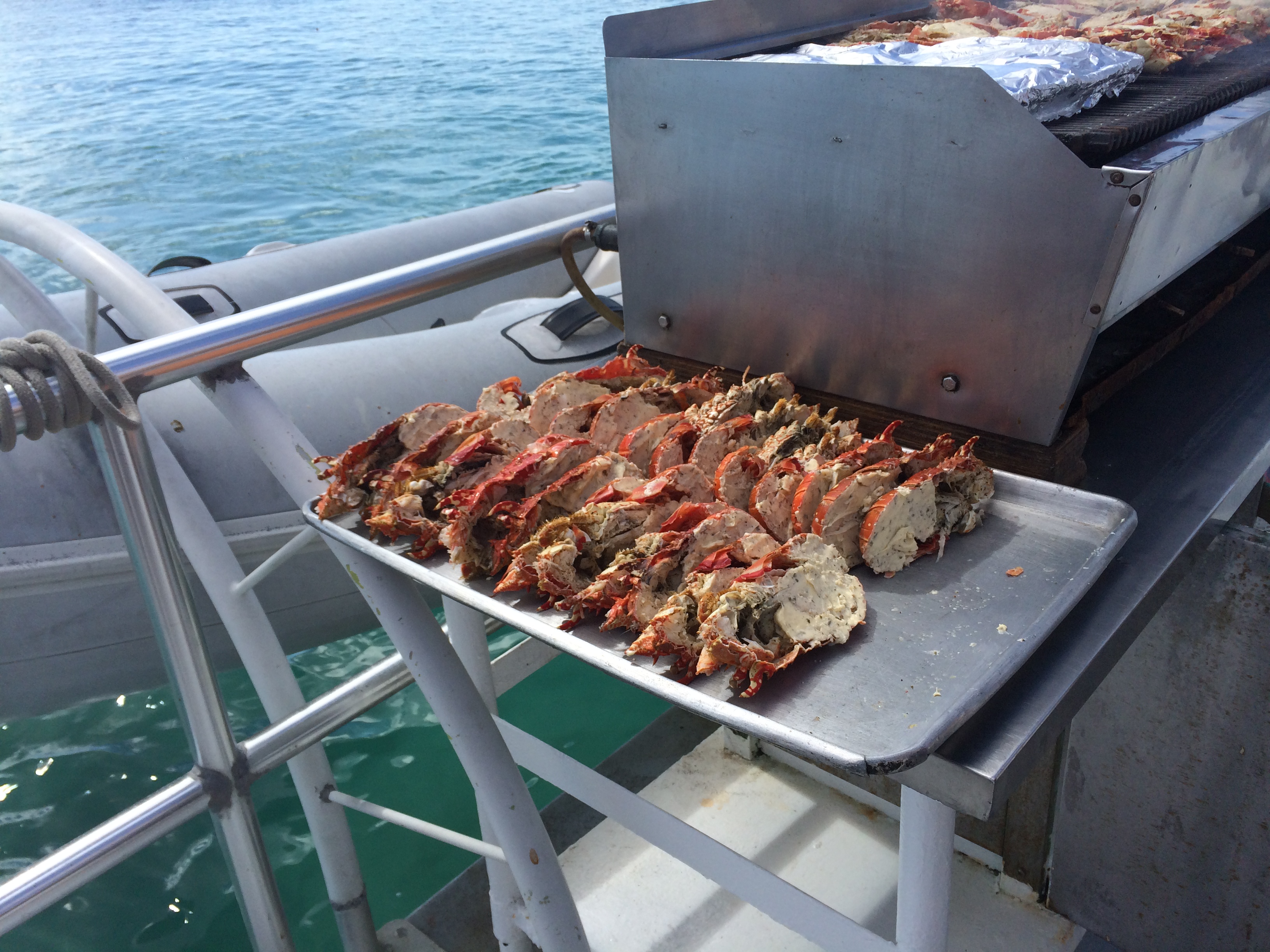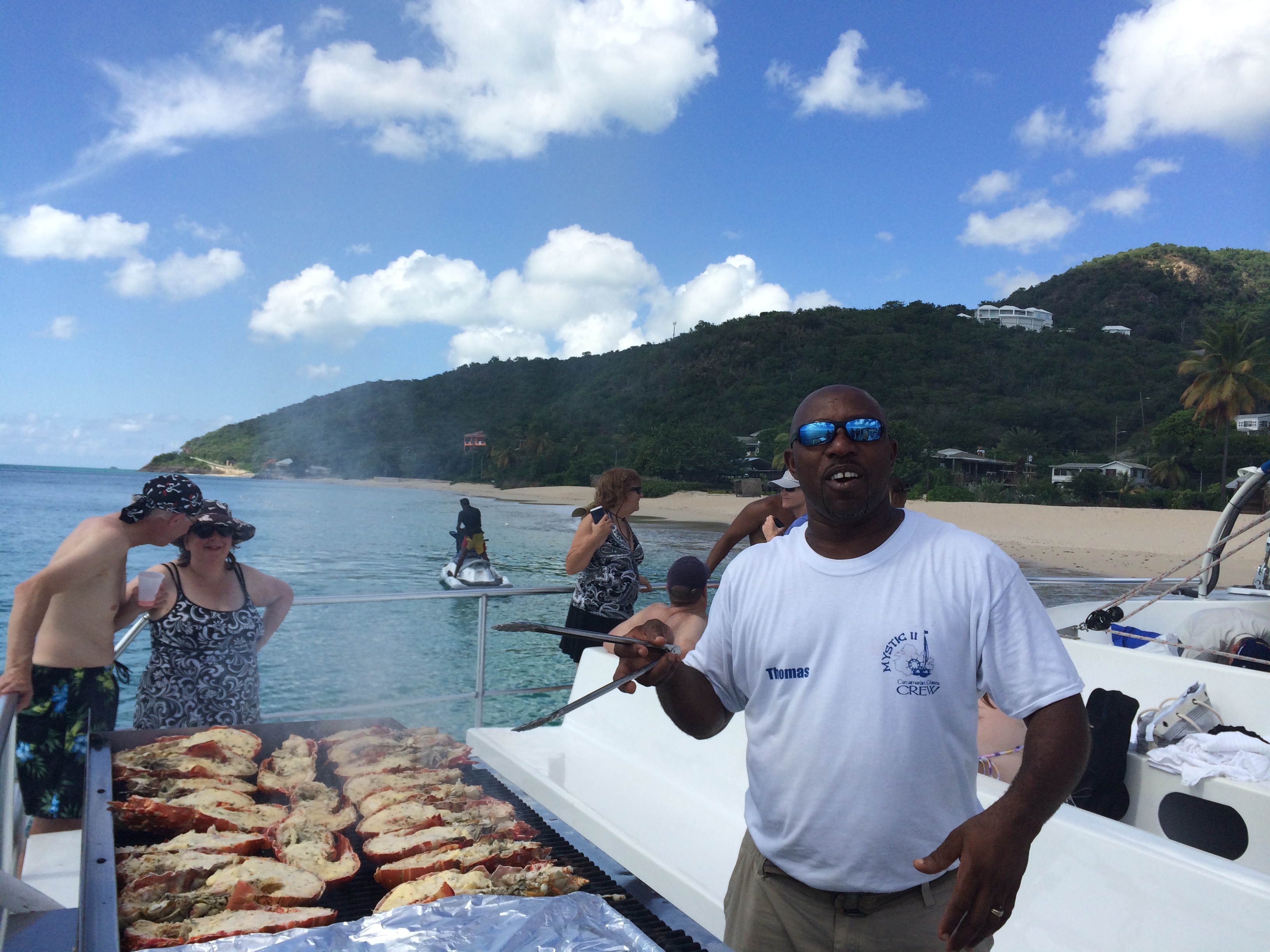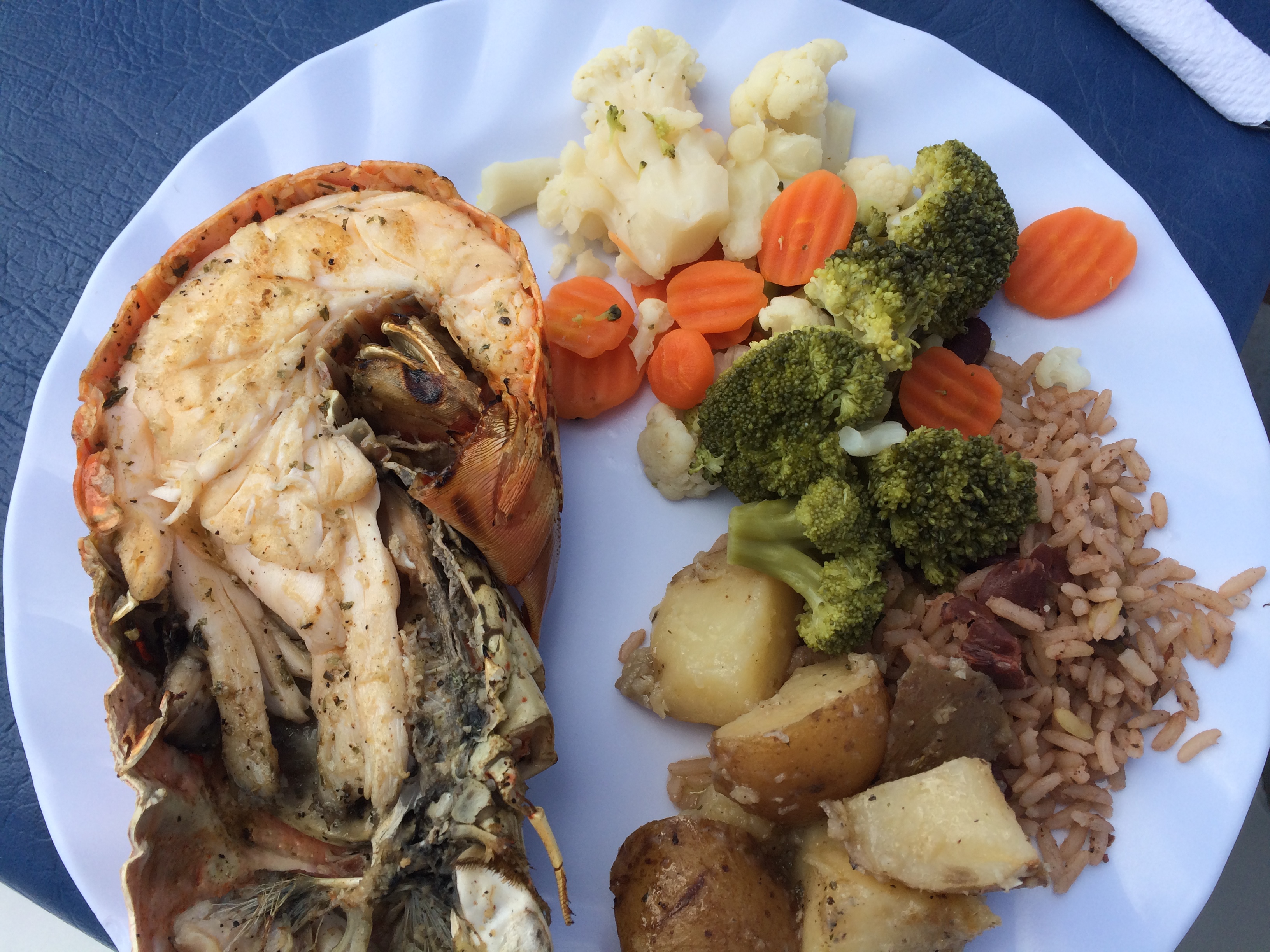 From Antigua we sailed on to St Maarten a port Leslie and I are very familiar with, spent a day there and sailed from there to St. Kitts. This was the first time any Disney ship had called on St Kitts, so we were very excited about our visit. Unfortunately it was a national holiday the day we visited and many stores were closed and excursions canceled. We had planned to do a train tour around the island, I love trains, but due to the holiday it wasn't running. So we do what we love to do in Caribbean islands, went ashore on our own exploring. Not only were many things closed as I mentioned, but our great weather we had experienced the whole cruise was about to run out, and some island rains set in. So we hurried back to the ship had some lunch and enjoyed a movie, not a bad day in the islands!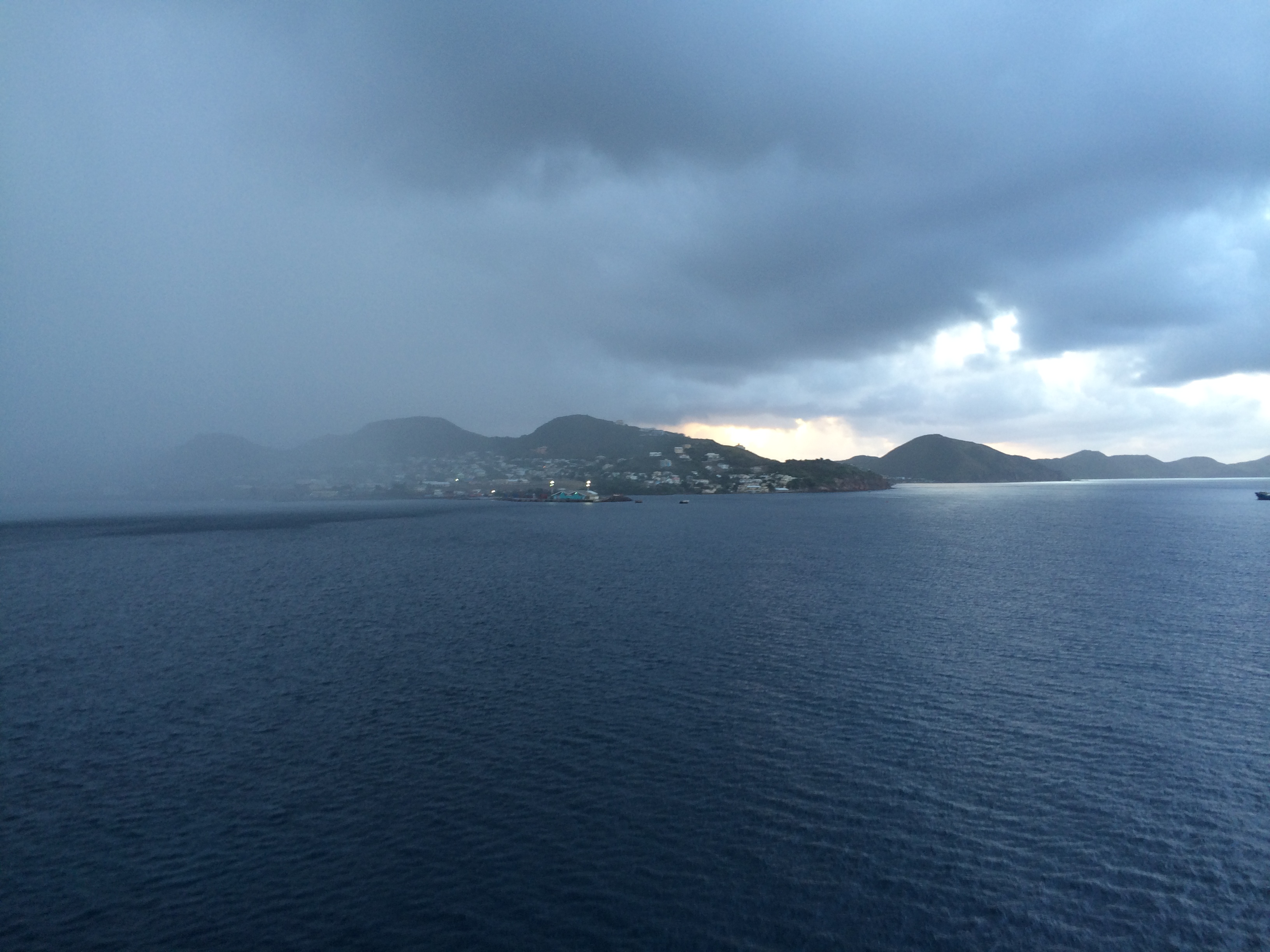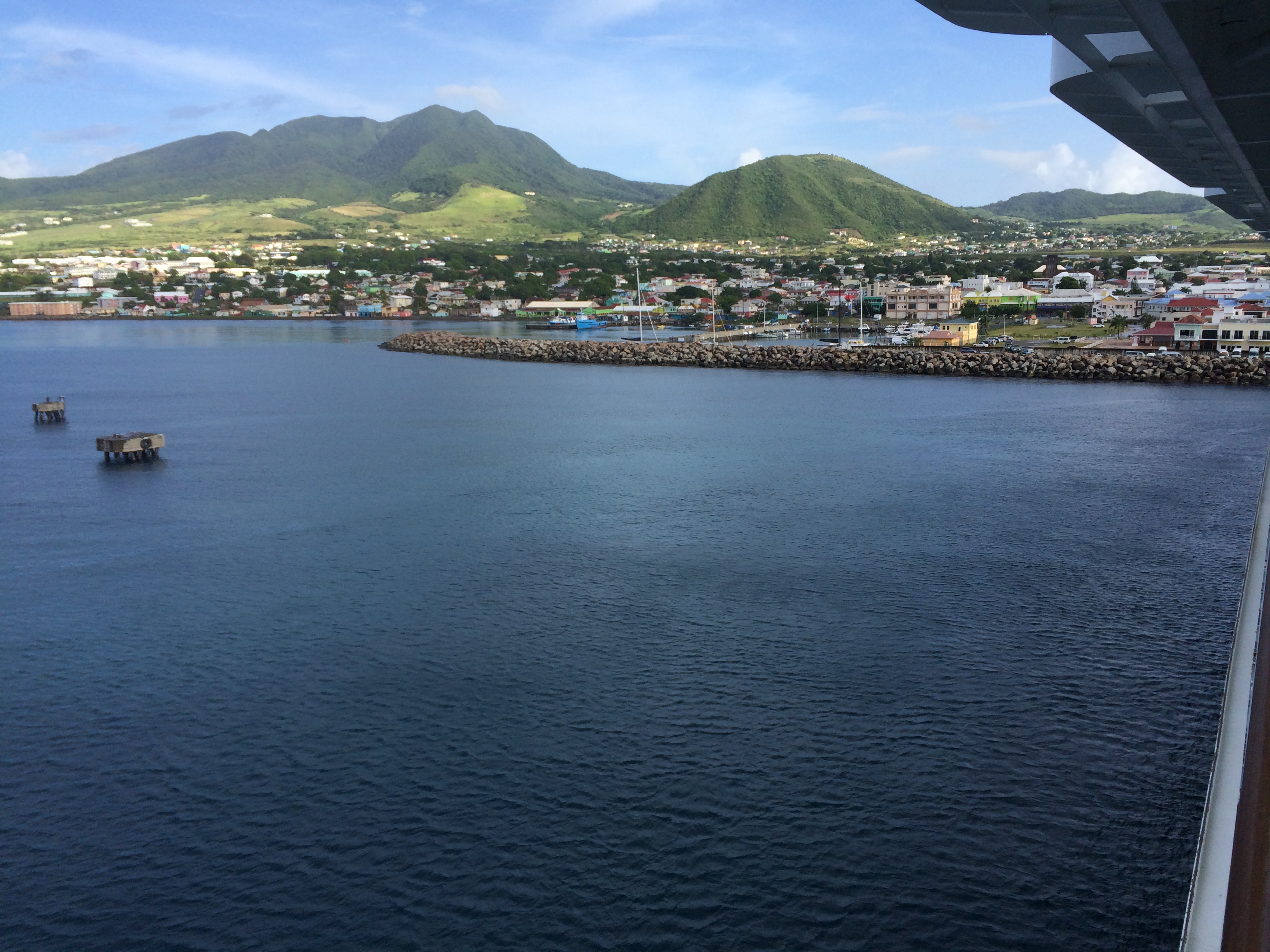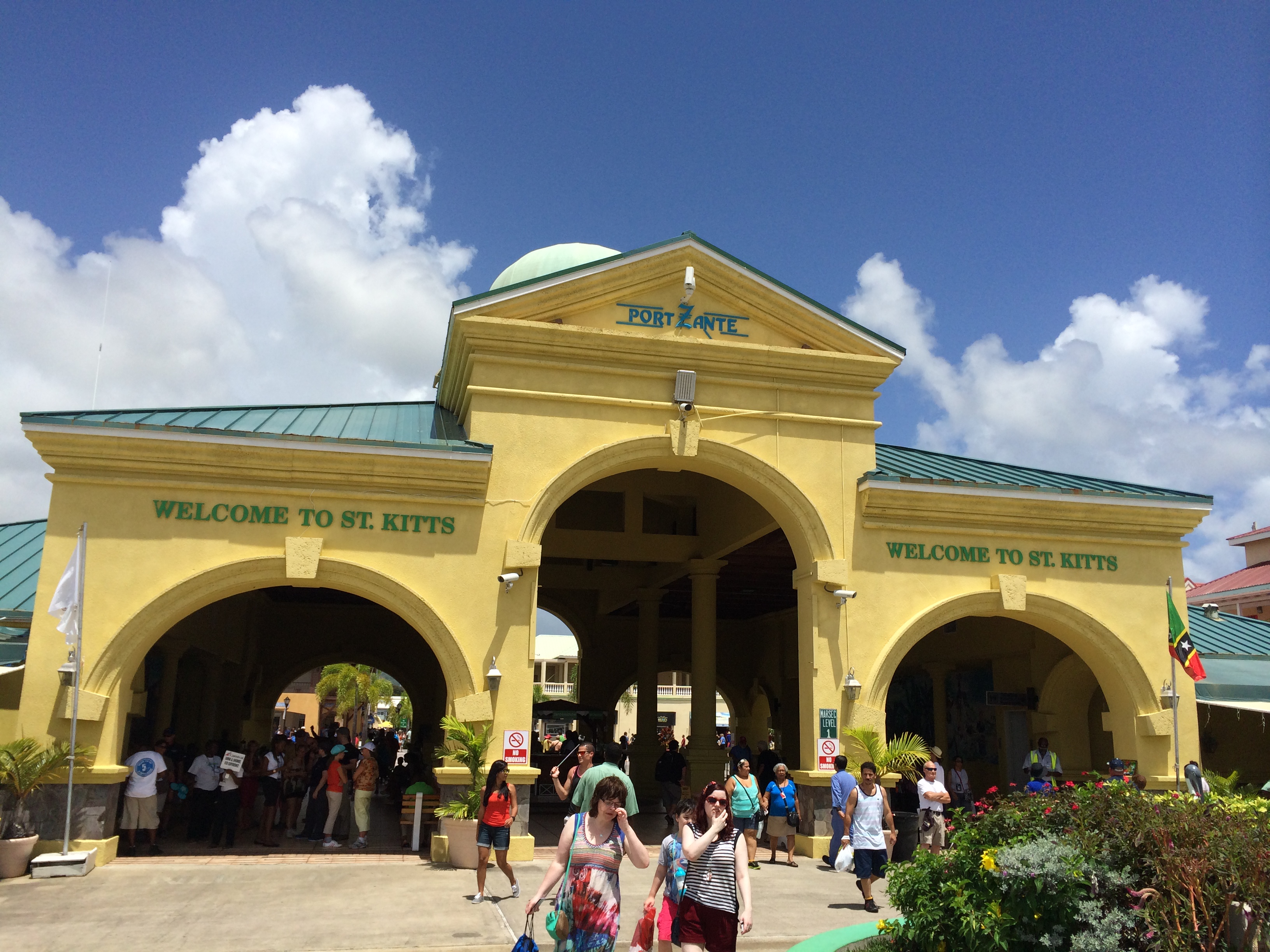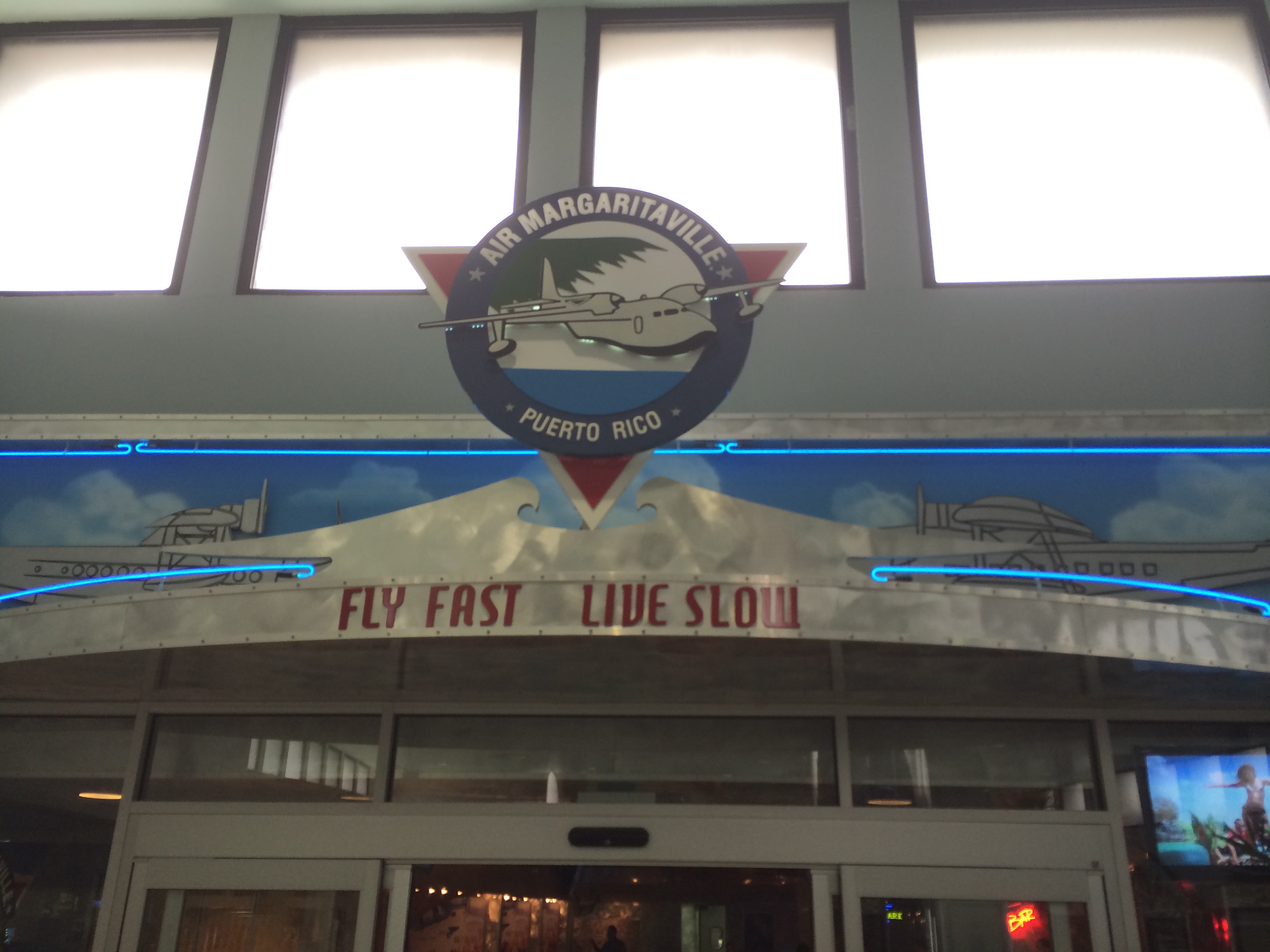 We left St Kitts and headed for our final port and the Magic's new home port for a few weeks, San Juan Puerto Rico. Leslie and I have never been to San Juan either and we had scheduled a later flight so we could visit old San Juan and get to the know the place a bit. Unfortunately the rains from St Kitts followed us and we arrived to San Juan in a downpour. We disembarked the ship and headed on to the airport reassuring ourselves that someday we would return to San Juan.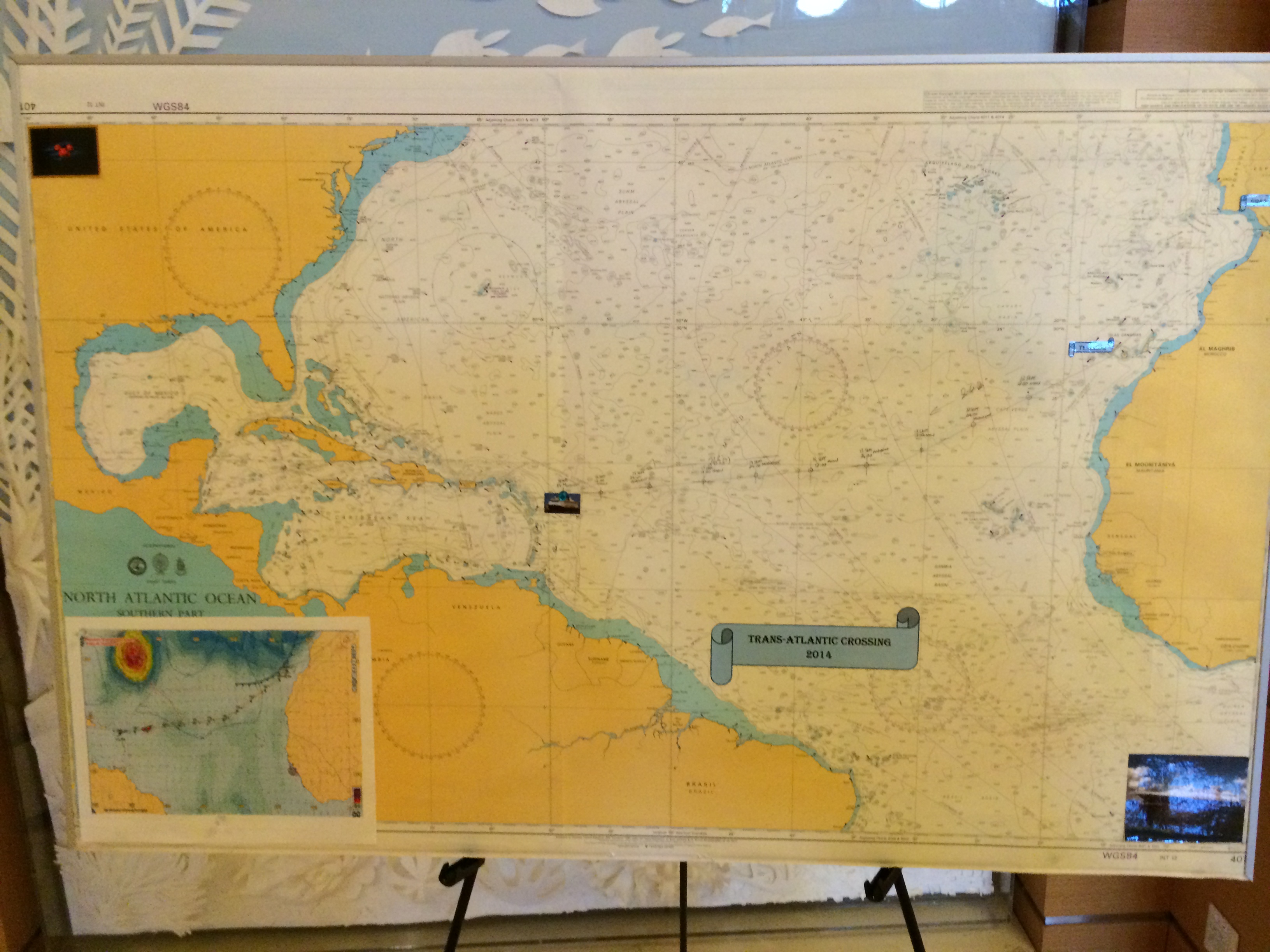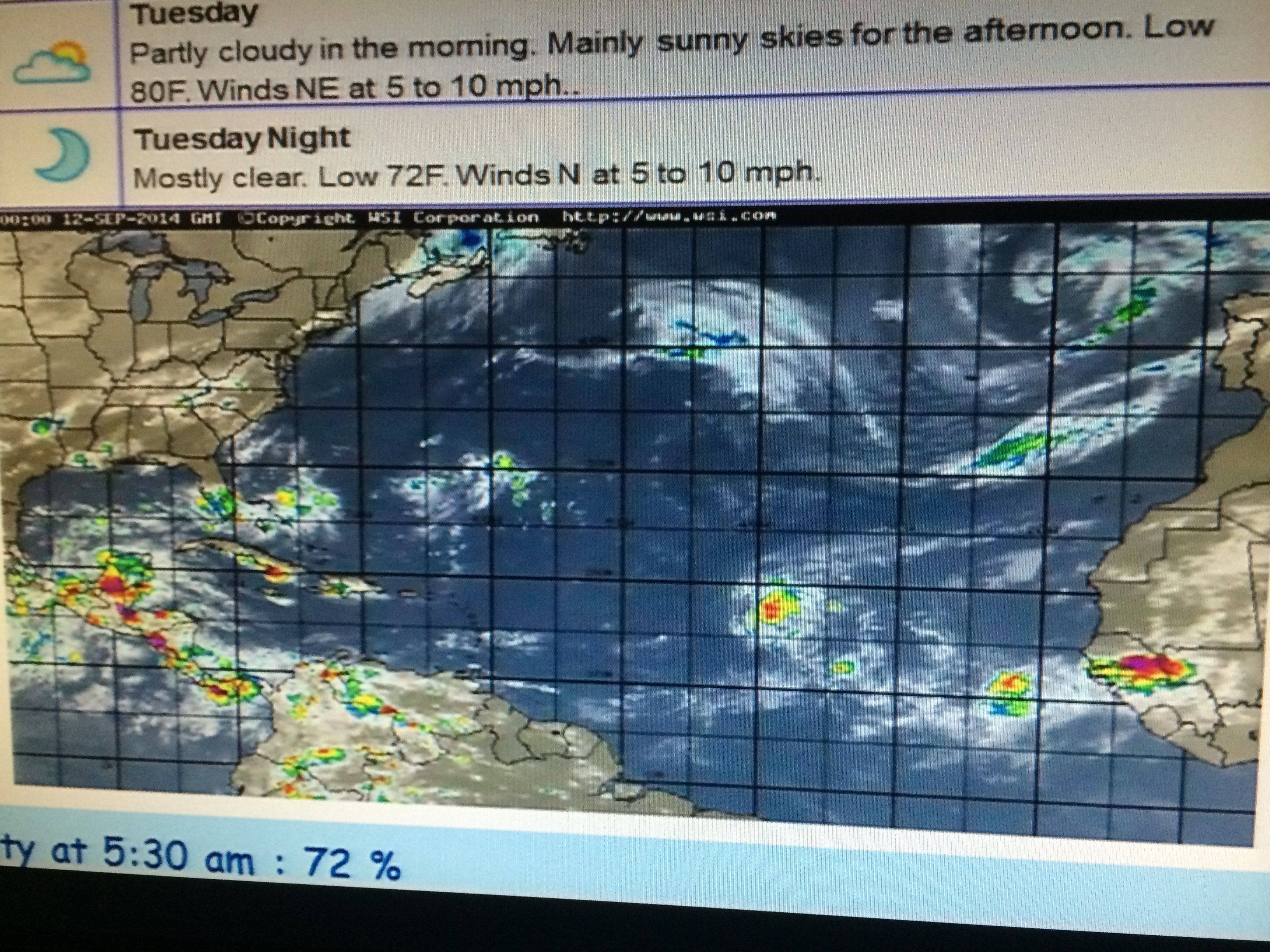 If you love cruising and have never tried one of these unique Transatlantic or any reposition cruise, even a Panama Canal cruise I would highly recommend you plan to enjoy one. The longer cruises allow you to enjoy unique ports, more time on the ship and relaxing sea days with your travel companions!