25 Days of Christmas will be starting soon!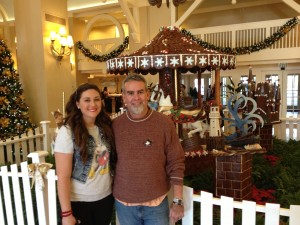 We just arrived in Walt Disney World today, checked into our home away from home resort, Bay Lake Tower and headed out to start filming for Travel with Rick's 25 Days of Christmas!
This is our first trip to film for the 25 Days show, we have another trip next week, and then a day trip to finish up just before Christmas.

Our first guest was Nicole from SparklyEverAfter.com, and our first location was Disney's Caribbean Beach resort. This year we are filming at a few resorts, some of the monorail resorts, Wilderness Lodge, Animal Kingdom Lodge and rounding out at the new Art of Animation resort. We got some great video at the Caribbean Beach, then headed over to Disney's Beach Club Resort, because every year they do this incredible, edible (sorry couldn't resist) carousel made of over 150 pounds of flour, 50 pounds of Dark Chocolate and other edible ingredients.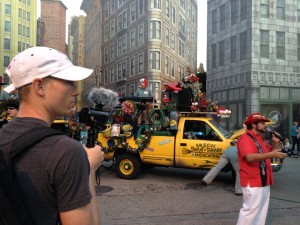 We left the Beach Club  and headed for the real highlight of our days shooting, our camera guys all time favorite, highly anticipated, Mulch Sweat and Shears Christmas Show. I must say, I was really looking forward to seeing Morris Mulch and the gang again this year! They really put on a fantastic Christmas show, and last year Nicole, our guest host for the show got called up to help the band by playing a set of hand bells. Well this year Nicole is our guest host again, and you'll have to wait and see if she helps the band out again!
After Mulch, Sweat and Shears set, it was time for the Osborne Spectacle of Dancing Lights. This is a truly breath taking sight, and may very well be my favorite part of the holidays at Disney, just incredible! Can't wait for you to see this when we post it up on Travel with Rick for the holidays!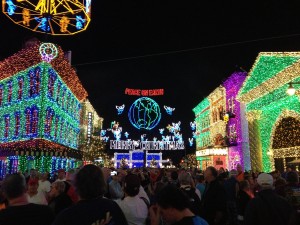 All month long, from December 1 all the way up till Christmas day, we'll be bringing you a video each day from the Walt Disney World resort, featuring theme parks, resorts, decorations and of course co-hosts to help us share all the holiday festivities with you!
Don't miss a day, it's going to be fantastic! Get your daily dose of Disney Holidays right here on Travel with Rick!