A WORLD OF TASTES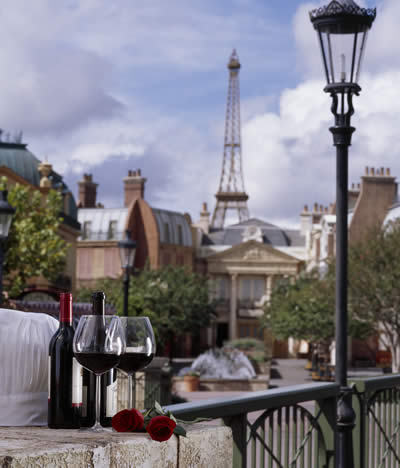 A WORLD OF TASTES: Global cuisine is on the menu for Walt Disney World Resort guests during the Epcot International Food & Wine Festival Sept. 26- Nov. 9, 2008, in Lake Buena Vista, Fla. With prices ranging from $2-$5, guests can try a vast selection of foods featured at more than 25 international marketplaces located along the World Showcase Promenade.
LAKE BUENA VISTA, Fla. – Fine cuisine and wines from some of the best "foodie" cities in the world take a bow at the 13th annual Epcot International Food & Wine Festival Sept. 26 through Nov. 9 at Walt Disney World Resort.
Throughout the six-week festival, Epcot guests can explore the culinary "Cities in Wonderland" – from trendy Cork, Ireland, to the melting pot of Cape Town, South Africa – around the World Showcase promenade while also discovering blissful bites at international and regional marketplaces brimming with exotic flavors and comfort foods. The six-week festival showcases tastes from countries on six continents.
More than 25 international marketplace kiosks serve tapas-sized portions of regional specialties at $2-to-$5 each. Guests can savor treats such as Potato Leek Soup with Dubliner Cheese Stick at the Cork kiosk, Bay Scallops with Baby Greens and Cranberry Vinaigrette at the Wellington, New Zealand kiosk, and Mofongo, Plantain and Beef Casserole at the San Juan kiosk. Recommended wines and beers make perfect pairings at each marketplace. This year, new festival flavors also explore the culinary wonders of Lyon, France; Marrakesh, Morocco; Shanghai, China; Bologna, Italy; Tokyo and Mexico City. Exhibits along the promenade also showcase entertainment and traditional crafts of several countries.
Daily complimentary wine and beer tastings serve up sips from around the world, and culinary demonstrations dish up taste treats. A series of special culinary programs features a lineup of renowned winemakers, guest chefs and speakers participating in elegant dinners, luncheons, seminars and wine schools.
"We want to take our guests on a grand gustatory expedition," says Nora Carey, festival manager. "The cities that we feature are known for great dining experiences, and the 'Cities in Wonderland' theme will inspire our guests to enjoy great food and wine in a fresh new way."
Opening weekend, guests were wowed by the Epcot debut of the gold-standard Bocuse d'Or USA cooking contest, where eight of the country's top chef teams competed for a spot at the international Bocuse d'Or competition to be held in January in Lyon, France.  The prestigious cook-off featured the country's leading chef candidates, each with one assistant, cooking before an audience of park guests at World Showplace pavilion. The winning team, headed by Chef Timothy Hollingsworth of The French Laundry in Yountville, Calif., was selected by a panel of prominent chef judges, including Bocuse d'Or founder Paul Bocuse and Daniel Boulud.
The Epcot festival continues to grow dramatically, attracting a diverse audience of more than one million guests each fall – from wine connoisseurs and epicures to neophytes wishing to boost their wine IQs. Beer aficionados can raise their steins at several tasting locations, including Germany's Biergarten, which specialize in brews from light to dark.
Musical entertainment pairs perfectly with culinary fun during the nightly Eat to the Beat! concert series featuring a varied lineup of classic rock, soul, R&B, oldies, jazz and funk hit-makers. Concerts are performed three times each evening at America Gardens Theatre along the World Showcase lagoon. New acts appearing include Kool & The Gang, Spyro Gyra, En Vogue and Big Bad Voodoo Daddy. David Sanborn, Jon Secada and Otis Day and the Knights are among returning crowd-pleasing acts.