Cameron Mathison dances with Minnie Mouse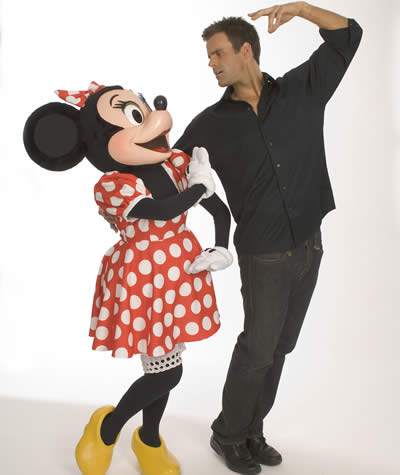 DANCING MACHINE: "All My Children" and "Dancing with the Stars" performer Cameron Mathison, with dancing partner Minnie Mouse, score a perfect 10 among judges and fans alike as they prepare for the annual "ABC SOAPnet Super Soap Weekend" Nov. 15-16 at Disney's Hollywood Studios.
Also joining the stellar lineup of 30 stars from the ABC daytime dramas are Thorsten Kaye, Aiden Turner and Rebecca Budig from "All My Children," Erika Slezak, Michael Easton and Kristen Alderson from "One Life to Live," and Laura Wright, Kelly Monaco and Jason Thompson from "General Hospital." Soapnet.com will reveal the full Super Soap Weekend all-star lineup on Tuesday, Sept. 30.
This year will mark the last Super Soap Weekend in Orlando as ABC's Daytime Division embarks on the 2009 Soap Nation Tour, a collection of nationwide events designed to interact with fans on a year-round basis offering greater access to stars in more cities, more often. The final Walt Disney World weekend will be dedicated to the fans with special retrospectives and exclusive productions.
This year, special trivia and commemorative clip packages honoring the 45th anniversary of "General Hospital," the 40th anniversary of "One Life to Live," "All My Children's" 10,000th episode, and past Super Soap Weekends will be shown during the event. Super Soap Weekend will become more interactive than ever before with the introduction of new mobile programs and text trivia. A special musical number will be developed for Colgate Total Street Jam that honors the final event, as well. 
Throughout the weekend, fans will have the opportunity to meet favorite stars from "All My Children," "One Life to Live" and "General Hospital." Festivities include celebrity motorcades, autograph sessions, game shows, interviews and the chance to purchase one-of-a-kind memorabilia from each of the shows. The Colgate Total Street Jam will close the event each day with live musical performances by some favorite daytime stars. Colgate Total toothpaste has served as the presenting sponsor of the event for nine consecutive years.