Disney's Favorite Pixie, Tinker Bell, Introduces Magic Kingdom Guests to Her New Fairy Friends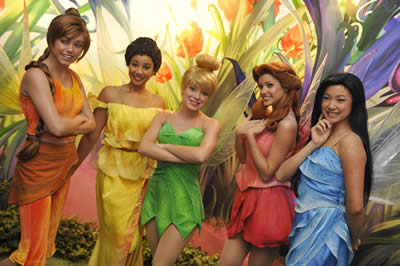 LAKE BUENA VISTA, Fla. — To celebrate the animated film "Tinker Bell," Disney's most famous fairy and four of her best friends are featured in a meet-and-greet experience in Mickey's Toontown Fair at Magic Kingdom at Walt Disney World Resort.
To meet Tinker Bell and her fairy friends, guests enter a magical forest called "Pixie Hollow," a special place deep in the heart of Never Land.
Tinker Bell, made famous in the 1953 Disney animated classic "Peter Pan," for her "hostess" role in Disney television specials and for "flying" above the Disney theme parks, is joined inside Pixie Hollow by four fairy friends: Fawn, an animal fairy; Iridessa, a light fairy; Rosetta, a garden fairy; and Silvermist, a water fairy.  
In addition to meeting the Fairies at Magic Kingdom, guests can learn more about the Disney Fairies at www.disneyfairies.com.  
And if Tinker Bell doesn't "ring a bell" or jog a memory, here are some "fun fairy facts" about the sprightly pixie:
 
Tinker Bell debuted at Walt Disney World Resort in 1971, as the classic attraction Peter Pan's Flight opened in Fantasyland. The beloved attraction immerses guests in the "Peter Pan" story as passengers board flying pirate ships bound for Never Land.
 

Tinker Bell began "flying" from high atop Cinderella Castle in 1985. Since then, she has taken her flight thousands of times to light the sky with magical fireworks.
 Tinker Bell made her Walt Disney World parade debut in 2007. She made that premiere appearance atop a float in "Disney's Enchanted Adventures Parade," an entertainment extravaganza during Disney's Pirate and Princess Party.
 Tinker Bell merchandise continually ranks among the top sellers of character-based merchandise at Walt Disney World Resort.