Disney Announces Booth and Menu Items for 2013 Epcot International Food and Wine Festival
Today is a GREAT day Travel with Rick friends…  Because Disney has announced the Booth and Menu line up for the 2013 Epcot International Food and Wine Festival!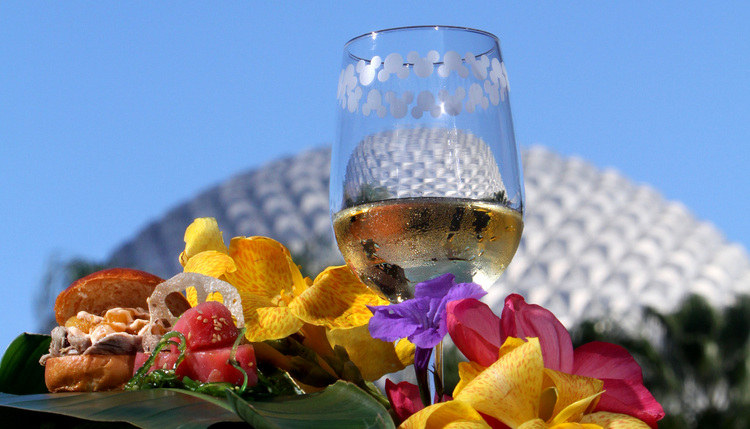 This year features the return of Brazil and the addition of Scotland, and several minor menu changes.
The Epcot International Food and Wine Festival runs from Sept. 27-Nov. 11.
Note: this list is a preliminary menu, and is subject to change.
Terra:
Trick'n Chick'n Curry with Basmati Rice featuring Gardein™ Chick'n Breast
Chili Colorado with House-made Chips and Cashew Cheese featuring Gardein™ Beefless Tips*
Chocolate Cake with Coconut Mousse and Passion Fruit Sauce
Fresh Watermelon Juice
Napa Smith Organic IPA
The Vegan Vine Chardonnay
The Vegan Vine Red Blend
Brazil (All-New Menu):
Seared Scallop with Ragout of Tomatoes, Peppers, Hearts of Palm and Steamed Rice
Crispy Pork Belly with Black Beans, Onions, Avocado and Cilantro
Cerveharias Kaiser Brewery Xingu Black Beer
Carnaval Moscato White
Frozen Caipirinha featuring LeBlon Cachaça
Argentina:
Beef Empanada
Grilled Beef Skewer with Chimichurri Sauce and Boniato Purée
Pascual Toso Sparkling Brut
Terrazas Reserva Malbec
Terrazas Reserva Torrontes
Kaiken Cabernet Sauvignon
Australia:
Garlic Shrimp with Roasted Tomatoes, Lemon Myrtle and Rapini
Grilled Lamb Chop with Mint Pesto and Potato Crunchies
Pavlova (Crispy Meringue Shell with Fresh Driscoll's® Berries and Vanilla Custard)
Rosemont Estate Pinot Grigio
Wolf Blass Gold Label Chardonnay
Rosemont Estate Merlot
Penfolds Bin 8 Cabernet Shiraz
Mexico:
Shrimp Taco with Purple Cabbage
Taco de Ribeye with Salsa de Chipotle
Rice Pudding
Dos Equis Beer
Sangria
Tequila Flight
Mango-Habanero Margarita
Singapore:
Lemongrass Chicken Curry with Coconut and Jasmine Rice
Seared Mahi Mahi with Jasmine Rice and "Singa" Sauce
Tiger Beer
Marqués de Caceres Satinela
Singapore Sing featuring Hendrick's Gin and Cherry Herring (garnished with Cherry Man Farm-to-Market All-Natural maraschino cherry)
China:
Mongolian Beef in a Steamed Bun
Black Pepper Shrimp with Sichuan Noodles
Chicken Potstickers
Silky Spun Ice with Toppings (three flavors: Coconut, Strawberry, Chocolate)
Tsing Tao Beer
Francis Ford Coppola Su Yuen Riesling
Francis Ford Coppola Su Yuen Syrah
Kung Fu Punch with Vodka
Happy Lychee with Vodka
Lychee Aerated Water
South Korea:
Kimchi Dog with Spicy Mustard Sauce
Lettuce Wrap with Roast Pork and Kimchi Slaw
Bohae Black Raspberry Wine – Bokbunjajoo
Jinro Chamisul Soju
Soju Fruit Slushy featuring Jinro Chamisul Soju
Africa:
Berbere Style Beef with Onions, Jalapeños, Tomato, Okra and Pap
Spinach and Paneer Cheese Pocket
Man Vintners Chenin Blanc
The Wolftrap Red (Syrah, Mourvèdre, Viognier)
Porcupine Ridge Syrah
Cheese:
Almond Crusted Blue Cheese Soufflé with Fig Jam
Artisan Cheese Selection: Flagship Reserve Cheddar, La Bonne Vie Triple Crème Brie, Wijngaard
Goats Gouda
Once Upon a Vine's The Lost Slipper Sauvignon Blanc
 Once Upon a Vine's The Fairest Chardonnay
Once Upon a Vine's The Big Bad Red Blend
Once Upon a Vine's A Charming Pinot
Brewer's Collection:
Schöfferhofer Grapefruit
Altenmünster Oktoberfest
Warsteiner Premium Verum
Warsteiner Premium Dunkel
Radeberger Pilsner
BraufactuM Palor
BraufactuM Roog Smoked Wheat Beer
BraufactuM Darkon
Beer Flight 1: Schöfferhofer Grapefruit, Altenmünster Oktoberfest, Warsteiner Premium Verum, Warsteiner Premium Dunkel
Beer Flight 2: Radeberger Pilsner, BraufactuM Palor, BraufactuM Roog Smoked Wheat Beer, BraufactuM Darkon
Germany:
Schinken Nudel (Pasta Gratin with Ham & Cheese)
Roast Bratwurst in a Pretzel Roll
Apple Strudel with Werther's Original Karamel and Vanilla Sauce
Altenmünster Oktoberfest
Braufactum Darkon
J&H Selbach Bernkasteler Kurfürstlay Riesling Kabinett
Selbach-Oster Mosel Riesling Spätlese
J&H Selbach Bernkasteler Kurfürstlay Riesling Auslese
Weingut Pitthan Dornfelder Dry Barrique Style
Poland:
Kielbasa and Potato Pierogie with Caramelized Onions and Sour Cream
Zapiekanki (Toasted Mushroom, Caramelized Onion and Cheese Bread with House-made Ketchup)
Okocim Brewery, Okocim O.K. Beer
Temptation Zinfandel
Frozen Szarlotka (Apple Pie) featuring Zubrowka Bison Grass Vodka
Italy:
Ravioli de formaggio all'emiliana
Salsiccia e 'Papacelli" Napoletani
Cannoli al Cioccolato
Moretti Beer
Moretti La Rosa
Procecco
Pinot Grigio Placido
Chianti Placido
Italian Margherita
American Adventure Coffee Cart:
Shakin' Jamaican Coffee – Made with Kahlua, Vanilla and Caramel. Served Hot or Frozen
Hops & Barley:
Lobster Roll with Lemon Herb Mayonnaise
New England Clam Chowder with a side of Tabasco®
Craisin® Bread Pudding with Grand Marnier Anglaise
Samuel Adams Boston Lager®
Samuel Adams® Octoberfest
Samuel Adams Cherry Wheat®
Rogue Chocolate Stout
Iron Horse Fairy Tale Cuvée
Beer Flight 1: Samuel Adams Boston Lager®, Samuel Adams Cherry Wheat®, Samuel Adams Cherry Wheat®, Rogue Chocolate Stout
Florida Local:
Florida Grass Fed Beef Slider with Monterey Jack and Sweet & Hot Pickles
Florida Shrimp Ceviche with Fire Roasted Vegetables and Micro Cilantro
Cigar City Brewing Florida Cracker Belgian-style White Ale
Orlando Brewing, Sun Shade Organic Pale Ale
Florida Orange Groves, Hurricane Class 5 White Sangria
Florida Orange Groves, Key Limen-Key Lime Wine
Japan:
California Roll
Spicy Hand Roll
Teriyaki Chicken Hand Roll
Youki Tofu topped with Miso Sauce, Edamame and Served with Grilled Vegetables
Sapporo Draft Beer
Sake: Junmai Ginjo
Green Tea Colada
Morocco:
Kefta Pocket
Harissa Chicken Roll
Baklava
Casa Beer
Ksar White
Sangria
Mimosa Royale
New Zealand:
Gratinated Green Lip Mussels with Garlic and Herbs
Lamb Meatball with Spicy Tomato Chutney
Venison Sausage with Pickled Mushrooms, Baby Arugula and Black Currant Reduction
Kim Crawford Pinot Grigio
Mohua Sauvignon Blanc
Kim Crawford Unoaked Chardonnay
Kim Crawford Pinot Noir
Belgium:
Potato and Leek Waffle with Braised Beef
Belgian Waffle with Warm Chocolate Ganache and Whipped Cream
Belgian Waffle with Berry Compote featuring Driscoll's® Berries and Whipped Cream
Hoegaarden
Stella Artois
Leffe Blonde
Leffe Brune
Beer Flight 1: Hoegaarden, Stella Artois, Leffe Blonde, Leffe Brune
Chilled Coffee featuring Godiva Chocolate Liqueur
France:
Escargots Persillade en Brioche (Garlic and Parsley Snails in Brioche)
Boeuf Bourguignon (Braised Short Ribs in Cabernet with Mashed Potatoes)
Crème Brûlée au Chocolat au Lait (Chocolate Milk Crème Brûlée topped with Caramelized Sugar)
Beer Kronenbourg Blanc
Chardonnay, Macon-Villages, La Côte Blanche
Cabernet Sauvignon, Bordeaux, Château Bonnet
Sparkling Pomegranate Kir
Eiffel Sour Cosmo Slush (Vodka, Grey Goose Cherry Noir, Grand Marnier, Cranberry Juice)
Ireland:
Lobster and Seafood Fisherman's Pie
Kerrygold Cheese Selection: Reserve Cheddar, Dubliner with Irish Stout, Skellig
Warm Chocolate Pudding with Bailey's® Custard
Guinness Draught
Bunratty Meade Honey Wine
Chilled Irish Coffee featuring Bunratty Potcheen
Canada:
Canadian Cheddar Cheese Soup
Seared Rainbow Trout with Bacon, Frisee and Maple Minus 8 Vinaigrette
"Le Cellier" Wild Mushroom Beef Filet Mignon with Truffle Butter Sauce
Moosehead Lager
La Face Neige Apple Ice Wine
La Face Neige Sparkling
Mission Hill Family Estate Syrah
Greece:
Taste of Greece: Grilled & Marinated Calamari, Hitipiti, Eggplant Dip, Olives and Pita Bread
Griddled Greek Cheese with Pistachios and Honey
Chicken Gyro with Tzatziki Sauce
Spanakopita
Dannon Oikos® Light & Fit Blueberry Greek Yogurt
Domaine Skouras Moscofilero
Domaine Siglas Assyrtiko/Athiri
Alpha Estate Axia Syrah
Ouzo by Metaxa
Refreshment Port (New):
Dole® Pineapple Fritters
Fried Shrimp with Dole® Pineapple Sweet and Sour Sauce
Fried Chicken Chunks with Dole® Pineapple Sweet and Sour Sauce
Orange Dole® Whip
Orange Dole® Whip with Crème de Cacao White
Dragon Berry Colada featuring Bacardi® Dragon Berry Rum
Desserts & Champagne:
Chocolate Orange Cupcake
Hazelnut Chocolate Cheesecake
Morello Cherry Pistachio Mousse
Dessert Trio
Guylian Belgian Chocolate Seashell Truffles
Frozen S'mores
Pyramid™Weiss Cream Beer
Möet & Chandon Ice Impérial
Möet & Chandon Impérial
Möet & Chandon Nectar Impérial Rosé
Nicolas Feuillatte Rosé
Hawai'i:
K¿lua Pork Slider with Sweet and Sour Dole® Pineapple Chutney and Spicy Mayonnaise
Tuna Poke with Seaweed Salad and Lotus Root Chips
Kona Brewing Company's Big Wave Golden Ale
Kona Brewing Company's Pipeline Porter
Lucien Albrecht Gewurztraminer Réserve
Aulani Sunrise featuring Ocean Vodka
Scotland (New):
Seared Scottish Salmon with Cauliflower Puree, Watercress and Malt Vinaigrette
Vegetarian Haggis with Neeps and Tatties-Griddled Vegetable Cake with Rutabaga and Mashed Potatoes
Scottish Banoffee Tart with Bananas, Scottish Whisky Toffee, Walkers Shortbread Crumbles and Sweet Cream
Innis & Gunn® Original
Loch Lomond featuring Glenfiddich® 12 year
Glenfiddich® Scotch Flight (12, 15 and 18 year)
Craft Beers:
Dogfish Head Brewery, Namaste
Abita Brewing Company, Fall Fest
Leinenkugel's® Seasonal Shandy, (Summer Shandy/Orange Shandy)
Florida Beer Company, Devil's Triangle
New Belgium Brewing Company, Fat Tire
Widmer Brothers Brewing®, Alchemy Ale
Red Hook, Audible Ale
Sierra Nevada, Torpedo® Extra IPA
Beer Flight 1: Dogfish Head Brewery Namaste, Abita Brewing Company Fall Fest, Leinenkugel's® Seasonal Shandy, Florida Beer Company Devil's Triangle
Beer Flight 2: New Belgium Brewing Company Fat Tire, Widmer Brother s Brewing Alchemy Ale, Red Hook Audible Ale, Sierra Nevada Torpedo®
What do you think of the new booths and menu items?
Don't Miss a Minute of
Epcot's International Food and Wine Festival
Contact Kingdom Magic Vacations Today
to Book Your Walt Disney World Vacation