Epcot International Flower and Garden Festival – 2015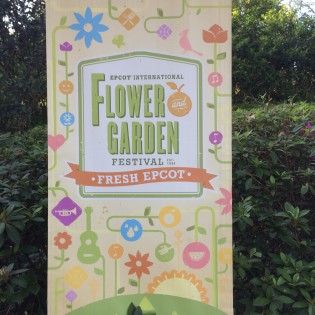 We had an opportunity to visit the Food & Garden Festival, sorry, the Flower & Garden Festival a couple of weeks ago, our goal…to visit four or five booths and sample some of the offerings for an episode of Travel with Rick. We knew we wouldn't be able to get to all the things in one day given the short amount of time we had, so we visited a few booths vowing to come back and pick up what we missed. Maybe I can get my friends Amanda Tinney or Marc Bigbie to help me out next time 😉
Here's what we tried:
Botanas Botanico – Between France and Morocco
We tried the Seafood Ceviche – Shrimp, Scallops and Grouper with Mango and Avocado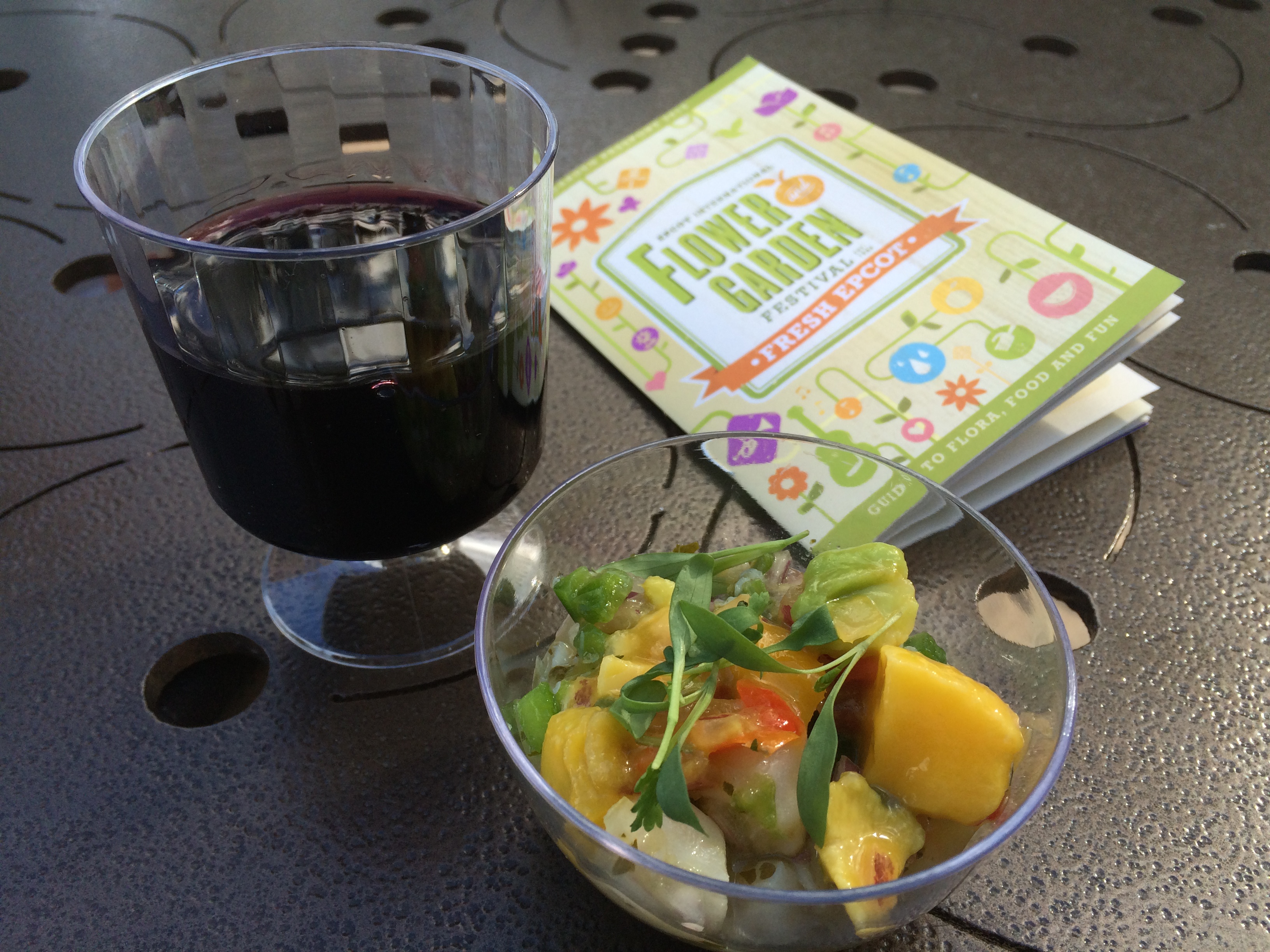 This dish was simply fresh and delicious! I love Ceviche's, which are basically raw seafood marinated or cooked in lime juice. Simple ingredients and awesome flavor is what comes through. We paired this with the only wine on the menu that wasn't sparkling, the Monte Paschoal Reserve Tannat, it was a red that actually went pretty well with this, but a Sauvignon Blanc would have been just right I think.
Florida Fresh – Near Germany
We sampled the Watermelon Salad with pickled onions, B&W Gourmet Farms Baby Arugula, Feta Cheese and Balsamic Reduction and the Shrimp and Stone Ground Grits with Andouille Sausage, Sweet Corn, Tomatoes and Cilantro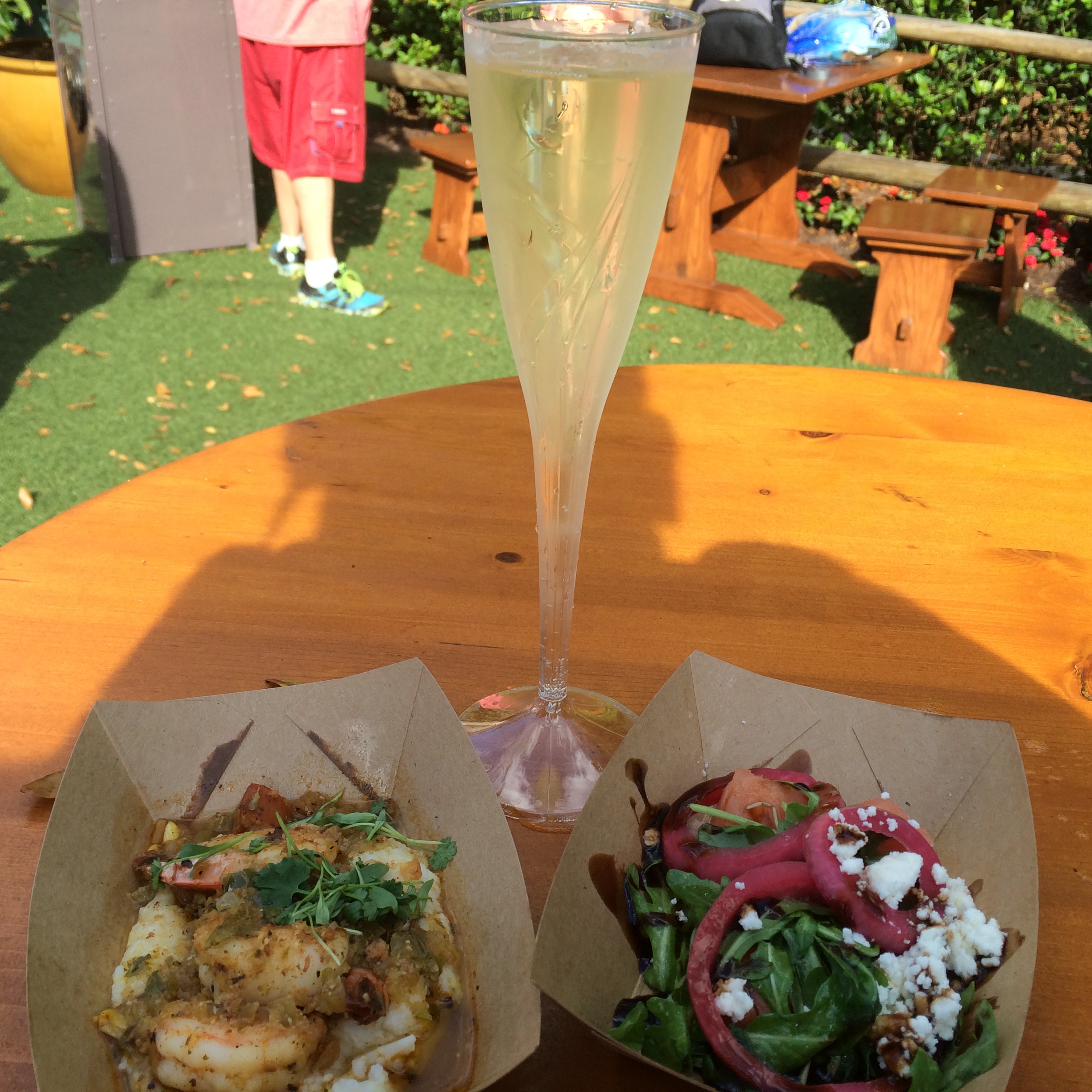 Next we landed on the Florida Fresh booth where there was one thing that I was really looking forward to, the watermelon salad, well two things, the shrimp and grits is awesome also!
Both dishes were great, the watermelon salad is so fresh and the shrimp and grits is such a well known Florida dish, we loved trying them both!
Jardin De Fiestas – Mexico
We tried the Taco al Pastor – Corn tortilla filled with achiote marinated pork, garnished with grilled diced pineapple, onions, cilantro and Salsa Verde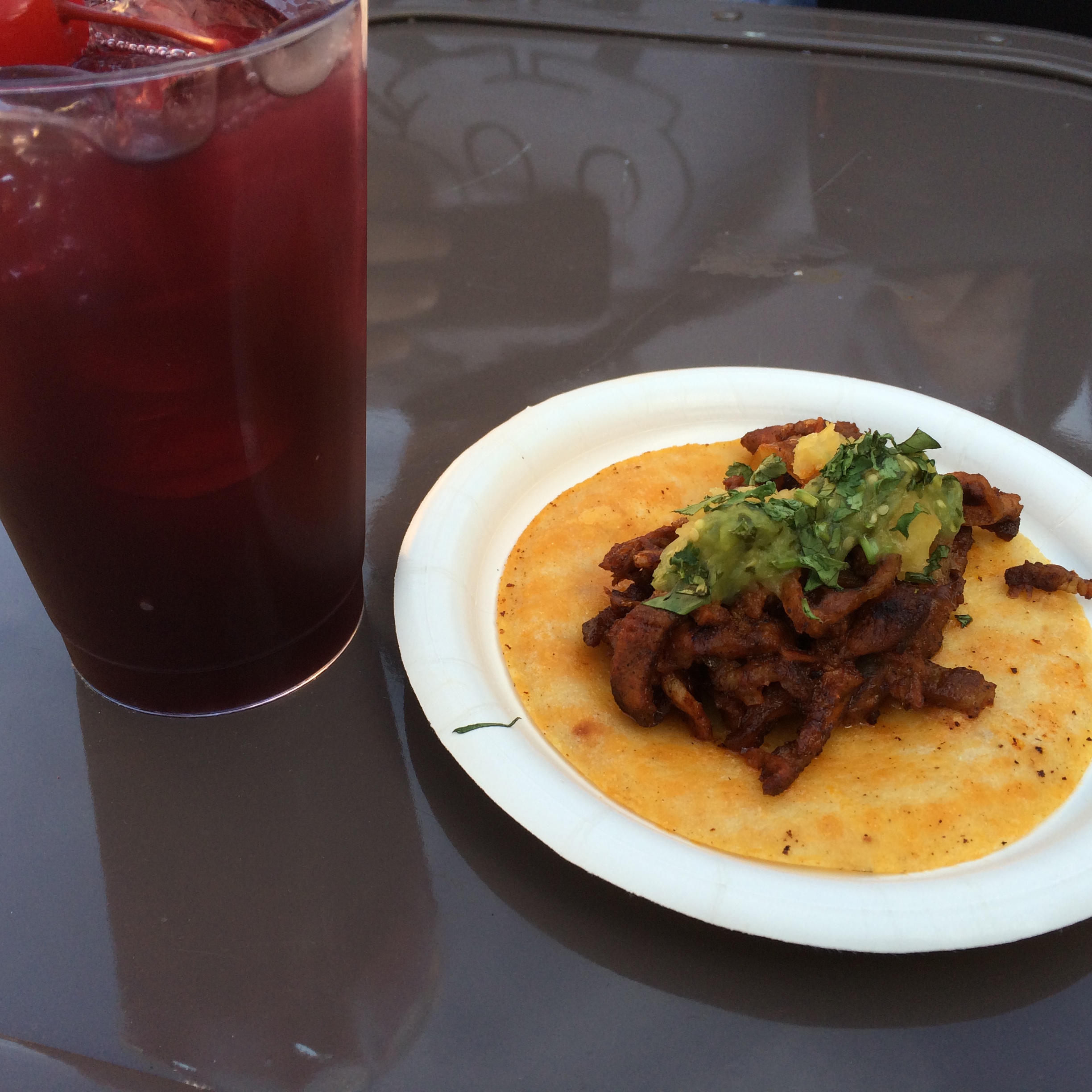 This dish was a very nice, fresh corn tortilla filled with marinated pork which had a great flavor to it, topped off with pineapple, onion and cilantro gave it what seemed to be the flavor of the day, fresh and tasty. We paired it with the Mexican Sangria which had a hint of tequila and a, you guessed it, fresh fruity flavor, very nice!
Pineapple Promenade – World Showcase Promenade
Here we had the Pineapple Dog – Spicy Hot Dog, Pineapple Chutney and Sriracha Mayo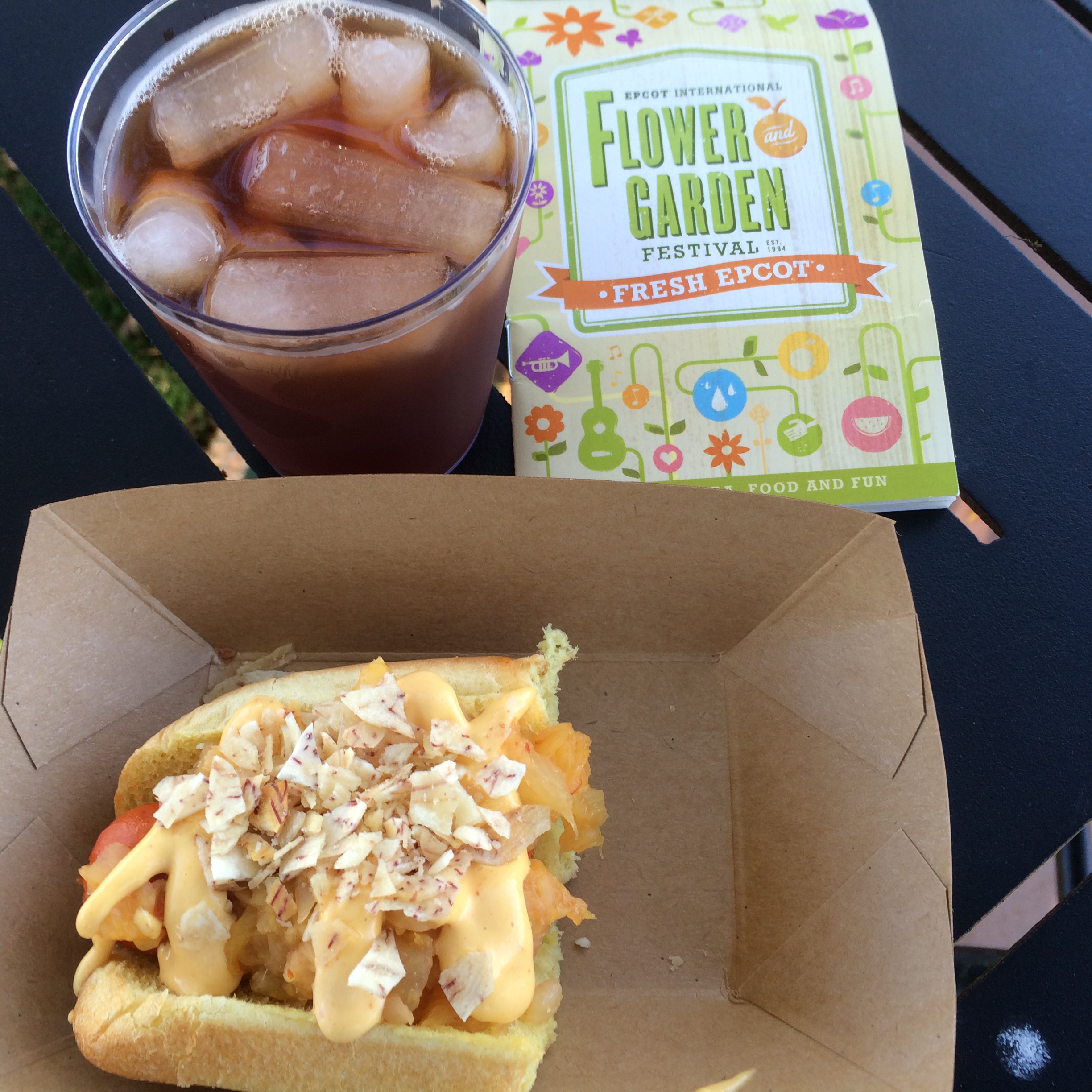 This is another dish we've been waiting for, most of you know I love hot dogs, and this one did not disappoint. A close comparison to the Kimchi Dog from South Korea can be made with this dog, it's similar and the chutney and mayo give it a bit of spice similar to the kimchi slaw from the South Korea dog.
We really loved this dish and we paired it with the Berry Tea Cocktail, made with Twinnings Cold-Brewed Mixed Berry Tea with Plant City Strawberry flavored Florida cane vodka, with raspberry and acai syrups. The tea was fresh (see a trend here) and sweet and paired well with the spice of the Pineapple Dog.
As I mentioned, we just hit four marketplaces this day. We're really looking forward to coming back and trying more dishes like the Ghost Pepper dusted Tilapia from Urban Farm Eats and the Beef Brisket Burnt Ends Hash and Pulled Pork Sliders from The Smokehouse.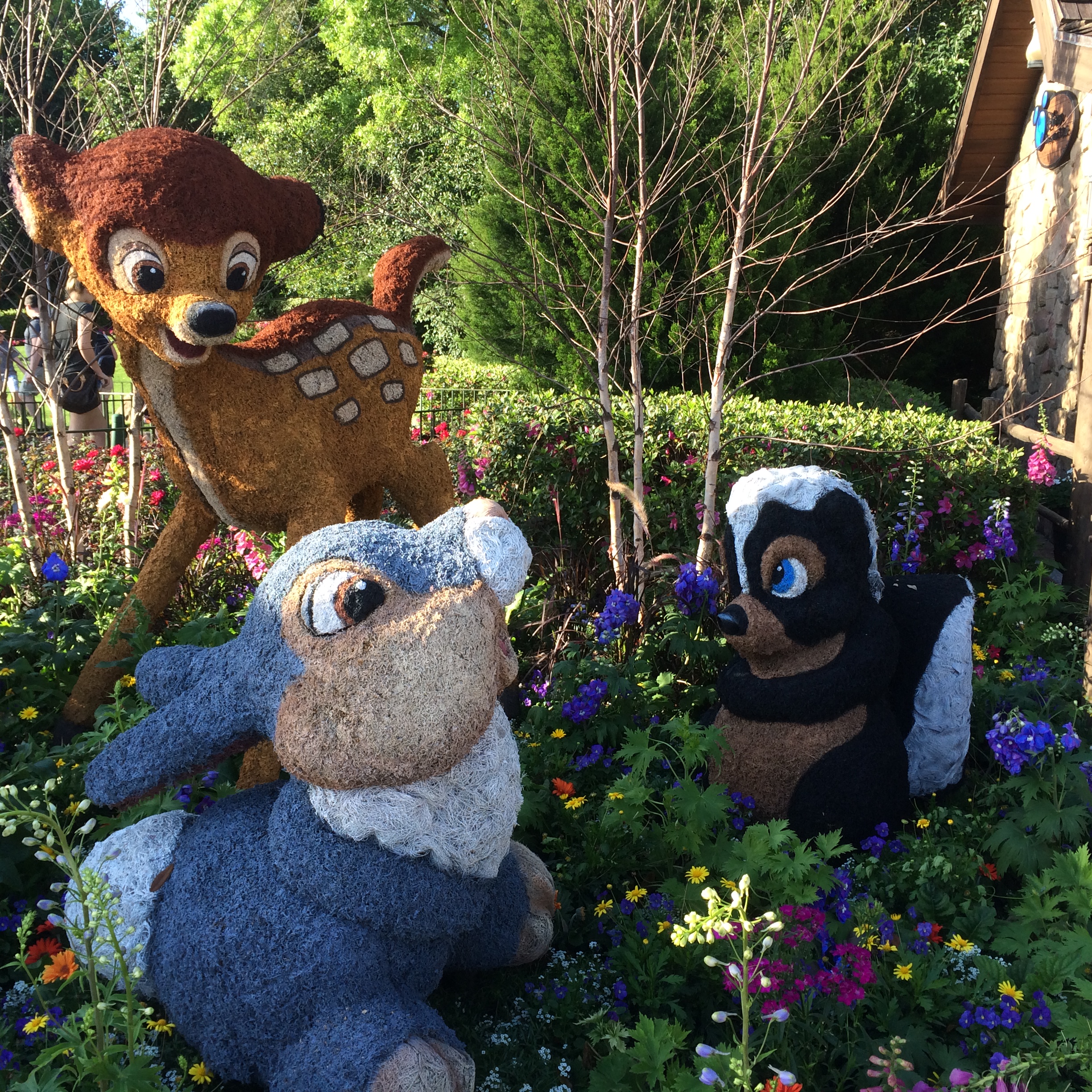 And, let's not forget about the beautiful topiaries around the promenade, after all it is a Flower and Garden Festival, they just happen to have some great food and libations again this year! Of course we'll be bringing you some more photos and video of the flowers and I'll be sure to point out a few of my favorites!