It's Beginning to Look a Lot Like Christmas!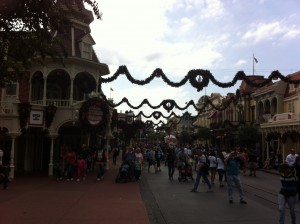 I've just returned from a short trip to Walt Disney World with my wife Leslie. While we were there this past weekend to enjoy some of the Epcot International Food & Wine festival I couldn't help but notice that the Christmas decorations were beginning to go up!
We were staying at one of my favorite resorts now, the Contemporary, so even though we were there to enjoy some Food & Wine at Epcot, we had to walk over to the Magic Kingdom on Saturday morning. As soon as we walked down Mainstreet USA you couldn't help but notice all the decorations already up. As we got to the hub, Leslie pointed out the music, she always notices and appreciates the Disney music, and yes they were playing Christmas music in the Magic Kingdom!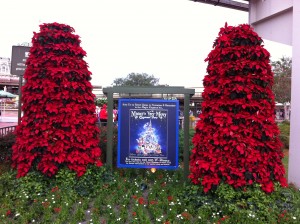 So now I have to say if you read my blog post last week, "It's the Most Wonderful Time of Year" I was talking about the Food and Wine Festival, and I said that it was one of my favorite times of year. But now I really have to tell you that Christmas at Disney is really my favorite time of year! Okay, so I wish it wasn't in December, I hate cold weather and love summer time, but I really am a nut for Christmas! I'm talking Clark Griswald, have the most brightly decorated house in the neighborhood, can we please open the presents now, nut for Christmas! So combine my favorite holiday with my favorite place, Walt Disney World and I'm in heaven. I just love seeing Disney transform into a Christmas wonderland! From the theme parks to the resort hotels, to all the special events and activities, there's just nothing like it!
Let's start with the Magic Kingdom. The Christmas tree is 26 feet wide and 65 feet tall and takes a 70 Ton Crane to erect! Here's some fast facts from our friend Tony at Disney by the Numbers…
• 3,000 wreaths are hung throughout the WDW property
• 15 miles of garland are to decorate at WDW during Christmas season.
• 1,500 Christmas trees are used all around the WDW property for decorating.
• 300,000 yards of ribbon and bows are draped over the WDW Christmas trees across property
• 8.5 million lights strung throughout Walt Disney World Resort
• 150 tractor-trailer truckloads of decorations for 24 resorts, 4 theme parks, Downtown Disney and other locations
• 100,000 poinsettias are used to decorate all of WDW landscape
• 8-foot towers of poinsettias, which resemble big red Christmas trees, have been a traditional favorite of guests
• 170 poinsettias are used to create each big red Christmas tree
That's a lot of wreaths and garland! And that's just the decorations! Special events like Mickey's Very Merry Christmas Party where you can enjoy hot chocolate, cookies and it snows on Mainstreet, Epcot's Candlelight Processional featuring a 300 person chorale and celebrity narrator, and Hollywood Studios' Osborne Family Spectacle of Dancing Lights make the holidays magical at Disney!
Then there's the resorts, each resort has it's own theme and flavor for the holidays. Disney's Wilderness Lodge has a Christmas tree with Elk horns and teepee decorations, the Yacht and Beach Club has a nautical theme and the Grand Floridian Resort & Spa has a life size Gingerbread house adorning the lobby are complete with gift shop inside!
So now you know a little bit about the holiday festivities at Disney, to learn much more be sure to visit us here at Travel with Rick in December to see what we're bringing you for the holidays, you won't want to miss it!