It's the Most Wonderful Time of Year!
Wait a second, that's the wrong holiday and the wrong time of year! I'm not talking about Christmas, but I am talking about one of my other favorite times of year at Walt Disney World, Epcot's International Food & Wine Festival! For me, it's easy to confuse Food & Wine with the most wonderful time of year. Think about it, there are close to thirty booths around the World Showcase promenade offering tasty morsels of food from around the world paired with fantastic wines, beers and even a frozen beverage or two!
Epcot's International Food & Wine Festival, at six weeks is one of the longest running festivals around!  During the festival there will be culinary demonstrations by celebrity chefs and chefs from the many restaurants around Disney property, renowned authors from the food and beverage industry discuss their craft, Mixology Seminars, Book and Bottle signings and a six week long Eat to the Beat Concert series featuring a varied lineup of classic rock, soul, R&B, jazz and funk hit-makers, just to name some of the many attractions going on at Epcot.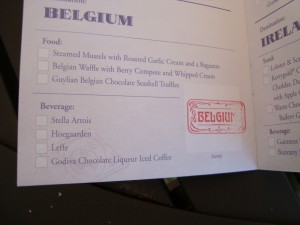 To help you get acquainted with the festival, Disney has set up a Festival Welcome Center open daily from 9am to 9pm located in Future World between the Universe of Energy Pavilion and Mission: SPACE. There you can pick up a special Marketplace Discovery Passport, one of my favorite things about the festival. You can use it to help you "travel around the world". It lists all the marketplaces around the promenade with each dish or beverage they offer. Each marketplace has a unique stamp for that country or location and you can have your passport stamped much as you would when you enter a country as you travel. There are also check boxes by each item so you can check off what you have and make notes on what you like or didn't and what you may like to try again.
Many countries and marketplaces return year after year to the festival, and this year is no different. Returning favorites like Australia, Canada and Greece, and of course the staples like Italy and France are represented, along with many others. Debuting for the first time or returning after an absence this year is Scandanavia, Singapore, the Caribbean and for the first time Hawaii is represented. This goes along nicely with the fact that Disney just opened Aulani, a new resort in Ko Olina on the island of O'ahu in Hawaii. Also, some of the best food we tasted at this year's festival came from the Hawaii marketplace, the Pork Sliders and Tuna Poke, but we'll get to what we liked in a bit 😉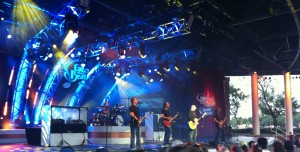 The Eat to the Beat Concert Series is another one of my very favorite's things about the Food & Wine Festival. Each night of the festival, bands varying from Boyz II Men to Starship featuring Mickey Thomas to Hanson to Taylor Dane to .38 Special perform three free shows per night in the outdoor America Gardens Theatre. Each band plays two or three consecutive nights, three shows daily at 5:15 p.m., 6:30 p.m. and 7:45 p.m. Check out the full line up of musical entertainment at this year's festival by clicking here.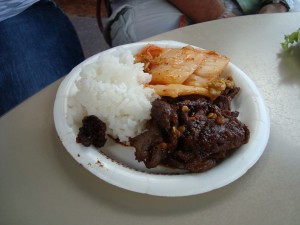 Okay, so what food and wine did we really like at this year's festival? I'm glad you asked! This year, like last the Maple Glazed Salmon and Barley salad from Canada was awesome. One of the new dishes we really liked was the Boolgogi BBQ Beef with Steamed Rice and Kimchi from South Korea was really good! I've already mentioned the Kalua Pork Sliders and Tuna Poke from Hawaii, they're awesome! Something you may not expect to find in an outdoor marketplace kind of festival was the Coq au Vin sur Gratin de Macaroni France, some of my friends said that was best in show this year for them.  A couple of definitely not-to-be-missed items are the Lobster & Scallop Fisherman's Pie from Ireland, the Maine Lobster Roll from Hops & Barley is a big hit, and of course the Cheese Soup from Canada would cause a riot if it was ever taken away!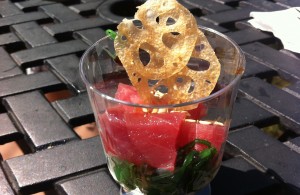 There are many premium events and experiences during the festival where you are able to meet winemakers, guest chefs and celebrity speakers. These special events vary in price and sell out quickly once they are announced. One of these, Party for the Senses is held on select Saturday Nights during the Festival guests will enjoy international cuisine, musical performances and even be entertained by Cirque du Soleil® acts. Each party will feature guest chefs and winery representatives where you wander among the tempting tasting stations of World ShowPlace.  I've often thought of attending a Party for the Senses and am looking forward to my first one on November 12, I'll post a recap of the evening and let you know what I think.
So, maybe it's not as magical as Christmas, but to me it's pretty close! From around the beginning of October to about the middle of November, Epcot's International Food & Wine Festival allows you to sample an incredible variety of cuisine and wines from around the world in a fun and relaxed setting around the World Showcase Promenade at Epcot all while  you're visiting Walt Disney World and taking in all the magic of the theme parks and resort areas, what a great vacation!