Let's Talk Terra – Terra Marketplace Epcot Food & Wine Festival
Today we'll talk about the first marketplace we tried this year at Epcot's Food & Wine Festival, Terra.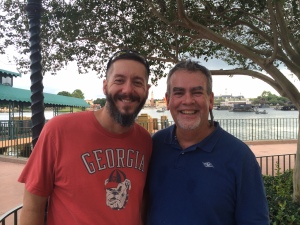 Let me first say this, I'm not a vegetarian, vegan or any hybrid there of, I'm a content carnivore, I love meat, look forward to it, yes, even crave it! But in keeping with our mantra, Eat All the Things, #EatAlltheThings we had to give it a try.
I enlisted the help of my friend Marc Bigbie from Savannah to endure the punishment, I mean relish the offerings from Terra, we set out and ordered all the things and turned the camera on.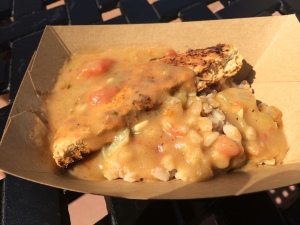 First we tried the Blackened Chick'n Breast, farro wheat and spicy gumbo sauce featuring Gardein™ Chick'n Breast, and I have to say it wasn't that bad. It was actually an improvement over the "Trickin' Chick'n" from last years Terra booth, and the gumbo sauce over the farro was quite tasty.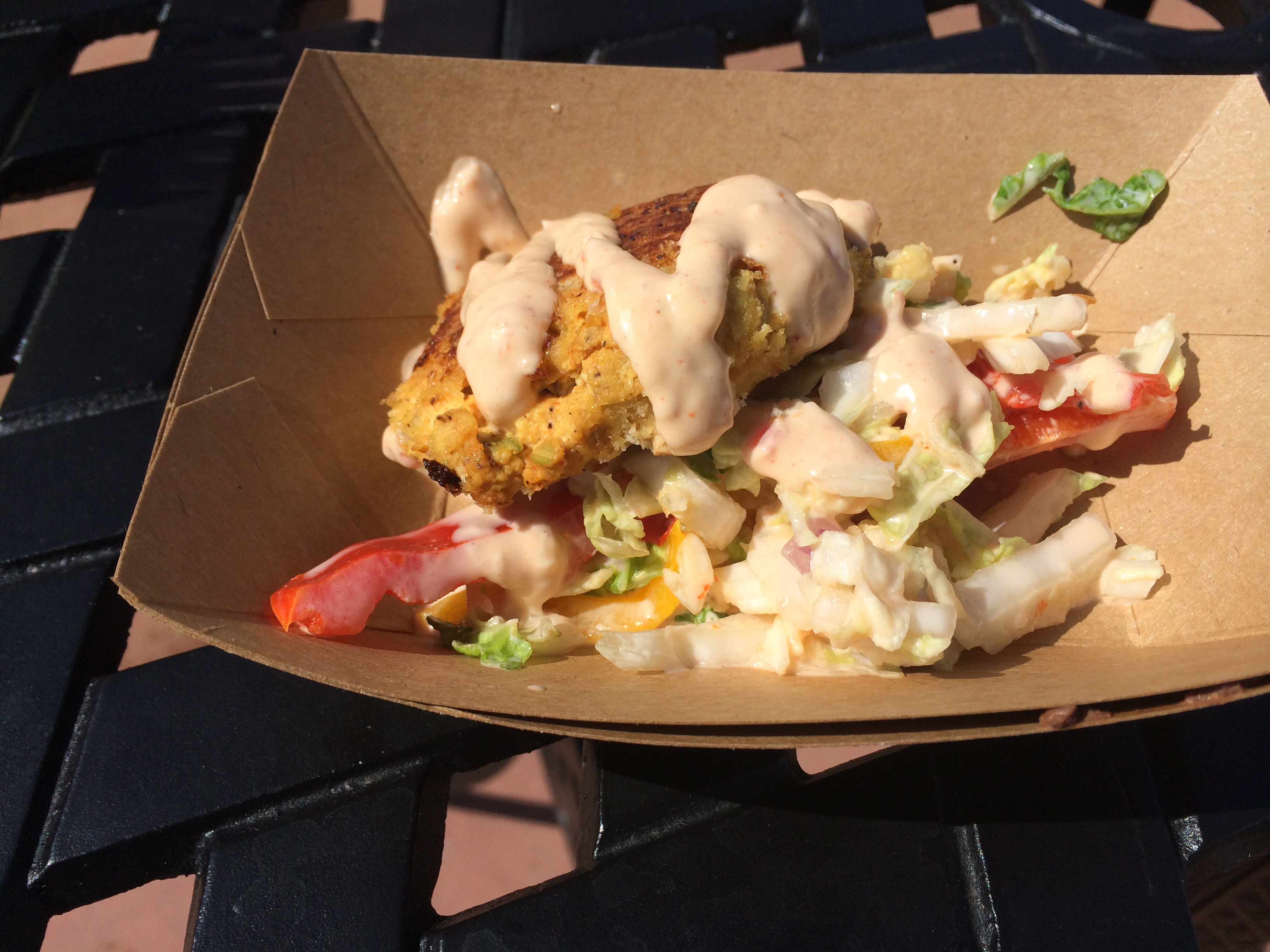 Next we tried the CraB'less CraB Cake with pepper slaw and Cajun remoulade featuring Gardein™. We had tried this back in July at the Tables in Wonderland "Sneak Peek" Event and it was enjoyable as well. While not having the typical chunks of crab I'm used to in a crab cake, it was flavorful. Like the sauce with chick'n above the pepper slaw on this dish was it's redeeming quality as much as the taste of the crabless crab. It was great.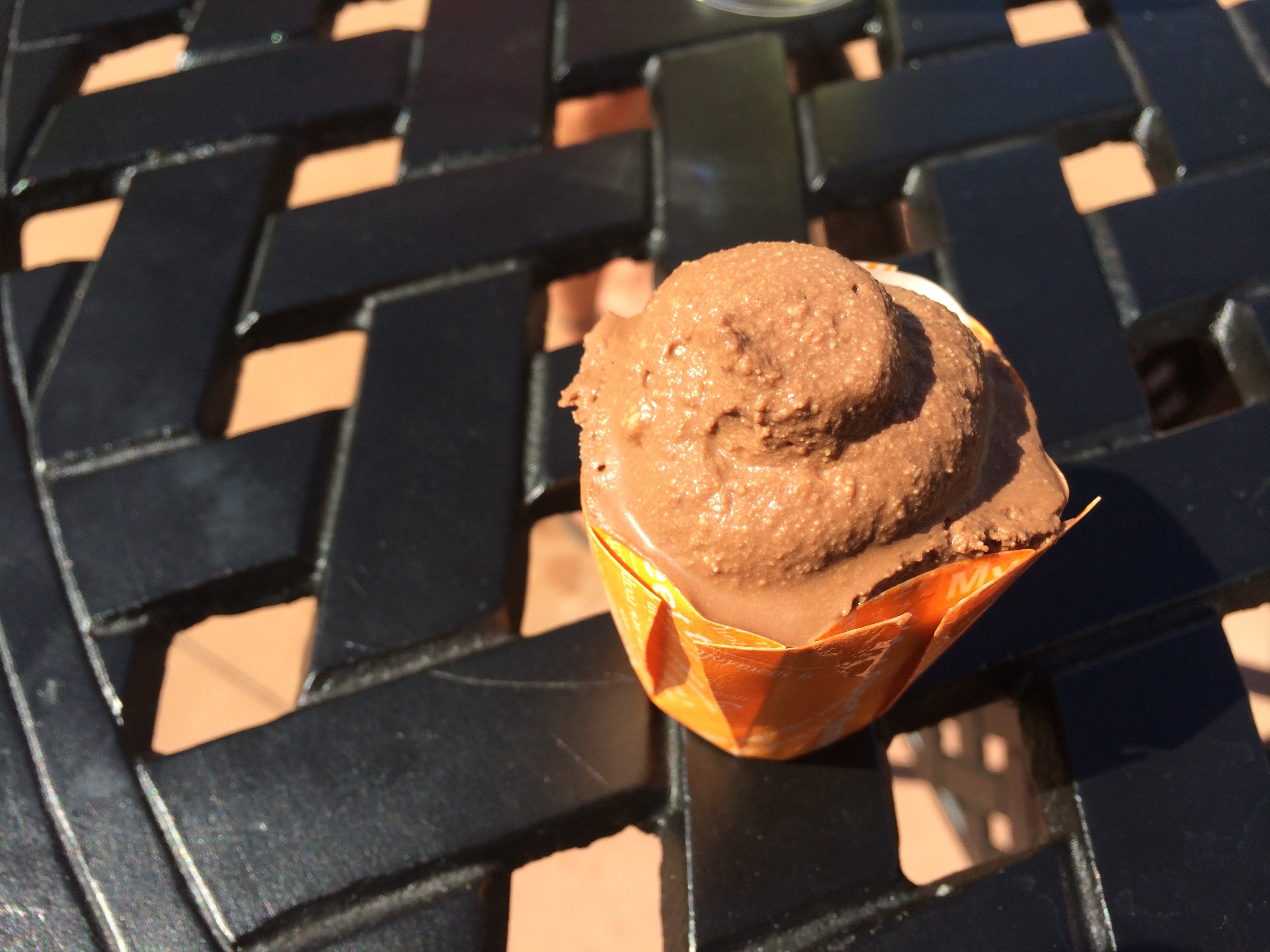 We finished with a chocolate-blood orange cupcake with tofu icing, which was served chilled and was quite tasty. I really liked the icing and went back for another bite. 
While I'm not really familiar with organic or vegan wines, we did try the Vegan Vine Chardonnay and it was pretty good with both the chicken and the crab. The other wine we tried was the Paperboy Red. It literally is bottled in a paper covered flask, while not my favorite red of all time, it wasn't bad and I think the interesting packaging gives it a pass. 
The Terra booth also offers a Red Bridge Ale and  Fresh Watermelon Juice, and as most of you know I'm not a huge beer or ale fan, and living in Florida we have fresh watermelon juice at home all summer, so we passed on both of these. 
To find out more about what we thought about Terra, check out our first set of tasting videos tomorrow, Friday October 3rd on Travel with Rick, we'll have Terra and a few more booths to talk about and each Friday until November 28th we'll have more for you!
Hope to see you around the Festival, Cheers!