New Ways To Experience Epcot International Food & Wine Festival Sept. 25-Nov. 16
We're counting down the days and deciding the best ways to take advantage of all the food, wine, celebrity chefs, live music and more at the Epcot International Food & Wine Festival.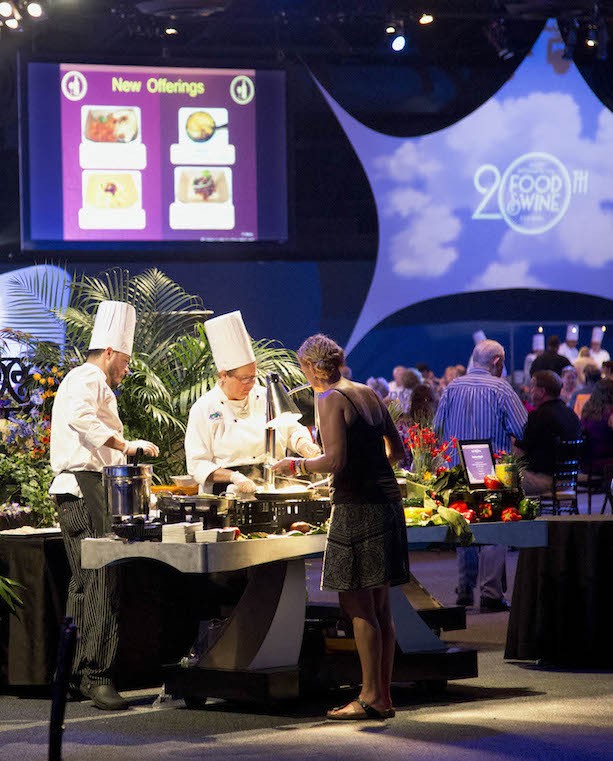 Looking ahead, here are three ideas to maximize your fun. We love the idea of the new 20th Festival Tasting Sampler that gives you a credential (and a cool collectible pin) to taste your way around the fest. For $59 you get your choice of eight tastes of food or beverages at all of the 30 marketplaces plus priority seating at the nightly Eat to the Beat concert.
Your credential will include ideas for pairing a dish and a drink at the marketplaces – we're excited to try some of the new dishes such as the pepper bacon mac 'n' cheese paired with a hard cider at Farm Fresh Marketplace (both new); lamb meatball with spicy tomato chutney and a pinot noir at New Zealand (both new), and the butter chicken with naan bread with a chenin blanc in Africa. There are 29 new dishes this year, and 72 new cocktails, beers, wines and ciders!
We've always had fun at Eat to the Beat, and this year's dining package includes lunch or dinner at 13 different restaurants from Coral Reef Restaurant and The Garden Grill in Future World to France, Italy, Germany, Mexico, Japan, Morocco and United Kingdom. This is a nice "plan ahead" experience.
Price varies by restaurant, starting at $34.99 for lunch and includes appetizer, entrée, dessert and drink or buffets. And then you get guaranteed seating at the 5:30 p.m. Eat to the Beat concert for lunch reservations, and the 6:45 or 8 p.m. show for lunch or dinner.
Fan favorites are back on the America Gardens Theatre stage, including Wilson Phillips, Smash Mouth, The Pointer Sisters, Jo Dee Messina, Boyz II Men and Big Bad Voodoo Daddy. And there are four new acts in the concert series lineup — Tiffany, Everclear, Maxi Priest and Chaka Khan.
For a really special treat, set aside a week for the Food & Wine Premium Package that gives you VIP treatment from noon- 8 p.m. Monday through Thursday at the festival. Eleven shaded "Premium Package" areas are reserved for a spot to eat, drink and relax, and you get to choose an IllumiNations Sparkling Dessert Party to attend, as well as a Festival Center culinary demo or beverage seminar.
Cost is $199, and you also get a gift bag with your own wine glass, a bottle of 20th celebration festival wine, a Food & Wine Fest-themed MagicBand and four food tickets for food or beverage from festival marketplaces.
For reservations, call 407-939-3378. Admission to Epcot is required.