Packing Tips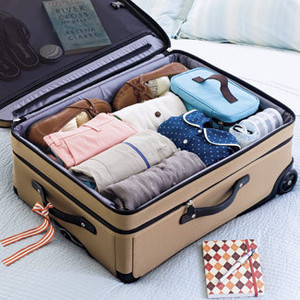 April showers bring May flowers, or so the saying goes. For me, April means spring break and summer vacation planning. Your planning may be in full swing or not even started yet but have you ever thought that part of the planning is packing? If you're like me, then packing is usually last minute. My family looks at me like I'm a lunatic because I'm always finding myself running around for those last minute things that are always forgotten. I admit, I'm the girl who went to Mexico and forgot to pack the sunscreen. Let's just say lobster red is not a pretty shade for me unless it's on my nails. So, take a look at this little snip it on packing tips. Better to have some packing tips than to be all red like me!
Here's some things I do when I'm packing to head on out:
Roll your clothes rather than fold them. It's saves on space and causes less wrinkles. I also turn them inside out to help keep the wrinkles down and keep them clean.
Add dryer sheets to the mix to keep things smelling fresh.
Put shoes in shoe bags, shower caps or plastic grocery bags to keep them from getting things dirty. You can also use shoes to put small things in and save more space that way.
Rolling luggage – put the heavy stuff closest to the wheels that way the lighter stuff doesn't get crushed.
Got breakables like you favorite perfume? Pack those in your socks.
Anything that can leak should be put in a plastic bag. If it's in a plastic bottle, I squeeze a little air out of it so it has room to expand and not explode everywhere.
Pack a tote bag to put the dirties in and keep them away from the clean things. This is especially important if you are going to multiple destinations. (It's also where the dryer sheet come in handy again.) Also, having an extra zip lock bag for wet swim suits is handy.
Save space by packing 2 tops for every bottom. Seriously, you can wear those pants, shorts and skirts more than once!
Use travel size toiletries. You don't need to cart that whole big bottle of shampoo and conditioner. If you use high end products that don't come in travel size, buy the little refillable bottles and use those. Less is more and big heavy bottles could put you over the weight limit of your luggage.
All those charge cords and earbuds and crazy wires everywhere can be contained in either snack size ziplock bags or eyeglass cases.
Medicines go in your carry on luggage always!!!! You do not want to get to your destination and find that your luggage is lost and now you don't have that medicine that you need to take at a certain time.
Don't stuff it full to the brim. Let's face it you know you are going to buy stuff on vacation. Make sure you leave space in your luggage to bring those things home.
Make sure you do something to your luggage so that you recognize it from the hundreds of others coming around the belt. My in-laws have big homemade pom poms on theirs along with a strip of caution tape. Me, I picked a teal color bag (instead of the standard black or red that I see everywhere) and added a bright green luggage tag. Be creative.