T-Rex at Downtown Disney Takes Guests on a Dining Adventure to a Prehistoric Time as Restaurant Debuts in October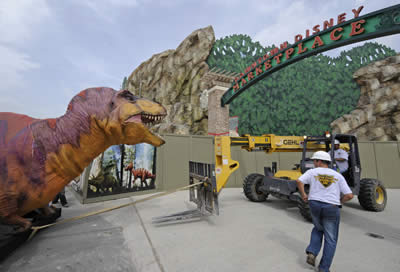 LAKE BUENA VISTA, Fla. – Walt Disney World guests can go on an adventure back in time to dine among the dinosaurs as T-Rex: A Prehistoric Family Adventure, A Place to Eat, Shop, Explore and Discover

®

opens it doors at Downtown Disney in mid October.
 
T-Rex, developed by Schussler Creative, Inc. and operated by Landry's Restaurants, Inc., features dining and retail in a 30,000-square-foot, 600-seat, family-friendly interactive prehistoric environment.  The concept is built around water, fire and ice: Guests are greeted with life-size animatronic dinosaurs among cascading waterfalls, bubbling geysers, a fossil dig site and much more.
Schussler Creative Chairman Steve Schussler, the founder of Rainforest Cafe and the T-Rex restaurant, depicts the experience as "edutainment," noting that this "treat for all five senses" includes artifacts such as fossils – all carefully labeled – that are hundreds of millions of years old, carefully crafted animatronic dinosaurs, and even a meteorite found in Argentina.
A full-size skeleton replica of Argentinosaurus, one of the largest of the dinosaurs and copied from a museum specimen about 125 feet in length, looms over the entrance, joined by a Tyrannosaurus rex skeleton.
The prehistoric theme extends to the menu, which features items with names such as Caesarsaurus (Caesar salad), Raptor Ribs (Asian BBQ ribs), Pterodactyl Wings (Buffalo chicken wings), Triassic Tortellini (tri-colored cheese tortellini) and Gigantosaurus Burger (think really big hamburger!).
Menu choices range from starters (appetizers, salads and soups) to pastas, burgers and sandwiches to a broad selection of entrees plus desserts. Some favorites include rotisserie chicken, fried shrimp, steaks and ribs, tarragon chicken salad sandwich, Cobb salad and "Chocolate Extinction."