That Dog Changed My Life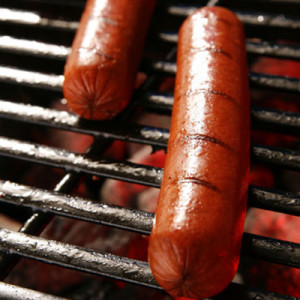 Well at least the way I look at Hot Dogs….first off, I love hot dogs! While maybe not the best choice nutritionally, they are awesome, self-contained, portable, easily consumed and just plain delicious.
So in my travels, I seek them out and when I find a good one, I try to return and partake again and again sometimes. That's why I remember the good ones I've had and the not so good. Good ones, Casey's on Main Street, Walt Disney World, a Puka Dog on the island of Kauai in Hawaii, Sosebee's in Georgia (alas no longer around) The Varsity in Atlanta, Pinks in Hollywood, c'mon, they're FAMOUS, and my backyard grill, yes, I make a mean dog myself!
So what makes a great dog? They're simple, a dog, a bun, some good mustard. I've never been much for relish myself, but love onions, I do chili at home, and if I can find a good chili dog out, sometimes sauerkraut if I'm in the mood for veggies 😉  and that's about it.
You have to start with a really great dog, that's where all the flavor starts, I prefer all beef myself, the bun has to be soft and fresh, I prefer top split as opposed to side, and fresh toppings.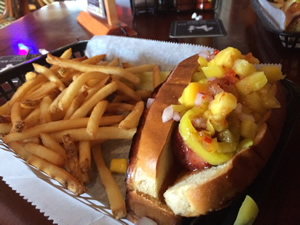 So let's talk about the one that changed the way I look at dogs, yes the one that all others will be measured against from now on. I'm talking about the one I had at Island Dogs Bar in Key West Florida. Cue the clouds the clouds to part and the angels to sing here. We were hungry and ready for lunch and it was the closest restaurant to our hotel. We had walked by and noticed there were dogs on the menu earlier in the week and decided to give them a try. I told you I seek them out when I travel, so we decided to give it a shot. First they have lot's more on the menu than just dogs, soups and salads, sandwiches, burgers and pizza. But we came for dogs, and they've "Build your own hot dog" section of the menu! Toppings from sauerkraut to bacon and mushrooms, jalapeno, even mango and plantains. Over 16 different toppings you really can go your own way here!
But we went with the specialty, the Island Dog, a bacon-wrapped hot dog with mango, pineapple, banana peppers, red onion and sweet chili sauce. Oh yeah served with shoestring fries. It's served on a bun that's basically a sliced piece of Texas toast, soft and flavorful. The dog itself was awesome, full of flavor and did I mention, wrapped in bacon?, yeah, awesome! Now you might be put off with the thought of mango and pineapple, but think about it, it's called an Island Dog, so for me it completely worked, the sweet fruit with the slightly spicy chili sauce was great! Truly one of the best if not, dare I say, the best dog ever!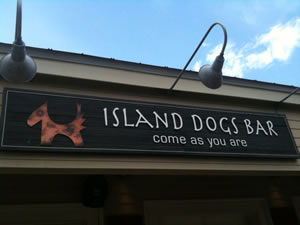 So the next time you are in Key West, head to the end of Duval Street, half a block or so over, and there you'll find it, great food, great drinks and lots of fun. I'm already planning my next trip down to the keys and Island Dogs will be my first stop in Key West!