Wild Africa Trek at Disney's Animal Kingdom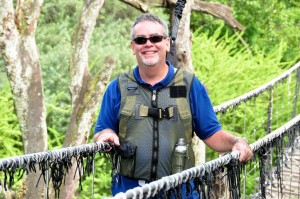 We have been hearing about the Wild Africa Trek for a while and it was definitely the highlight of our recent trip! We met up with our guides in Harambe and received our gear, a special vest equipped with a harness to help us navigate the treacherous foot bridges and allow us to get up close and personal with some of the locals like Hippos and Crocodiles.  We were also given a souvenir water bottle to use and to keep. After some instruction on what we would be seeing and doing, we were ready to proceed further into bush and begin our adventure.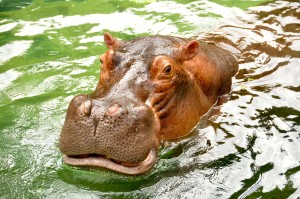 We headed off thru Harambe towards Kilimanjaro Safaris as our guides described some of the local vegetation and architecture. Soon we proceeded through a gate and were off down a trail that most visitors to Harambe never see. We walked thru dense fern and bamboo forests as our guides further acclimated us to the lay of the land.
Next we came upon an overlook that's part of the Kilimanjaro Safari tour, but we saw it from the other side of the pool. As we clipped our safety lines on we could see  below us the Hippos bathing in the pool. We were joined by another guide, a Hippo expert, who began to feed them some of their favorite treats to get them even closer to us and explained to us much about the Hippos in the preserve.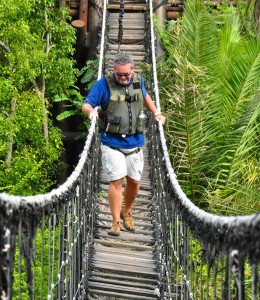 From there we proceeded through the preserve to one of my favorite parts of the adventure. We again clipped our harness to a safety line and made our way across two swaying, seemingly precarious rope bridges over the Safi River. In places the boards appeared broken and even missing, but we were strapped in and protected. Safety is the first concern with Disney I know, but it was hard not to have an Indiana Jones moment while crossing these really authentic swinging bridges!
After we made our way across the second bridge, we untethered, walked down to another lookover, hooked on again and were able to look of the edge at the crocodile filled pond you see on Kilimanjaro Safaris, but this time, no truck, no zooming by, just plenty of time to see these tooth filled reptiles a few feet away and observe them in their habitat.
Now that's the way to get to know the locals! But soon it's time to move on through the Reserve. We came to a beautiful overlook above the grasslands of the Savanna and paused to enjoy the breathtaking view. Shortly after we shed our specialized vest harnesses and boarded our customized open-air vehicle. Awaiting us was a refreshing cold towel, which was great on a hot Florida / African Savanna day. Our truck went along the same savanna route as the Kilimanjaro Safari vehicle does, but we would stop and take more time to observe the animals and of course we still had our guides pointing out highlights, nice touch!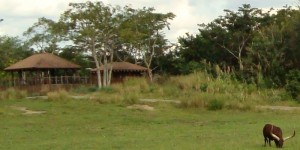 At the end of our Safari Trek, we came upon our private safari camp where we could take a break, relax and enjoy a snack made up of the tastes of Africa while we observed the animals on the savanna.
Our snack actually fared more like a lunch and consisted of some incredibly good juice, and cold food offerings including melon balls, chicken curry,  shrimp, dried roast beef and ham, salmon and cream cheese, and a type of humus with pita bread. This was a very pleasant surprise and the food was African inspired and very good, it all came individually packed in a cool camp tin to further the "safari experience.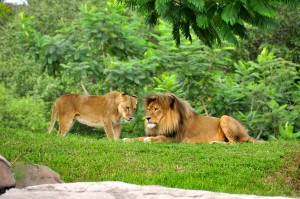 After our snack and a bathroom break at our safari camp we snapped a few last photos and loaded back on our private truck for the last leg of our safari and the trek back to Harambe. We passed the Cheetahs, the Lions and the Warthogs and headed back to "civilization".
The tour lasts approximately 3 hours, groups are kept small, consisting of no more than 12 trekkers per safari. Pricing for this unique adventure will vary seasonally and starts at $189 per person. Park admission is required for tour participants. One of the guides will be taking photos throughout the trek, and a few days after you will receive by mail all the photos on a CD which is another memorable touch. We had an awesome time on our Trek and highly recommend this tour!
To see more of what we saw and learn more about this unique adventure, be sure to watch our video blog this week on Travel with Rick.com, we're featuring Wild Africa Trek on Friday!